What is your favourite season of the year? Most of us would choose "monsoon" as a response. During the rainy season, we see the flora blooming all around. Today, let's talk about a rainy day and explore what one can write in an Essay on Rainy Day for Class 3.
Rain is crucial, not only as it makes the earth look so much more beautiful every time it hits the ground, but also because the growth of crops depends largely on the amount of rainfall. Whether it rains less than required or more than needed, farmers incur a great loss of crops.
There are loads of rainy day activities for kids such as playing in the rain, getting wet, making paper boats, hopping on puddles, eating hot dishes, etc. Coming up is a set of 10 lines on Rainy Day. You can download the Essay in PDF form, through the link provided below: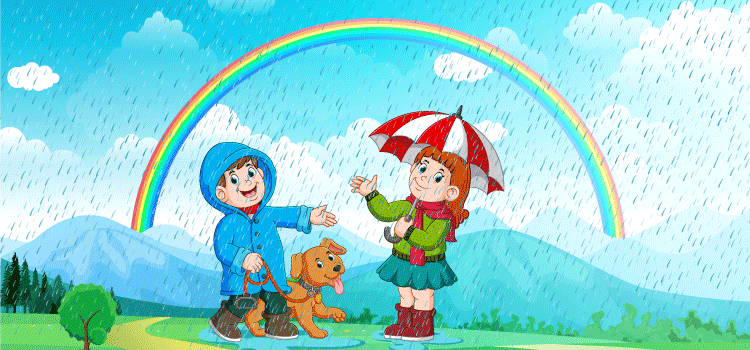 10 Lines on Rainy Day in English
I love the rainy season.
Today is a rainy day.
My friends and I play in the rain.
We saw a huge rainbow in the sky.
The streets are full of water because of the rain.
On rainy days, my friends and I make paper boats and make them float in the water.
I love the smell of the earth when it rains after a sunny day.
Rain makes the weather so pleasant, refreshing and cool.
I like getting wet in the rain.
I enjoy eating hot fries on rainy days.
Those were a few lines on Rainy Day, which kids can also put down under the title "Rainy Day paragraph". There are lots of such engaging essays for Class 3 kids.
Searching for more interesting resources for your little one? Download the most admired kids learning app- Disney BYJU'S Early Learn and get a one-stop solution to all your concerns regarding your kid's education.
More Essays for Class 3