As per the definition, a 'dream' is defined as a sequence of thoughts and images which occurs in the mind of a person while he/she is sleeping. Here we will not be talking about the process of dreaming, but about dreams, ambitions and aspirations. Today we will discuss My Dream Essay for Class 3 kids.
Dr A P J Abdul Kalam had rightly said, "Dreams are not what you see in sleep, it is the thing which does not let you sleep."
To achieve success, the most important thing is to have ambition. Without dreams, you would not have any ambition to follow. Have a read of these 10 lines on My Dream. You can download the essay in PDF format through the link provided.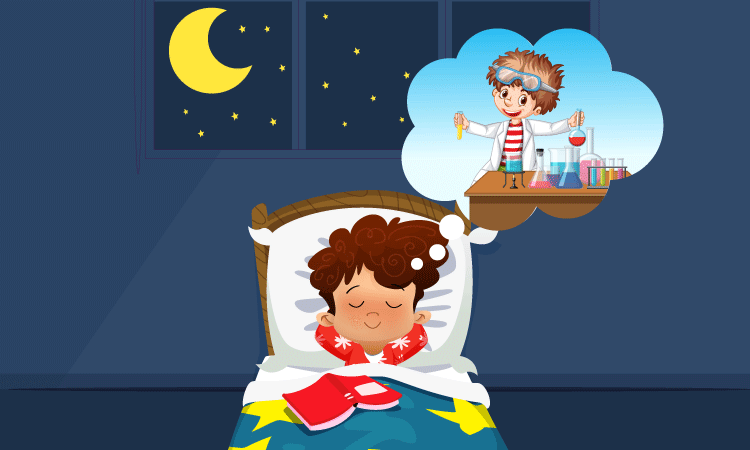 An Essay on My Dream for Class 3
Everyone has a dream to achieve something in his/her life.
Some people dream of becoming rich, some want to become famous and some want to make others' lives better by helping them.
My dream is to become a scientist. It is not an easy-to-achieve goal. But I know I can do it.
My inspiration is Dr A P J Abdul Kalam. He was an aerospace scientist.
Science always entices me. There are so many exciting things to learn in it.
I enjoy reading science books on natural processes, inventions, discoveries, plants, animals, human beings, chemical reactions, etc.
Scientists solve global challenges, make innovations and they get to learn new things every now and then.
When I become a scientist, I want to help society through my revolutionary ideas.
There are so many issues including pollution and global warming. I want to innovate such devices which help the world in eradicating such problems.
My parents and teachers always motivate me to study well and passionately work towards achieving my dream.
A Short Essay on My Dream for Class 
Every human being has dreams and aspirations in life. I, too, have a dream, and I wish to work towards fulfilling it. I want to help the needy with necessities like food, clothing, shelter and education. My grandfather is a social worker, and he is my inspiration. He often takes me to orphanages and allows me to interact with the children. This delights me and I look forward to making new friends there. Also, on my birthday, we go to orphanages and distribute food. When I grow up, I want to become a social worker like my grandfather.
That was My Dream Essay in English for Class 3 kids. A dream is what motivates us, provides us with the strength to overcome challenges and keeps us focused on achieving our goals.
There are so many other exciting topics for essays for Class 3 which you can checkout. The most common essay topics being my mother, my school, my best friend, my family, etc. Explore these essays and let your kid get the best of resources to help him/her excel in studies.
More Essays for Class 3