Dussehra is one of the major festivals that is celebrated by Hindus in India. It is an elaborate festival, celebrated with immense enthusiasm, pomp and show throughout the country. Dussehra is an auspicious ceremony that begins with Navratri, which is a ten-day-long festival. Students usually get long holidays at school to enjoy the festival thoroughly. They are often asked to write an interesting essay on Dussehra in English soon after they resume classes in school.
Who doesn't like to enjoy and rejoice in the festivities during the year? Everyone eagerly awaits Dussehra from the beginning of the year. It is a pleasant break from the daily hectic work regime. Young kids especially look forward to having fun and making merry during the festivities. Here, we bring you 10 lines Dussehra essay in English for kids that will help them to pick some useful ideas before they draft an essay on this festival. Let's begin!
Download "An Essay On Dussehra In English" PDF for Free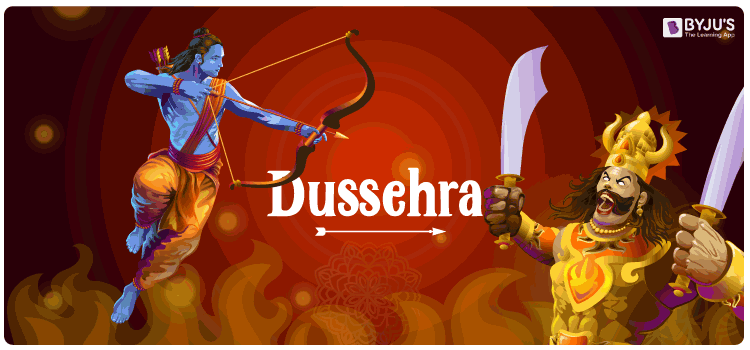 Dussehra Essay In English
Dussehra is the most auspicious festival celebrated by Hindus across India.
This festival is also popularly known as Vijayadashami in some parts of the country.
According to Hindu mythology, it is believed that on this day Goddess Durga eliminated the demon, Mahishasura from earth.
Dussehra symbolises Lord Rama's victory over demon King Ravana which signifies the victory of the power of good over evil.
To enjoy the festival, people enact the battle through skits and plays in dramatic form which is called Ram-Leela.
People in North India perform Ram-Leela by burning huge life-size effigies of demon Ravana and his brothers.
They fill those effigies with explosives and aim an arrow with fire that results in splendid fireworks and stunning visuals.
This festival makes us believe that there is light at the end of every tunnel and the victory of good over evil and truth over lies.
People celebrate this festival with great fervour, joy and enthusiasm and wait for it eagerly from the beginning of the year.
Dussehra teaches us an important lesson that good always triumphs over evil and the importance of righteousness and integrity in our lives.
We hope the above essay on Dussehra in English proves beneficial for kids who want to write an essay on this topic. We have made a humble attempt from our end to bring forth the essence of Dussehra festival in the above essay. Students can refer to the sample essay and pick some useful tips while drafting a few lines Dussehra essay in English. We hope the above sample will help them to learn how to frame simple sentences while describing the purpose of the festival and enhance their English writing skills at the same time. You can explore more such amazing essay topics for kids, by clicking at the linked article.
For more such engrossing resources such English Poems, Enchanting Stories, GK Questions, NCERT Solutions, Trivia Questions, etc, you can check our Kids Learning section and make learning a fun-filled journey of learning for your little one!