Table of Contents:
1. Mogao caves reveal powerful India-China Buddhist link
1. India, Japan, U.S. to hold naval exercises
2. Start-ups formed under limited liability partnerships to get three-year tax holiday
3. Lok Sabha clears bankruptcy code
4. Govt may set up 29 port-based coastal corridors
1. Perverse consumer protection
Explained: Farm distress: Monsoon isn't the only spoiler
1. PIB update
i) Agreement with Russia for setting up Kudankulam Units 5&6
ii) Setting up of New Airports
iii) Rural Illiteracy among Girls
iv) Women Participation in Scientific Research and Development
v) Enhancing Research and Development
vi) India based Neutrino Observatory
vii) STEP Scheme revised to train women in modern as well as traditional skills: SmtManeka Sanjay Gandhi
2. Livemint:The pulse of India's agrarian economy
3. The Business Line:Have PPPs taken banks for a ride?
4. The Economic Times:Welcome move; Bankruptcy code will help in swift redeployment of distressed assets
.
+++++++++++++++++++++++++++++++++++++++++++++++
Useful News Articles
A. GS1 Related
1. Mogao caves reveal powerful India-China Buddhist link
Topic: History
Category: Buddhist art
Location: The Hindu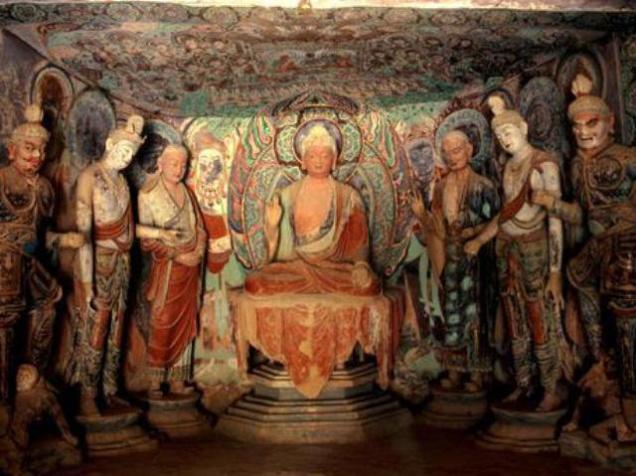 Key points:
In the 3rd century C.E., Buddhist cave art reached China from India through monks, scholars and merchants traversing the ancient Silk Road
There are hundreds of caves in the middle of the Gobi desert, whose painted walls and grand statues mark the epic journey of Buddhism
Around 492 Mogao caves (Dunhuang caves) survive as repositories of the artistic traditions of ancient and medieval China. Approximately 25,000 square metres of wall paintings and more than 3,000 painted sculptures make this one of the most valuable sites of Buddhist art
An agreement was signed between India and China, following Prime Minister Modi's visit to China, to establish a sister-city relationship between Dunhuang and Aurangabad. The arrangement is a statement of intent by the two countries to leverage culture as a major strand for building Sino-Indian ties
Interior of Mogao Cave no. 45, Dunhuang, China
Note: The cultural and trade links between China and India goes back to centuries. The political differences are only a few decades old. Comment
B. GS2 Related
1. India, Japan, U.S. to hold naval exercises
Topic: International Relations
Category: M
Location: The Hindu
Key points:
Four Indian warships will join the navies of the United States and Japan in the second half of June for the next edition of Malabar exercises east of Okinawa, a Japanese island
Last December, India and the U.S announced formal expansion of the bilateral exercises into a trilateral format with the edition of Japan
Australia has repeatedly expressed interest in joining the exercises on a permanent basis
Note: Malabar exercises are an acknowledgement of "shared security concerns". Comment
C. GS3 Related
Topic: Economy
Category: Monetary Policy
Location: The Hindu
Key points:
The Lok Sabha approved the Finance Bill 2016 which included an amendment to the RBI Act clipping the central bank governor's powers to set monetary policy and vesting it on a six-member Monetary Policy Committee
Of the six members, the government will nominate three.The Deputy Governor in-charge of monetary policy and another officer to be nominated by the central bank's board will also be members. Decisions will be taken by majority vote with each member having a vote. The RBI Governor will chair the committee and have a second or casting vote in case of a tie
The passage of the finance bill marks the completion of the three-stage process in the passage of the General Budget in the lower house
2.Start-ups formed under limited liability partnerships to get three-year tax holiday
Topic: Economy
Category: Budget
Location: The Business Line
Key points:
Amendments to the Finance Bill, 2016(the Budget): Government has given a boost to the start-up ecosystem in the country by allowing start-ups, set up as limited liability partnerships (LLPs), to be eligible for a three-year tax holiday(It means that start-ups could enjoy the flexibility of a partnership entity in terms of lesser compliance and at the same time not be required to fork out dividend distribution tax)
the Centre has through the amendments to the Finance Bill put into effect the withdrawal of provident fund related budget announcements
3. Lok Sabha clears bankruptcy code
Topic: Economy
Category: Banking
Location: The Business Standard
Key points:
The Lok Sabha approved a Bill to overhaul century-old laws that regulate insolvency. The proposed Insolvency and Bankruptcy Code aims to slash the time it takes to wind up a company or recover dues from a defaulter
The proposed uniform law will streamline the existing insolvency process which depends on 11 separate laws.It would improve India's ranking in the World Bank survey on 'ease of doing business'
The Bill proposes an insolvency regulator for oversight. It lays down a transition provision during which the central government will exercise all the powers of the regulator till the time one is set up
The Bill recommends the existing Debt Recovery Tribunals to be the adjudicating authority for individuals and unlimited liability partnership firms. The National Company Law Tribunal would be the adjudicating authority for companies and limited liability entities
It also proposes setting up of information utilities, to collect and collate financial information from listed companies and their creditors
4. Govt may set up 29 port-based coastal corridors
Topic: Economy
Category: Ports
Location: The Hindu
Key points:
The government has suggested setting up 29 port-based coastal industrial corridors across 14 coastal economic zones to boost exports and employment
These corridors, envisaging a total investment of Rs.1 lakh crore, would provide employment opportunities to nearly one crore people and boost exports by $110 billion in the next 10 years
The project is part of the National Perspective Plan 2016.
(The plan contains details of Sagarmala, the government's flagship programme to promote port-led development in the country)
Also Smart Port industrial cities are proposed to be developed at Kandla and Paradip and their feasibility reports are currently under preparation
D. GS4 Related
E. Important Editorials: A Quick Glance
1. Perverse consumer protection
Topic: Governance
Category: consumer affairs
Key points:
While international crude oil prices fell, the pump prices of both petrol and diesel dropped only about 15 per cent
The centre has applied a combination of excise duty increases on automobile fuels and a parallel reduction in the subsidy bill
This has shored up government finances
Increasing revenue through indirect taxation cannot benefit the people who need governmental intervention to sustain a minimum standard of living
While retail inflation as measured by the Consumer Price Index slowed to 83 per cent in March 2016, from 7.31 per cent in June 2014, food price inflation decelerated only to 5.21 per cent in March
That transportation costs are a significant factor in food prices and that lower diesel prices can help contain them is well established
Note:Indirect taxation is regressive and hurts the poor. Please make sure you understand the concept
Explained: Farm distress: Monsoon isn't the only spoilerTopic: GovernanceCategory: AgricultureKey points:

Every farm commodity registered huge jumps in exports between 2003-04 and 2013-14 The benefits were reaped by farmers even in distant hinterlands
Higher exports benefited farmers by pushing up domestic crop prices. This happened both due to increased external demand as well as the government per force having to align its minimum support prices (MSP) to global levels
But the last couple of yearshave seen the reverse happening. The end of a decade-long commodity boom has hit Indian farm exports hard. They fell to around $ 39 billion in 2014-15, and further to $ 32.5 billion during the fiscal just ended. That translates into a decline of $ 10.7 billion, or roughly Rs 49,000 crore, if one compares 2015-16 to 2013-14
Global demand has come down drastically and the prices have plunged
A good monsoon will, no doubt, enable farmers to produce more which they haven't been in a position to do in the past two years because of successive droughts
But farm incomes depend not just on production, but also on prices And the outlook there isn't as encouraging, thanks to factors that are more global than local
i) Agreement with Russia for setting up Kudankulam Units 5&6
An Inter-Governmental Agreement (IGA) between Government of India and Government of Russian Federation was signed in 2008 for setting up units 3 to 6 at Kudankulam, Tamil Nadu.
Now, discussions on the draft General Framework Agreement for setting up Units 5&6 (KKNPP 5&6) is in progress.
The Indian private industry would be involved in supply of equipment, execution of the works contracts etc.
The Government accorded 'in principle' approval for setting up of Units 5&6 at Kudankulam in 2009 itself.
ii) Setting up of New Airports 
Government of India (GoI) has granted 'in-principle' approval for setting up of 14 Greenfield airports namely,
Mopa in Goa;
Navi Mumbai, Shirdi and Sindhudurg in Maharashtra;
Shimoga, Gulbarga,Hassan and Bijapur in Karnataka;
Kannur in Kerala;
Pakyong in Sikkim;
Datia/Gwalior (Cargo) in Madhya Pradesh;
Kushinagar in Uttar Pradesh;
Karaikal in Puducherry; and
Dholera in Gujarat.
( Note: students need not remember this, but should have some familiarity with ongoing development)
As per the Greenfield Airport Policy, 2008, financing and development of a Greenfield airport is the responsibility of the Airport developer.
Government of India has established Airports Economic Regulatory Authority of India (AERA) under the Act of Parliament, 2008, for determination of charges in respect of aeronautical services provided at major airports in the country.
AERA determines aeronautical charges for each airport separately considering various aspects of the airport viz. investment on infrastructure, cost of operations, improvement of service level, viability of the airport etc.
iii) Rural Illiteracy among Girls 
Census 2011 reported 32.23 percent illiteracy rate in 7 and above age group in rural areas of the country, compared to 41.26 percent in 2001thus showing a decrease in illiteracy rate by 9.03 percentage points.
Also as per Census reports, the number of non-literate girls in the age group of 7-14, in rural areas of the country, has decreased by 1.22 crore from 2.53 crore reported in 2001 to 1.31crore in 2011.
(Note : students should have a rough idea about the rural illiteracy data to quote the same while writing related answers for social/gender issues)
Please click here to read on some of the steps taken by government to improve female literacy from BEST of PIB section.
iv) Women Participation in Scientific Research and Development 
Department of Science And Technology (DST) initiated exclusive schemes to enable women to pursue a career in Research and Development (R&D) in Science and Technology (S&T) from the year 2002.
Why few women were engaged in R&D in mainstream science?
One of the major reasons for this anomaly leading to gender gap in scientific R&D was the break in career that many women had to face due to familial compulsions like marriage, child birth, looking after old or ailing parents, children's education and so on.
To address these issues DST launched DISHA Programme for Women in Science and made focused efforts to facilitate the re-entry of such women to mainstream science
Later DST restructured the women specific programmes under one umbrella called "KIRAN (Knowledge Involvement in Research Advancement through Nurturing)".
Consolidation of University Research for Innovation and Excellence in women universities (CURIE) is another component of KIRAN.
Please click here to read more on CURIE, KIRAN and DISHA from BEST of PIB section.
v) Enhancing Research and Development
Ministry of Science and Technology has taken several steps for improvement and enhancement of capabilities of Universities and Academic Institutions in the Country in research and development. These are
 Fund for Improvement of S & T Infrastructures in Universities and Higher Educational Institutions (FIST),
 Promotion of University Research and Scientific Excellence (PURSE),
Sophisticated Analytical Instrumentation Facility (SAIF) and
Boost to University Interdisciplinary Life Science Departments for Education and Research(BUILDER)
vi) India based Neutrino Observatory 
The work at Pottipuramsite(Theni,Tamil Nadu) of India based Neutrino Observatory is stalled at present due to orders of theMadras High Court.
The objectives of the laboratory are;
To study the properties of the fundamental particle, the neutrino
Develop skilled human resources for carrying out front ranking experimental programmes in the area of particle and nuclear physics and
Development of state-of-the-art particle detectors for basic science and societal application including medical imaging.
vii) STEP Scheme revised to train women in modern as well as traditional skills: SmtManeka Sanjay Gandhi
The Ministry of Women & Child Development has been administering 'Support to Training and Employment Programme for Women (STEP) Scheme' since 1986-87 as a 'Central Sector Scheme'.
The Scheme was reviewed and revised in 2014 to impart training to women in modern skills as well as traditional ones, to meet the demands of changing society.
The STEP Scheme aims to provide skills that give employability to women and to provide competencies and skill that enable women to become self-employed/ entrepreneurs.
The Scheme is intended to benefit women who are in the age group of 16 years and above.
Assistance under the STEP scheme will be available in any sector like Agriculture, Horticulture, Food Processing, Handlooms, Tailoring, Stitching, Embroidery, Zari etc, Handicrafts,Computer & IT enabled services, Gems &Jewellery, Travel & Tourism, and Hospitality.
(Note: students should use this kind of schemes as examples while writing related Mains answers/Essay)
2. Livemint:The pulse of India's agrarian economy
Topic: Governance
Category: Agriculture
Key Points:
Drought is a recurring phenomenon in India. This brings our attention to conservation of water in agriculture.
The average water footprint for 5 major crops (Rice, Wheat, Maize, Sugarcane and Cotton) is far higher than global averages.
Root of the problem:
Our policy framework is more concerned about food security rather than water usage.
Lessons to learn from:
In the 60s, importance was given to water-intensive cereals (Rice, Wheat etc) When there was a shortage of rice and wheat, we had to depend on the US imports under PL480 programme.
The focus of our policy should shift to efficiency of water use. In this regard, more importance should be given to cultivation of pulses. It has 2 major benefits.
1). It consumes less water for every unit of output.
2). Helps fight Hidden hunger.
Domestic demand is growing (There is Demand-Supply mismatch). Countries like Canada have begun growing Pulses to feed the growing demand in India.
Initiatives for promoting Pulses:
1). Maharastra Government has announced a guaranteed price that is 5-10% higher than the central MSP(Minimum Support Price) for pulses. Also, supply of free seeds and fertilisers for those who grow pulses was announced
2). A sum of Rs.500 crore was allotted to pulses under the National Food Security Act
3). Price Stabilisation Fund with a corpus ofRs.900 crore was made in this year's budget exclusively for pulses
4). Food Corporation of India, Small Farmers Agri-Business Consortium and National Agricultural Cooperative Marketing Federation of India Ltd—purchased more than 50,000 tonnes of pulses from farmers as buffer stocks during the fiscal year.
What should the Centre and States do?
1). Increase the percentage of farmers under insurance cover
2). Increase the area under pulses
3). Raise the yields within water constraints
4). Achieve higher prices through mechanisms like Unified Agriculture Markets
5). Enhancing food processing and storage facilities.
4). Stop the export controls.
A shift in the highly skewed cropping pattern of the country is the need of the hour.
3. The Business Line:Have PPPs taken banks for a ride?
Topic: Economy
Category: Infrastructure and Banking
Key Points:
In the PPP model, the public sector usually comprises a procuring authority (PA) and lenders, mainly PSBs, because of large amounts and a long gestation period
The private sector comprises private players bringing in common equity
The project entity is usually a special purpose vehicle (concessionaire)
Recently, it has emerged that large value loans of many (Public Sector Banks)PSBs to PPP infrastructure assets have been classified as SAs(Stressed Assets)
This is alarming because, while the original intent of PPP was to harness funds and expertise for public welfare, this model seems to be burdening the public exchequer
There is a possibility, given that SAs are associated with PPP infrastructure projects, that concessionaires borrowed large funds from PSBs, and diverted them to their other businesses, while bringing in little or no equity of their own, in sharp contradiction to the original plan
This fact implies pilfering of public funds and highlights gaps in the existing legal, policy, and regulatory framework, as well as the need to revise the model concession agreement
The key issues, immediately related to facts that cause bank loans to become SAs, specifically in the public infrastructure domain, are fake equity by promoters; inflated cost estimates to ensure that projects are financed only with public fundsand diversion and siphoning of funds, including bankers turning a blind eye by to red flags
Further still, when projects are completed, sometimes the concessionaires unjustly enrich themselves by obtaining the rights to collect future revenue, although they may have failed to bring in their originally promised equity
In conclusion, the diversion and siphoning-of borrowed funds by concessionaires lower national welfare — by causing financial losses to banks, mainly PSBs, as well as delaying project implementation and resulting in a loss in quality of life
The current situation of high SAs should be used as an opportunity to examine different circumstances under which they emerge. The PPP delivery model has worked in many countries and is imperative to fund capital intensive infrastructure projects
In order to plug losses, gaps in the legal, policy and regulatory framework need to be addressed on priority basis, particularly because of significantly large budgetary allocation for infrastructure in the most recent Budget
Government could consider setting up a special cell to swiftly deal with SAs above a certain threshold. This cell could also provide guidance and advisory support to bank staff who are generally ill-equipped in legal and procedural aspects of statutory options
There may also be need for a standing committee on frauds and SAs. The committee could consider harnessing expertise from regulators, bankers, intelligence agencies, rating agencies, and auditing and consulting firms. The rating agencies, and auditing and consulting firms could have special information, which regulators may not have
All cases of SAs above Rs100 crore should automatically come under the purview of the mission cell and the standing committee. These steps, together, may make a difference
Note: The PPP model has come under lot of criticism. Suggest ways to make amends.
4. The Economic Times:Welcome move; Bankruptcy code will help in swift redeployment of distressed assets
Topic: Economy
Category: Banking
Key Points:
The adoption by Parliament of the bankruptcy code is a landmark development
Given the high level of bad debt on the books of India's largest banks, which reflect companies in distress that cry out for reorganization or dissolution, India badly needs a legal framework for swift resolution of corporate distress
The code provides that. However, it will take time for the law to become operational: rules have to be framed and a cadre of resolution professionals has to be brought into being, complete with a regulatory framework. The government should work double quick on both tasks
The joint committee of members of Parliament has made some sensible amendments. A substantive one relates to cross-border assets of insolvent firms.As a result of the committee's exertions, the new bankruptcy code will have an enabling provision that allows the government of India to pursue assets located in foreign jurisdictions. However, cross-border insolvency remains a contentious area
With the new law, the government hopes to reduce the time taken for resolution of insolvency related disputes to less than two years. This paves the way for removing a blatant violation of the principle of limited liability in India's loan covenants. Banks insist on personal guarantees of loans by directors
This inhibits entrepreneurship but has been tolerated as the only check on promoters' tendency to take advantage of legal delays. If the code abolishes delay in resolution, banks should dispense with personal guarantees as well
F. Concepts-in-News: Related Concepts to Revise/Learn:
Insolvency and Bankruptcy code
CURIE,KIRAN,DISHA
PPP model
Finance Bill
Crude oil prices
G. Fun with Practice Questions 🙂
Question 1: Which of the following statement(s) is/are true about crude oil pricing?
Crude oil price is determined in India based on landed cost of imported fuel and the price at which it is exported by domestic refineries
The ratio of both the components in the price formula is 80:20 in favour of landed cost
a) 1 only
b) 2 only
c) Both 1 and 2
d) Neither 1 nor 2
Question 2: Which of the following statements is/are true?
The Finance Bill can be introduced only in Lok Sabha.
The Finance Bill has to be passed by the Parliament within 75 days of its introduction.
a) 1 only
b) 2 only
c) Both 1 and 2
d) Neither 1 nor 2
Question 3: Which of the following statement(s) is/are true ?
Neutrinos are sub-atomic particles and are of 3 types
Neutrinos are examples of the lowest-energy particles theorized in extensions of the Standard Model of particle physics
a) 1 only
b) 2 only
c) Both 1 and 2
d) Neither 1 nor 2
Question 4: Which of the following statement(s) is/are true about the budget process in India?
After voting on Demands for Grants, an Appropriation Bill is introduced and voted on, which authorises the government to spend money from the Consolidated Fund
The Finance Bill is then taken up and passed in the Lok Sabha
The bill has to then passed by the Rajya Sabha
a) 1 only
b) 2 only
c) 1 and 2 only
d) All the Above
Question 5: The ancient silk route passed through which of the following countries?
China
India
Iran
Egypt
a) 1, 3 and 4
b) 2 ,3 and 4
c) 1, 2 and 3
d) All the Above
"Proper Current Affairs preparation is the key to success in the UPSC- Civil Services Examination. We have now launched a comprehensive 'Online Current Affairs Crash Course'.
Limited seats available. Click here to Know More."