Table of Contents:
1. Modi launches LPG scheme for poor wome
2. IS claims responsibility for Hindu tailor killed in Bangladesh
3. Coal scam: Some corrupt CBI colleagues took bribes to fix cases, writes investigating officer to agency chief
4. PM NarendraModi launches solar-powered e-boats in Varanasi; distributes e-rickshaws
1. IAF helicopters join fight to douse Uttarakhand forest fires
2. M-wallets may make hard currency history
1. Where are India's taxpayers?
2. Over the barrel: In the right environment
1. PIB update:
2. Business Standard:Evening the odds
3. The Business line: Light touch needed
4. The Economic Times: Coal: Get moving on merchant mining
5. Explained
.
+++++++++++++++++++++++++++++++++++++++++++++++
Useful News Articles
i. Beyond the News: Why growth in bank deposits is at a 53-year low
Keypoints:
The year ended March 2016 saw aggregate deposits with banks grow by just 9.9%year on year
This fall in deposit growth to single digits — last recorded in 1962-63 — has confounded policymakers and economic commentators for at least three reasons
First, most banks today are offering 7.25%-7.5% interest on one-year fixed deposits, which is more than the consumer price inflation of 4.8%
Second, deposit flight from banks is, of course, possible if people have alternative avenues for parking savings but there was a slump in real estate, and fall in gold imports
The third source of bafflement over the slowdown in bank deposits is that it has been accompanied by higher growth
Answer-All savings, whether financial or physical, ultimately come from incomes. What if incomes themselves aren't growing much? Is it possible we are in such a situation today, which official data isn't adequately capturing?
There is little doubt that incomes in rural areas are under terrible stress
Barring in select sectors such as e-commerce, there isn't much evidence of job creation
In a scenario where jobs and incomes are under pressure, it requires no great insight to expect savings to be squeezed out. The CSO data, in fact, points to a decline in household savings from 6% to 19.1% of GDP between 2011-12 and 2014-15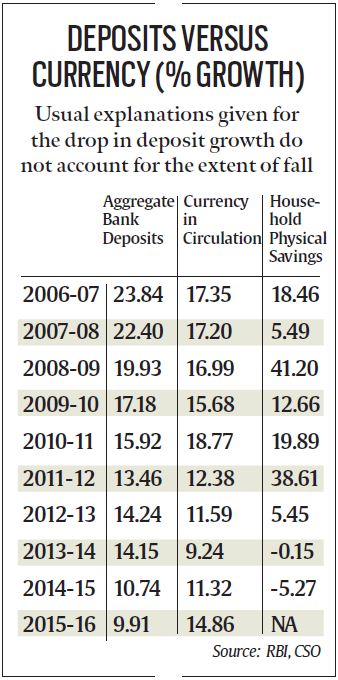 Tag:Savings
ii. To Read:From crisis to boom to crisis all over again: The journey of Stee
Question 1:Which of the following is/are correct about P2P lending platforms?
Question 2: Which of the following statement(s) is/are correct about PradhanMantriUjjwalaYojana?
Question 3:Which of the following is/are categorized under Direct taxes?
Question 5:Which of the following is/are included in the direct goals under Sustainable Development Goals ?