Polity and Political Science are two terms often considered mistakenly the same yet are different in meaning, application etc. 
Polity is a discernible political identity that consists of any group of people who possess a collective identity. This group will be under the authority of advance institutionalised social relations. 
Within the context of the IAS Exam, Polity can be referred to as a section of the General Studies segment.
Political Science, on the other hand, is a social science that studies systems of governance and analysis of political activities thoughts and behaviour.
Political Science is also an optional subject in the UPSC Mains.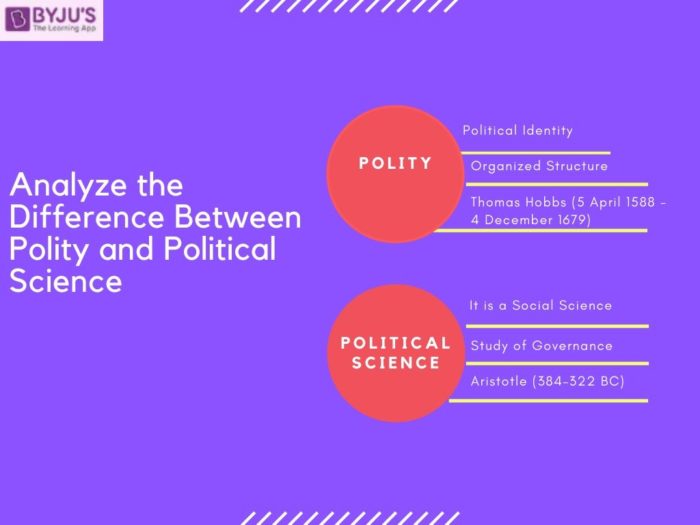 This Article will further highlight the key differences between the two terms.
The differences between Polity and Political Science are given in the table below:                                                    
Differences between Polity and Political Science
Polity

Political Science

Within the context of geopolitics, the concept of a polity can be manifested into forms such as state, nation, empire, political organisations or any other identifiable resource-gathering formation.

Political Science comprises of numerous subfields including comparative politics, international relations, political economy and political methodology.

A polity can consist of any group of people who have been organized for governance (for example a council of judges), a sovereign state etc.

Political Science is diverse in terms of methodology and makes use of many methods that have their origins in behaviouralism, structuralism and realism.

A polity can also be defined as a faction within a larger state. For example, the Uighurs of Xinjiang are a distinct polity unit on account of ethnicity, but they are also members of the larger sovereign state of China.

Political Science measures the success of governance and specific policies by keeping factors such as stability, public wealth, justice, economic growth etc

It enforces the collective responsibility of the council to its members.

It enforces collective responsibility to the lower houses of the parliament.

It is not necessary that polities need to be governments. A business unit capable of gathering resources with a discernible governance structure and legal rights can be considered a polity as well.

Like all social sciences, political science faces the difficulty of observing human factors that can only have a limited observation and have the capability to make conscious decisions different from their usual behaviour.

Thomas Hobbes (5 April 1588 – 4 December 1679), an English Philosopher played a key role in formulating the concept of polity through his 1651 book "

Leviathan".

Aristotle (384–322 BC) is widely regarded as "The Father of Political Science).
Aspirants can refer the articles below for more information:
Difference Between Polity and Political Science- Download PDF Here
FAQ about Polity and Political Science
Q1
What are the advantages of choosing Political Science as an optional subject for UPSC Mains?
The topics in this optional overlap with the polity syllabus of GS 2 and generally useful for essays. It is also useful for bureaucrats who join Indian Foreign Service.
To read more about the pros of choosing Political Science as optional, click here.
Q2
Which is the best book to study Indian Polity for UPSC?
Regarding preparing polity for UPSC, the most recommended book is M Laxmikanth's 'Indian Polity'. Both in prelims and mains perspective, this book is considered as very useful.
To read the tips to study this book effectively, click here.
Candidates can find the general pattern of the UPSC Exams by visiting the UPSC Syllabus page. For more articles and exam-related preparation materials, refer to the links given in the table below:
Related Links