A fuel cell is a device that produces electric energy, through a chemical reaction. Science & Technology is one of the subjects included in the civil services examination. Many questions circling this subject have been asked both in the UPSC Prelims and the Mains exams.
Fuel Cell is an important chemistry concept in Science & Technology, which is a part of the General Studies Paper-3 in the UPSC Syllabus. In this article, one can learn about the types and working of fuel cells. We have also mentioned topics that are related to Fuel Cells for the UPSC Exam.
Current Affairs
is an integral part of the IAS exams if not one of the most tricky. Visit the page to stay ahead of the competition.
Strengthen your preparation for the UPSC exam by checking the following links:
What is a Fuel cell? 
A fuel cell is a device that produces electric energy, through a chemical reaction. 
Fuel cells use a positively charged ion (Hydrogen) and an oxidizing agent (oxygen).

There are many types of fuel cells, but they all consist of a cathode, an anode, and an electrolyte that allows positively charged (hydrogen) ions to move between the two sides of the fuel cell.

They differ from batteries as they (fuel cells) require a continuous supply of fuel. 

Both batteries and fuel cells produce direct current (D.C).
Working of a Fuel Cell
The working of this fuel cell involved the passing of hydrogen and oxygen into a concentrated solution of sodium hydroxide via carbon electrodes. The cell reaction can be written as follows:
Cathode Reaction: O2 + 2H2O + 4e– → 4OH–
Anode Reaction: 2H2 + 4OH– → 4H2O + 4e–
Net Cell Reaction: 2H2 + O2 → 2H2O
However, the reaction rate of this electrochemical reaction is quite low. This issue is overcome with the help of a catalyst such as platinum or palladium. To increase the effective surface area, the catalyst is finely divided before being incorporated into the electrodes.
A block diagram of this fuel cell is provided below.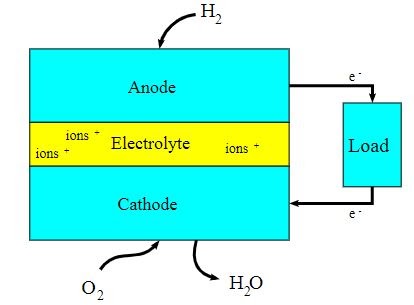 The first fuel cell was used by NASA in its satellites and space capsules. 

Fuel cells can be used for power backup in commercial and residential buildings.

Fuel cells can be arranged in stacks like series and parallel connections depending on the requirement of higher voltage (series) and current (parallel).
National Electric Mobility Mission Plan 2020
The National Electric Mobility Mission Plan (NEMMP) 2020 was launched by the Government of India in 2013 to achieve national fuel security by promoting electric and hybrid vehicles. The target is to achieve sales of 6 – 7 million in the hybrid and electric vehicles sector from 2020. 
The government will provide fiscal and monetary incentives for this industry. The expectation is that crude oil worth Rs.62000 crore will be saved due to this.
FAME and National Electric Mobility Mission Plan
Under the NEMMP, the government has launched the Faster Adoption and Manufacturing of (Hybrid &) Electric Vehicles, FAME India Scheme.
This scheme had an initial outlay of Rs. 75 crore.

This scheme is expected to provide a major thrust towards the early adoption of electric and hybrid technologies.
Read more about the National Electric Mobility Mission Plan
Fuel Cells UPSC:- Download PDF Here
FAQ about Fuel Cell
What are the advantages of Fuel cells?
(i)There is no need to replace electrolytes.(ii)The only product is water in fuel cells, it is non polluting. (iii)Fuel cells have efficiency of 70% when compared to thermal plants
What are fuel cells used for?
Fuel cells can be used in transportation, material handling and stationary, portable and emergency backup power.
For more articles and UPSC preparation material follow the links given in the table below:
For information on various Government Exams visit the given link.