There is a lot of debate on the success rates of different optionals in the UPSC civil services exam. Candidates spend a lot of time trying to figure out what optional should they opt for so that their final score can soar. Aspirants also mull over whether to choose an optional subject that they had studied during their graduation or university level, or whether they should choose a completely new subject.
This article brings to you some interesting statistics that compares the success rates of different optional subjects between the years of 2002 and 2012; and also the educational backgrounds of successful candidates between the said years.
The statistics discussed in the article will help candidates prepare for the IAS exam accordingly.
UPSC Optionals For Mains – Stats & Figures
First of all, take a look at the figure below:
This figure gives the success rates of candidates with respect to their educational backgrounds. Success rate is calculated as the percentage of selected candidates among those who appeared for the UPSC Interview. The figures are an average of 2002-2012 figures.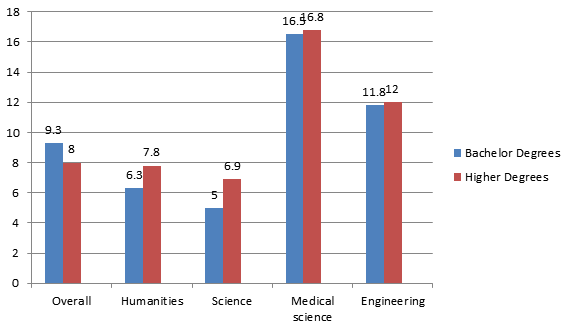 As you can see from the above figure, the success rates are higher for candidates with a medical science and engineering degrees. One reason could be that they already had to undergo tough competition in their graduation entry levels. It is amusing to note that technocrats find it easier to become bureaucrats.
Aspirants preparing for UPSC should check the following links to prepare for different optional subjects-
Now, we bring you another figure:
This figure gives the number of candidates with different optionals who took the IAS mains exam. The numbers are a total of the number of candidates who appeared for the mains exam from 2002 and 2012.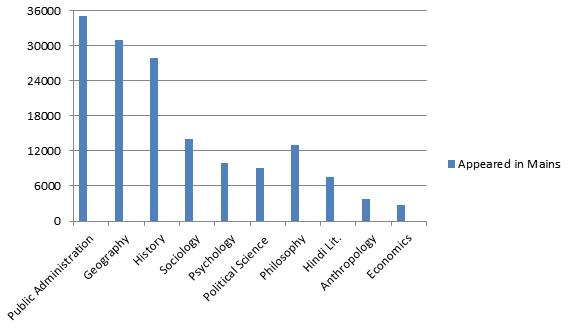 The second figure reveals that most candidates had taken public administration as their optional subject. Other popular optional subjects include geography and history. Medical science and engineering subjects were not so popular despite the first figure revealing that most successful candidates had those educational backgrounds.
The next figure gives the number of successful candidates in each optional (for the years 2001-2012) given above: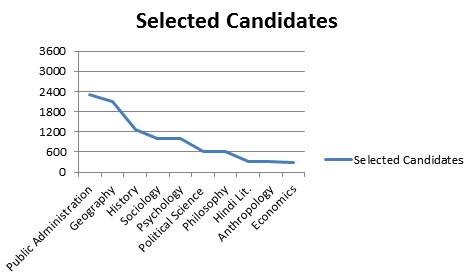 The three figures combined give the impression that most successful candidates take public administration followed by geography and history as the optional subject; and since most successful candidates are from the medical science or engineering fields, it can be inferred that a lot of successful candidates opt for a subject that is entirely new to them.
Candidates willing to appear for the UPSC 2021 must go through the links provided below to give a boost to their preparation –
Also Read | How Many Attempts does it Take to Clear the IAS Exam?
UPSC Related Links-