Are you going to appear for medical entrance exams and are not confident about your chances to crack through NEET 2020?
Or you did not study well for the entrance exam because of your Board examinations?
For the uninitiated, the NEET 2020 examination date is 3rd May. This post will try to go through the reasoning of dropping out a year to prepare for NEET.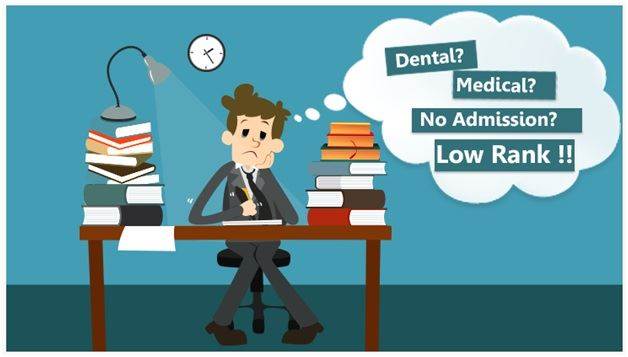 It's ok! Medical entrance exams are possibly one of the toughest achievements to unlock.
Medical entrance examinations are in all probability the toughest to clear due to the high rivalry and a vast curriculum.
Physics and Chemistry also distress many scholars, plummeting any chances of their success.
Should Scholars drop a year to prepare again?
The feeling of "I want to be a doctor" is generally very strong in many individuals leading to the conclusion of dropping a year for preparation. The number of students dropping a year to study again for NEET are a lot more than those in engineering entrance examinations.
Nevertheless, let's see what could be some positive and negative points of dropping a year to prepare for NEET.
Benefits
Aspirants will get one entire year which they can completely dedicate to prepare themselves for their medical entrance examination and actually cover up the huge NEET Syllabus.
If students took the choice early on, they hopefully gave their board exams without too much stress and thus might possibly do well in entrance examinations as well.
A whole lot of scholars reappear for medical entrance examinations as usually there are more than one re-attempt permitted so you will have a good community to help out.
Scholars will then have a very good background and context on concepts.
The applicant will be a doctor at the culmination of this route, the most honourable (arguable) occupation of the world.
Also Check: 
Disadvantages
Students miss out on one year when matched to their buddies who would have started college.
It is not as easy as it is to say. A year of self-study involves a lot of commitment, self-restraint, and inspiration.
As they have dropped a year, the stress for succeeding in the next examination will be much greater.
How to decide if you require dropping a year?
Mentioned above are some broad thoughts and reasons, and it's most likely that one might have dissimilar motives. So grab a paper anytime you are in confusion and make a table with pros in one column and cons in another. Now start noting down your motives which can be as unpretentious as "Mom will keep scolding every day." Whichever column has considerably more points will be your verdict.
Stick this sheet on your door if you choose to drop as it can be a source of inspiration year long.
Studying with college
You can enrol in an alternate program degree and study along with university which will give you a backup choice. It is even better for medical entrance examinations because you can re-attempt the examination multiple times. This will decrease the burden on you to accomplish the task at hand but on the other hand, maybe a source of disturbance, similar to school. This is where your willpower and self-restraint will play a part again.
These were some of the pros and cons of dropping a year for NEET Preparation.
Whatsoever be your choice, drop for a year or not, stick to it with complete conviction devoid of any doubts. Good Luck!
Recommended Question Papers for NEET Exam
Frequently Asked Questions on Pros and Cons of Dropping a year for NEET Preparation
What are some new changes introduced in NEET 2020?
This year on, NEET shall be the only medical entrance examination for you to qualify for admissions in MBBS and BDS seats at colleges. Your NEET score will be the score which will get you admission into medical/dental institutes.
Is NEET going to be conducted twice a year henceforth?
No. NEET is an annual examination and will be conducted only once a year as specified by NTA (conducting board).
When is NEET 2020 going to take place?
NEET 2020 is scheduled to be conducted on 3rd May 2020.