Anjali Shrotriya earned AIR 44 and topped her state making it to the UPSC Toppers list which she missed by 8 marks in her previous attempt. Know more about Anjali Shrotriya's background, preparation strategy, number of attempts, UPSC optional subjects, etc.
The top candidate in the list of UPSC 2021 toppers is AIR 1 – Shruti Sharma, read her story to boost your morale for the CSE preparation.
Aspirants can go through the success stories of various IAS toppers in 2021 provided in the links given below.
Anjali Shrotriya- UPSC Topper Background
Anjali Shrotriya is a computer science engineer. 

She hails from the cleanest city of India i.e. Indore, Madhya pradesh.

She nailed UPSC CSE 2021 grabbing 44th rank.

Anjali appeared for UPSC Interview twice but all over this was her 4th attempt of CSE.

She had missed the first attempt of the interview by 8 marks. 

Her optional subject for the Mains exam was geography. Her areas of interest in geography are ecology, wildlife, and nature.

Anjali is fond of doing Gond paintings and likes to follow tennis.
Aspirants willing to appear for UPSC CSE examination by taking Geography as their optional subject can go through UPSC Geography Optional Books on the given link.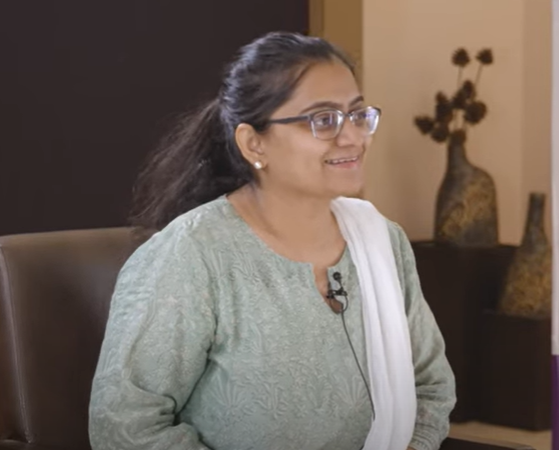 Educational Background
Anjali completed her schooling from Indore.

She bagged a graduation degree in Computer science from Medicap Institute of science and Technology.

She started preparing for the civil services exam after her graduation which she completed in 2017.

It took 5 years for her to bag the title of UPSC topper with AIR 44.
Family Background & Support
Anjali's father works in a bank and her mother is a teacher.

Anjali's sister had been very supportive throughout the journey. She says-
'There was ample support from my sister who used to sit back for 10 to 12 hours with me during my preparation. My parents also have unwavering support, they told me to have faith in your abilities you have come so far.'
She was in continuous touch with her Mentors and all positive people.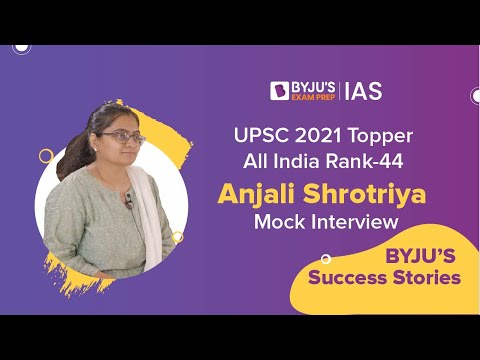 Anjali Shrotriya Success
Anjali Shrotriya's road to success was not smooth but rather quite struggling. She started her Civil Services preparation after completing her graduation. Anjali had faced failures and fell down many times and especially after her third attempt in which she made it till the interview but not beyond that . In her words –
" My CSE preparation journey did not have a good start. I was unable to clear my two prelims continuously which was a setback. But I gathered myself.'
Anjali did not join any private job after her graduation since she knew she had to give her head and heart to prepare for the coveted exam. 

She used to follow motivational videos, toppers videos to keep herself calm and confident.

Anjali also connected with her seniors for help in her preparation.

After seeing the failure. Anjali took help for preparation from big institutions' platforms which made her believe that someday it will click. She says –
"More than anything else, mental strength is very important to gather yourself up when you don't see your name in the final list "
She cleared her prelims in the third attempt and then the main thing she needed help with was the answer writing techniques. So she practiced a lot for answer writing but unfortunately failed to clear the interview.

She again appeared for the exam in just 15 days and cleared the Prelims.

She decided that this time she should attain good marks in the Mains exam so that the interview would not decide her rank or placement. Finally she was successful in her efforts.
Go through the UPSC Geography Optional Books on the linked page.
Anjali Shrotriya – UPSC Toppers Strategy
Below are some preparation strategies for UPSC, shared by Anjali:
She focuses on keeping limited material to study and complete the wide course. One should be very careful in the selection of the material.

Retention is most important in the examination.

Do not simply focus on particular aspects. If you are good in prelims don't just focus on practicing test papers. Work on your weaknesses as well and try to balance all the subjects well.

She believes that patience and perseverance are the two P's that would help anybody to clear this exam.

Anjali backed her preparation by regular newspaper readings to give adequate focus to what is happening in the country and internationally.

Anjali advised that setting short term and long term targets are what will help an aspirant be consistent with his/her studies as the syllabus is quite huge.

She made personal written notes while going through the topics that helped her a lot in revising the vast UPSC Syllabus.
Anjali Shrotriya AIR 44 – UPSC Scores
UPSC Topper Score – Anjali Shrotriya

Written Total

838

Personality Test Total

163

Final Total 

1001

All India Rank 

44
If you are wondering about How to Start UPSC CSE Preparation, visit the linked article.
Click on the links in the table below to read more.
How to go ahead with CSE Preparation?
The primary footstep towards the preparation of CSE is to make yourself acquainted with the pattern of the examination. Get to know the exam pattern better and understand the needs and expectations of the exam.

Make sure to stick to your routine. When you feel like straying, remind yourself of your goals.

The newspaper is considered the best friend of a UPSC aspirant. Reading the newspaper on a daily basis will give an edge to your preparation strategy. Choose one- two good newspapers which give authentic information. The mainly suggested newspapers are The Hindu, Indian express, Business standard and Economic times. 

Along with reading the newspaper one has to make a short note on current affairs.

If one does not carry out regular revision of the topics covered, then all the efforts will go down the drain. Allocate some time for revision at the end of every day, revising all the topics covered in the week over the weekend helps recollect all the topics with ease.

It would be quite difficult to clear the exam if you do not take regular mock tests. It helps you understand your levels of preparation and helps you stay relaxed in the actual examination environment.

Avoid distractions both in the form of humans and gadgets.

Take inspiration from your icons or past IAS toppers. Read motivational quotes to pep yourself up.

Consistency is the key to Success – Treat every day as the same and prepare with the same dedication and level of commitment. 
Anjali Shrotriya – UPSC Topper Info
UPSC Topper 2021 Background

Name

Anjali Shrotriya

Civil Service Exam 

2021

All India Rank 

44

Number of Attempt

4

Age 

26

Optional Subject 

Geography

Native 

Indore Madhya Pradesh

Education

Graduation is Computer Science
Keep yourself motivated and stay positive. Always look at the bright side of things and be confident about your ability to crack UPSC 2023.
Aspirants can use the links below to help them in their preparations.