The list of IAS Toppers 2021 spotlights one more name, Kartikeya Jaiswal who nailed the Civil Services Exam in his 1st attempt. You will get to read Kartikeya Jaiswal's background, preparation strategy, number of attempts, UPSC optional subjects, etc. 
The success stories of various IAS toppers in 2021 are provided in the links given below. Aspirants can go through them to assist their CSE preparation-
Kartikeya Jaiswal – UPSC Topper Background
Kartikeya Jaiswal is a resident of Pandit Deendayal Puram, Khandwa, Madhya Pradesh.

He is 23 years of age.

He brought laurels to his district because after many years in Khandwa someone has cleared UPSC and that too in the 1st attempt.

His Optional subject was mathematics for the UPSC Mains exam.

Kartikeya is fond of watching films.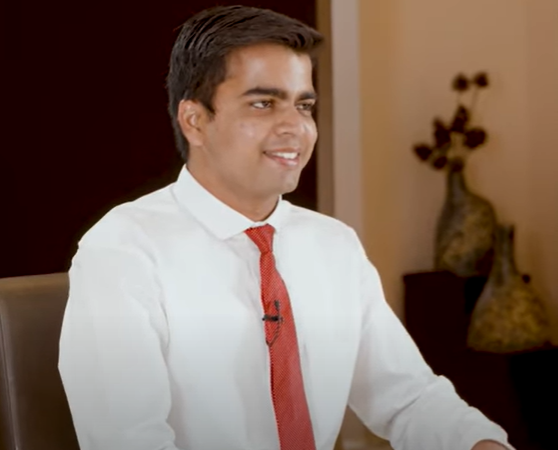 Aspirants willing to appear for UPSC CSE examination by taking Mathematics as their optional subject can go through UPSC Mathematics Optional Books on the given link.
Kartikeya Jaiswal's Education Background
Kartikeya studied in Khandwa till the tenth standard. 

He completed his higher secondary education i.e. 11th, 12th from Sri Sathya Sai Higher Secondary School in Andhra Pradesh. 

Later he went to Delhi St. Stephens college to bag a graduation degree in Mathematics honors and there he decided to appear for the Civil services exam.

He completed his graduation in 2020 and then came back to Khandwa. 
Kartikeya's Family Background & Support
Kartikeya's father Ashish Jaiswal is a hotelier and mother Manisha Jaiswal is a housewife. He has a young sister named Bhumika who is a school goer.

Kartikeya's father never forced him to carry on their family legacy, instead supporting him to pursue his dream to become an

IAS Officer

. His father says –  
"I am a businessman, but never forced my son for business. The son said that he has to do government service, so we fully supported him. My son has reached this height today with the blessings of all the elders."
Kartikey's family, friends and relatives all were supportive throughout his journey. In kartikeya's word – 
"Along with the family, there is also the support of many such people, whom I don't even know."
His mother Manisha Jaiswal said that she is very happy – 
'I am very happy for my son and this success is not only for Kartikeya but for Khandwa city, state and country.'
Kartikeya Jaiswal UPSC Toppers Preparation strategy
After graduation, Kartikeya came back to Khandwa for UPSC preparation.

Kartikeya started his preparations during the Covid times when there was a nationwide lockdown.

At that time no coaching institute was open so he started his CSE preparation by staying back and studying at home.

Kartikeya used to devote 15 to 16 hours of the day to studying. 

During his preparation, he stopped watching TV and used mobile as per the requirement. 

Half of the total time was given to the optional subject. The rest of the time was given to newspapers, general knowledge.

He made a preparation strategy and followed it strictly. He created notes and read newspapers like The Hindu, The Print, Reuter, etc.

He solved

previous years'

UPSC prelims question papers to get an idea about the nature of the questions asked in the UPSC prelims examination.

He watched videos of different UPSC toppers on YouTube. He went through their thoughts and made his preparations. 

Kartikeya solved a few test series to help her get enough practice before the actual exams.

Among the questions asked to him in the final interview before the result, there was also a question related to Kishore Kumar. 

Kartikeya suggests that aspirants should have faith in themselves and continue their preparation. Hard work from our side, will definitely get us success.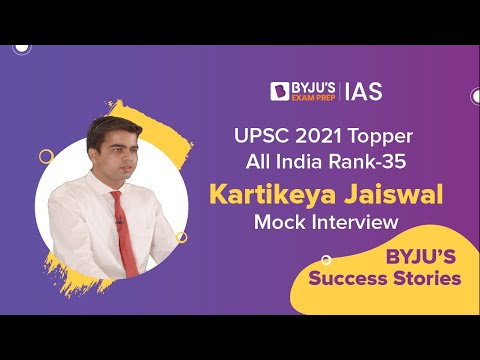 Kartikeya Jaiswal AIR 35 – UPSC Scores
UPSC Topper Score – Kartikeya Jaiswal

Written Total

825

Personality Test Total

182

Final Total 

1007

All India Rank 

35
If you are wondering about How to Start UPSC CSE Preparation, visit the linked article.
Click on the links in the table below to read more.
Must Follow Tips for CSE Preparation 
Create a preparation strategy and rigorously follow it. The preparation strategy for the UPSC Exam would vary from level to level. Get to know the exam pattern better and understand the needs and expectations of the UPSC exam at three different levels.

Comprehensively understand UPSC syllabus and work accordingly to each subject them step by step

Having a Time table will let you know whether you are heading in the right direction and with the right speed. Your time table must have short term and long term goals.

Develop the knowledge base from the basics. Reading the fundamental books of the General Studies papers are important and the sources for the basics are the NCERT Books. 

Refer to credible sources of study materials and make notes with right analyses. Without easily accessible simplified notes, the battle is long lost even before it has begun. At the very end of the preparation one cannot go through an ocean of material and make accurate analyses of all the topics.

Emphasize on newspaper reading and give particular emphasis on editorials from where you can gather good opinions and multiple views on a single topic. Also, indulge yourself in reading a good magazine like Yojana and Kurukshetra.
 Kartikeya Jaiswal– UPSC Topper Info
UPSC Topper 2021 Background

Name

Kartikeya Jaiswal

Civil Service Exam 

2021

All India Rank 

35

Number of Attempt

1

Age 

23

Optional Subject 

Mathematics

Native 

Bhullar Muktsar, Punjab

Education

Graduation is Mathematics Honors
Keep yourself motivated and stay positive. Always look at the bright side of things and be confident about your ability to crack UPSC 2022.
Aspirants can use the links below to help them in their preparations.