Table of Contents:
1. CJI said Justice delay keeps investors away
2. Centre plans to link varsity autonomy to performance
3. Nagpur SEZ to host Rafale offset manufacturing
4. John Key's visit to discuss NSG
5. India, Sri Lanka look at infrastructure partnerships
6. India falls short in female literacy
1. Rate cut: Economic panacea for all ills?
.
+++++++++++++++++++++++++++++++++++++++++++++++
Useful News Articles
A. GS1 Related
Nothing here today folks!
B. GS2 Related
Category: Indian Polity
Topic: Judiciary
Key Points:
Chief Justice of India T.S. Thakur said foreign investors continue to be wary of India's labyrinthine and delayed justice delivery mechanism. Prime Minister Narendra Modi and CJI mutually agreed that India is a bright spot in the global economy. But the top judge, in a reality check, pointed out that India continues to be one of the lowest ranked in the 'Ease in Doing Business' list of countries.
CJI further said India has over 3,000 foreign companies with operations in India. In 2015-16, there has been a 29 percent increase in foreign direct investments. India wishes to overtake China and the United States by 2050. Yet we are ranked 130 among a total 189 countries in the Ease of Doing Business. He said investors feel that Indian courts would delay justice due to them. The need for strengthening our judicial system is deeply connected to our ambition for economic growth.
According to him, alternative dispute resolution mechanisms like arbitration, mediation and conciliation would become effective only if backed by a robust justice delivery system steered by conventional courts. Civil courts should be able to hear and decide challenges to arbitration awards in a time-bound manner. But in India, an average 18,000 judge's deal with 50 million cases annually, of which 20 million cases are disposed of.
Indicating that the rush of litigation to the courts reflected the immense public faith in the judiciary, the Prime Minister said it was time for initiatives like arbitration to be aggressively pushed to match the changing scenario in business and investments.
Category: Central plans and programs
Topic:  Education
Key Points:
Union Human Resource Development Ministry is considering linking the autonomy of higher education institutions to their performance as measured by the National Institutional Ranking Framework (NIRF). The Ministry is thinking of dividing universities in three categories – A, B and C on the basis of their NIRF rankings. The A category will comprise institutions with high NIRF rank and these will be highest on the autonomy scale, the B category will comprise middle-ranking institutions with part autonomy but also government regulation, and category C will mean institutions with low ranking that will require greater regulation and hand-holding for improvement.
Union HRD Minister Prakash Javadekar said greater autonomy could imply a number of things, including the complete freedom for institutions to have their own syllabi and curricula.
Note: NIRF – It is a comprehensive ranking system for universities developed by the HRD Ministry. The first NIRF rankings were released in 2016. The next round of NIRF rankings will be published on the first Monday of April 2017.
2016 NIRF rankings – IIT Madras topped among engineering colleges, followed by IITs at Mumbai, Kharagpur, Delhi, Kanpur and Roorkee. IIT Madras had a score of 89.41. Among universities, the Indian Institute of Science, Bengaluru, topped, followed by the Institute of Chemical Technology in Mumbai, Jawaharlal Nehru University in Delhi, Hyderabad University and Tezpur University. Among management schools, IIM Bengaluru was ranked first with a score of 93.04, followed by the IIMs at Ahmedabad, Kolkata, Lucknow, Udaipur and Kozhikode.
Category: National programs and policies
Topic: SEZ to host Rafale fighter jets
Key Points:
An integrated facility will be commissioned in the Reliance Special Economic Zone (SEZ) at Nagpur by the Reliance Anil Dhirubhai Ambani Group and its French partner Dassault shortly for the execution of offset contracts of the just-concluded deal for 36 French fighters. A significant part of the whopping 30,000 crore offsets would be executed through the joint venture, Dassault – Reliance Aerospace.
4 French companies which have a major stake in the Rafale deal – Dassault Aviation, Thales, Safran and MBDA will execute offsets worth about Rs. 30,000 crore as per their share. The Dassault-Reliance JV will only execute a part of the offsets because some of the investments have to be done in DRDO for technology development.
Category: Bilateral
Topic: India – New Zealand
Key Points:
The Centre will once again focus on its push for India's membership of the Nuclear Suppliers Group (NSG) with the visit of New Zealand Prime Minister John Key to India. Negotiators meanwhile are gearing up for the second round of talks with China followed by an NSG session in Vienna expected in November, 2016.
New Zealand is among the countries led by China that have demanded a set criteria for non-signatories of the nuclear Non-Proliferation Treaty (NPT), holding up India's membership, and the issue will be discussed by India and New Zealand.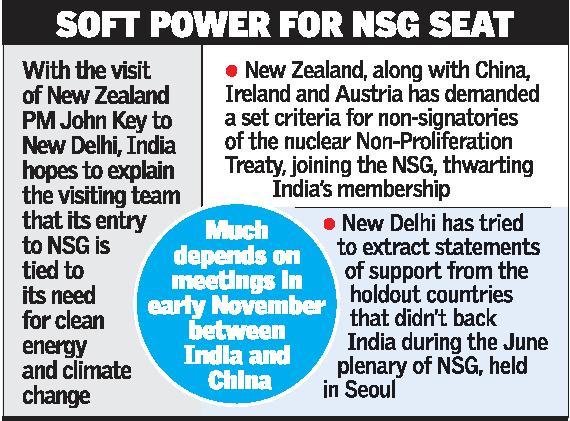 India will try to convince New Zealand that entry of India to the group was tied to its need for clean energy and climate change commitments.
Note – After meeting Brazilian President Michel Temer, the India-Brazil joint statement said, "The Indian side conveyed its aspirations for membership of the Nuclear Suppliers Group (NSG). The Brazilian side indicated that it would work with India and other participating governments of the NSG in that direction."
Earlier, during a visit to Pretoria in July, 2016 PM of India Narendra Modi had thanked South Africa for its support at the NSG, but South Africa made no statement on the subject, and there was no reference to the NSG during the Prime Minister's meeting with President Zuma in the official readout at the BRICS summit.
NPT conditions: One of the reasons for the silence is that both Brazil and South Africa fought hard and domestically controversial battles to join the NSG, and could only do so after they agreed to sign the Non-Proliferation Treaty. Therefore, they have resisted full-fledged membership for India without it signing the NPT, or a formal procedure being set. Significantly, in 2008, both Brazil and South Africa had backed India's bid for an NSG waiver, as part of the IBSA grouping.
Category: Bilateral
Topic: India – Sri Lanka
Key Points:
India and Sri Lanka discussed potential India-Sri Lanka partnerships in areas such as transport, energy and infrastructure. Foreign Secretary S Jaishankar, in Sri Lanka on an economic diplomacy initiative, is accompanied by an official delegation from public sector companies such as GAIL, NTPC, IOC and RITES.
On the agenda are discussions on likely partnerships in the power sector using Liquefied Natural Gas (LNG), developing the Trincomalee Oil Farm and expansion of the airports in Palally in Jaffna Peninsula and Colombo, among other projects. Following Sri Lanka's decision in September, 2016 to scrap an NTPC-aided power project in the strategically-important Trincomalee, India has offered to partner the country in LNG and solar power initiatives.
India and Sri Lanka are also negotiating a trade deal, the Economic and Technological Cooperation Agreement (ETCA) which would be signed by end of December, 2016.
Category: International reports and indices
Topic: Female Literacy
Key Points:
Data from new research on female literacy show that India's school education system is under-performing in terms of quality when compared to its neighbours – Pakistan, Bangladesh and Nepal. The research studies changes in female literacy over a number of schooling years.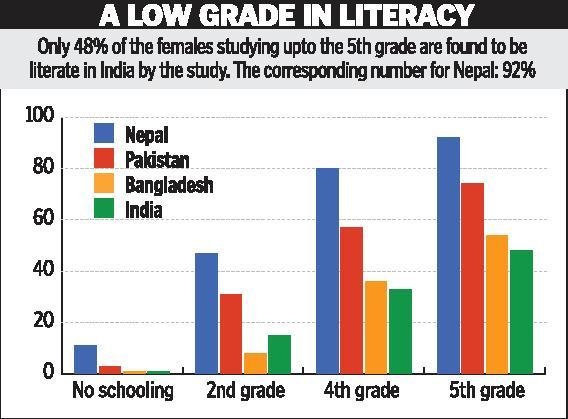 Findings of the New York-based International Commission on Financing Global Education Opportunity – The proportion of women who completed five years of primary schooling in India and were literate was 48 per cent, much less than 92 percent in Nepal, 74 per cent in Pakistan and 54 per cent in Bangladesh. The data also revealed that, female literacy rates went up by one to 15 per cent after completing two years of schooling. Corresponding numbers for Pakistan and Nepal were 3 to 31 per cent and 11 to 47 per cent
For this research, the authors devised a way to measure the quality of education around the world, with a specific focus on girls, using data from nationally representative Demographic and Health Surveys (DHS) – one of the most comparable data sources on living standards in the developing world.
India ranks low in global indices of female literacy as well.If countries are ranked by the earliest grade at which at least half of the women are literate – a proxy for quality of learning India ranks 38th among the 51 developing countries for which comparable data is available. Indonesia, Rwanda, Ethiopia and Tanzania all rank higher than India. Ghana is placed at the bottom. According to this study, just seven per cent of female students in Ghana can read after attaining their sixth grade.
C. GS3 Related
Category: Economy
Topic: Monetary Policy
Key Points:
Quite predictably, a good part of the media and a good number of commentators have applied ornithological metaphors to describe the 25-basis points cut in the policy rate by the RBI in its fourth bi-monthly monetary policy review for this fiscal held on October 4. 'The inflation hawk has gone – and the doves on Mint Street have started to flap their wings'.The policy repo rate is now 6.25 per cent – a 6 year low. The RBI expects the transmission of this cut in lowering the costs of new borrowing in the economy will be more effective than the earlier cuts.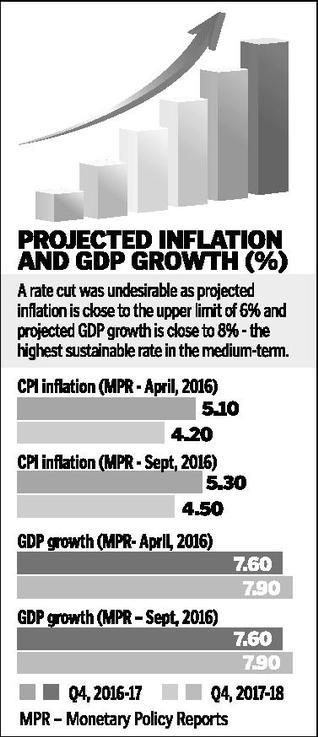 In one respect, the fourth bi-monthly policy review exercise this year is historic: it involved the maiden decision-making by RBI's first Monetary Policy Committee (MPC), in pursuance of a primary mandate to keep consumer inflation between 2 per cent and 6 per cent. That the adoption of a legally backed inflation-targeting discipline and the constitution of an MPC will enhance both the process and quality of monetary policy-making is widely acknowledged. However, it is equally important for the MPC to establish its institutional credibility by demonstrating that its decision-making framework is logical, consistent, transparent and effective. Gauged by those standards, the first rate decision of the MPC does not inspire much confidence, though.
Three-fold impact: As regards the impact of the rate cut, three issues loom large: credit growth, stressed assets/NPAs of banks and corporate investment. Extremely sluggish credit growth on the part of PSU banks to sectors other than retail borrowers is going to last for quite some time. And so long as the credit cost by way of provisioning for NPAs remains high, as is the case now, the likelihood of a reduction in borrowing cost in response to cuts in the policy rate will continue to be low.
Transmission of monetary policy will continue to remain sub-optimal till the estimated Rs.13.3 trillion (or Rs.13.3 lakh crore) of stressed assets/NPAs of banks are resolved. While RBI has done a good job in pushing banks to recognise their NPAs, it has been quiet on the lack of progress in the resolution of stressed assets/NPAs. While the government expects a good number of NPAs to become regular over the next few years, thereby making possible reversal of provisions made against them, there is little evidence of any progress on the ground in this regard.
Various schemes for debt resolution such as Corporate Debt Restructuring (CDR), Strategic Debt Restructuring (SDR) and the recent Scheme for Sustainable Structuring of Stressed Assets (S4A) have not had any noticeable impact so far. Illustratively, between 2009-10 and 2014-15, the total number of cases referred to CDR was 253 with an aggregate exposure of Rs.2.76 trillion (Rs 2.76 lakh crore), out of which only 5 cases involving Rs.16 billion (Rs.1,600 crore) have so far exited CDR successfully. SDR has been a non-starter and S4A has yet to take off.
The fundamental flaw in current debt resolution schemes is the lack of an enabling mechanism for infusion of fresh equity in the debtor companies. In most cases, fresh equity is unlikely without a repricing of the companies' assets and liabilities that would lead to proper price discovery of its equity. This will entail an appropriate reduction in the companies' debt owed to banks. Debt resolution by banks cannot happen if RBI relies only on its directives that are issued in a 'command and control' fashion. RBI and government must empower boards of PSU banks to take decisions on one-time settlements and debt write-off on commercial considerations alone, based on well-defined policies and the procedure to be formulated for this purpose.
D. GS4 Related
E. Important Editorials: A Quick Glance
The Hindu
The challenges of a rapidly urbanising world and of providing people with equal opportunities in cities were the central themes at the just-concluded UN Conference on Housing and Sustainable Urban Development, Habitat III, in Quito, Ecuador. As a once-in-a-generation event, the Habitat conference sets a guiding compass for member-countries for the next 20 years, and attracts wide governmental and civil society participation.
Yet, the process has to be strengthened to evaluate how countries have fared since the two previous conferences on issues such as reducing urban inequality, improving access to housing and sanitation, mobility, and securing the rights of women, children, older adults and people with disability. Moreover, as services come to occupy a dominant place in the urban economy, the divide between highly paid professionals and low-wage workers, the majority, has become pronounced.
All these trends are relevant to India, where 31 per cent of the population and 26 per cent of the workforce was urban according to Census 2011, with more people moving to cities and towns each year.
Urban governance policies, although mainly in the domain of the States, must be aligned with national commitments on reduction of carbon emissions under the Paris Agreement, and to achieve Sustainable Development Goal 11.
India's ambition to harness science and data for orderly urbanisation is articulated in a set of policy initiatives, chiefly the Smart Cities Mission and the Atal Mission for Rejuvenation and Urban Transformation. There is little evidence so far that these could achieve the scale needed to address the contradictions of building 21st century cities for 20th century industrial technologies.
Today, these conflicts are reflected in the lack of adequate parks and public spaces, suitable land for informal workers who offer services in a city, egalitarian and non-polluting mobility options and new approaches to low-cost housing.
In the national report prepared for the Quito conference, the Ministry of Housing and Urban Poverty Alleviation identified subsidised redevelopment of slums (which represented 17 per cent of urban households in 2011) involving private agencies, and low-cost, disaster-resistant, prefabricated constructions as key to the 'Housing for All' policy. This important programme should be pursued with a vigorous annual review that ranks States on the basis of performance. The Centre should also take its own National Urban Transport Policy on developing cities around mobility networks seriously, and liberate cities from the tyranny of traffic. UN Habitat plans to review country-level progress on its New Urban Agenda in Kuala Lumpur in 2018. India's performance on improving the quality of life in its cities will be watched.
Last week's sale of $ 17.5 billion worth of sovereign bonds by Saudi Arabia, a record for an emerging market, was no ordinary affair.
The sale is part of a series of measures the country is taking to extricate itself from a sticky situation a deeply entrenched structural dependence on oil in a world of persistently low oil prices, which went from over $110 a barrel in 2012 to below $30 at the start of 2016. This has, not surprisingly, had consequences for the kingdom, most of whose revenues come from oil. It posted a record $98-billion budget deficit, or 16 per cent of GDP, in 2015, and is expected to grow at rates less than half of last year's, according to the International Monetary Fund.
Riyadh is only too aware of its precarious position. It has moved away from a 'pump at will' policy at OPEC, one designed to keep U.S. shale oil in check but that ended up hurting its own economy by pushing down oil prices. Consequently, at next month's OPEC meeting Saudi Arabia is likely to accept output cuts, even though these cuts may not apply to its arch-rival Iran. It has also decreased government spending, cut public wages and bonuses, and plans an IPO of Saudi Aramco, the state oil producer, as part of Deputy Crown Prince Mohammed bin Salman's 'Vision 2030' reform plan. For now, the bond sale will help close its budget gap and take pressure off its approximately $550 billion foreign exchange reserves.
The success of the debt issue, oversubscribed with orders totalling $67 billion, is due to three main factors.
First, despite the high price of the bonds and the long-term economic and geopolitical risks associated with Saudi Arabia, the yields looked attractive in the context of low interest rates in developed economies.
Second, oil prices have increased since the beginning of the year and are in the region of $50 a barrel.
Third, the kingdom's salesmen are reported to have made a solid pitch on the bond roadshow, addressing investors' concerns over the undiversified economy and reiterating Saudi Arabia's commitment to peg the riyal to the dollar. Longer-term risks remain for the kingdom, notwithstanding the markets' response to its bonds. A movement towards cleaner fuels and the country's involvement in wars in Syria and Yemen pose serious risks to its stability. As the era of oil starts drawing to a close, Saudi Arabia, which has so far ignored the moral case for a gentler, more gender-equitable and open society, may now be forced to be drawn closer to the rest of the world.
F. Concepts-in-News: Related Concepts to Revise/Learn:
Judicial reforms
National Institutional Ranking Framework (NIRF)
Dassault Rafale
NSG
Renewable Energy
Urban development programs
Sovereign bonds
G. BILLS/ACTS/SCHEMES/ORGS IN NEWS
H. Fun with Practice Questions 🙂
Question 1: Which of the following statements are correct regarding Nuclear Suppliers Group (NSG)?
It is a group of nuclear supplier countries that seek to prevent nuclear proliferation by controlling the export of materials that can be used to manufacture nuclear weapons.
India got a waiver from NSG in 2008 to enter International Nuclear commerce.
a) (i) only
b) (ii) only
c) Both (i) and (ii)
d) Neither (i) nor (ii)
Question 2: Who heads the Monetary Policy Committee (MPC) which was recently constituted by the centre?
a) Union Finance Minister
b) Prime Minister
c) Chief Economic Advisor
d) Governor of RBI
Question 3: The Base Erosion and Profit Sharing agreement appears in news in the context of -
a) Organization for Economic Cooperation and Development (OECD)
b) International monetary fund (IMF)
c) World Trade Organization
d) World Economic Forum
Question 4: An integrated facility will be commissioned at the Reliance Special Economic Zone (SEZ) for the operationalization of Dassault Rafale deal in?
a) Pune
b) Nagpur
c) Mysore
d) Chitoor
Question 5: Which country recently signed an agreement with India to produce solar and wind energy in a move to reduce dependence on thermal energy?
a) China
b) Sri Lanka
c) Thailand
d) South Africa
"Proper Current Affairs preparation is the key to success in the UPSC- Civil Services Examination. We have now launched a comprehensive 'Online Current Affairs Crash Course'.
Limited seats available. Click here to Know More."