Table of Contents:
1. Centre plans to revive National counter terror centre
2. Join consultation on ending triple talaq, says centre
4. Bangladesh, China begin strategic alliance
5. Israel cuts ties with Unesco over Jerusalem draft resolution
1. Self-powered UV photodetector
2. Hubble shows 2 trillion galaxies in observable universe
3. NITI Aayog reviewing centre's stake in CONCOR
4. Forex reserves fall by a narrow range
5. WPI inflation reduces to 3.6 per cent
1. Time to decongest our prisons
2. A return to Cold War tensions
.
+++++++++++++++++++++++++++++++++++++++++++++++
Useful News Articles
A. GS1 Related
Nothing here today folks!
B. GS2 Related
Category: National organizations
Topic: Counter Terrorism – NCTC
Key Points:
Centre is planning revival of the National Counter Terrorism Centre (NCTC), a project conceived by the Union government in 2012. Union Home ministry said NCTC proposal would be reworked to allay the fears of State governments that their intelligence gathering mechanism would be encroached upon by the Centre.
NCTC was opposed by the opposition in 2012 as a poorly conceived idea which tinkers with age-old existing systems and would do irreparable loss to our internal security apparatus.
The NCTC proposes to have powers to seek information from all State and central agencies and maintain records of terror suspects, their relatives in a single database. It will also have the mandate to carry out anti-terror operations, if any, through, or in conjunction with, the State police.
Category: Religious laws
Topic: Talaq
Key Points:
The Union government asked the All India Muslim Personal Law Board (AIMPLB) and certain other Muslim organisations to reconsider their decision to boycott the Law Commission's consultation on triple talaq and the Uniform Civil Code (UCC).
Centre said here that the government only wanted a debate and asked the case against triple talaq now under way in the Supreme Court not be mixed up with the efforts of the Law Commission for a UCC.
The real mood of the country is that people want this triple talaq to end. People do not want any discrimination on the basis of any religious faith against women. The issues involved here are gender justice, non-discrimination and dignity of women.
Note – Article 44 of the Indian Constitution lists Uniform Civil Code (UCC) as one of the directive principles of state policy
2016 BRICS Summit
Category: International summits
Topic: BRICS
Key Points:
At the 8th BRICS Summit at Goa, India Prime Minister of India Narendra Modi will meet Premiers of Russia, Brazil, China and South Africa with the task of carving out common ground on counter-terrorism actions.
Apart from terror, the summit is likely to see significant announcements on development initiatives in the Bay of Bengal region with an outreach to the 7-nation BIMSTEC, as well as a possible discussion on the worsening situation for civilians in Syria. However, the summit will face an overhang from ongoing tensions with Pakistan, the differences with China and worries over the slowing down of economies, especially Brazil and South Africa.
India's push to have a comprehensive convention on international terrorism (CCIT) adopted at the U.N. The 5th BRICS summit at Brasilia in 2010 had included an appeal for an early conclusion of negotiations in the UN General Assembly of the CCIT and its adoption by all Member States, but India would like to see more decisive language on the convention as well the threat of cross-border terrorism and support by Pakistan to terror groups in the wake of the Uri attack.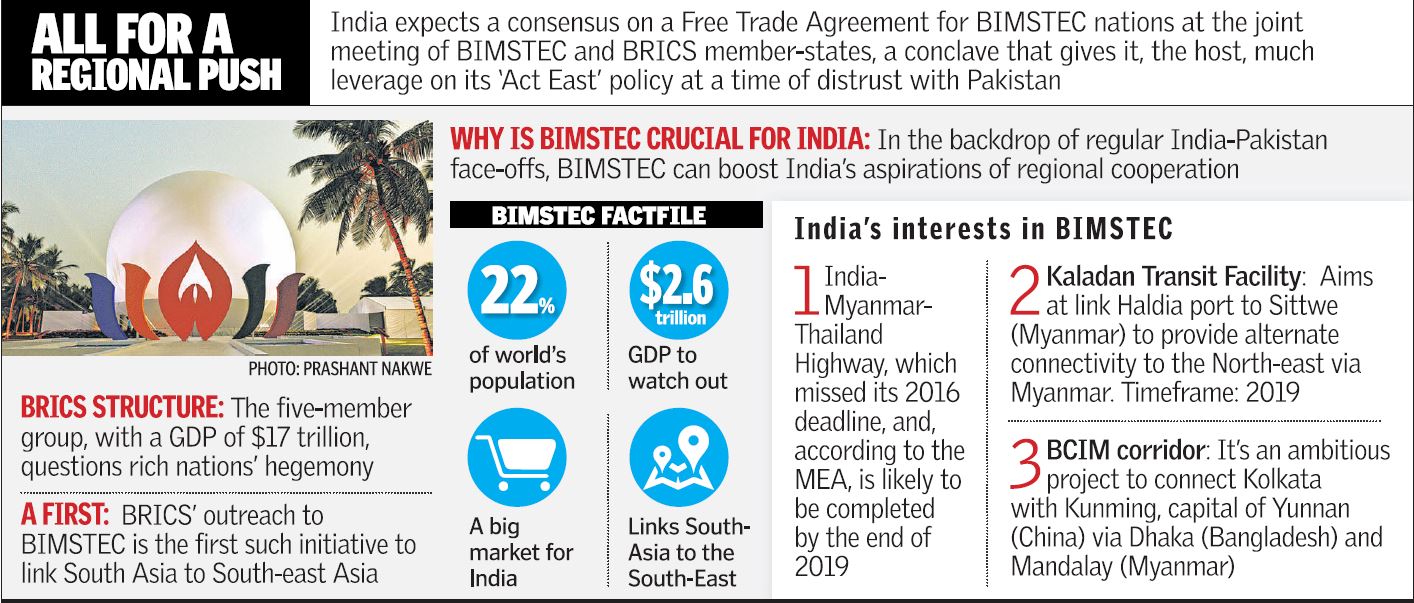 Category: International
Topic: China-Bangladesh relations
Key Points:
Bangladesh and China have agreed to elevate their cooperation to strategic partnership during Chinese President Xi Jinping's visit to Bangladesh. The two countries have also agreed to jointly advance China's belt and road initiative and establish institutional cooperation in areas of maritime issues and counter-terrorism.
The 2 countries witnessed the signing of 26 agreements on different sectors.
China and Bangladesh reached consensus on working together in trade and investment and other key areas such as infrastructure, agriculture, energy and power, ICT and transportation. Bangladesh hoped that with cooperation from China, it will be able to reach its goal to become a middle-income country by 2021.
Category: International issues
Topic: Israel
Key Points:
Israel suspended cooperation with UNESCO after the U.N. cultural agency adopted a draft resolution that denies Israel its deep, historic Jewish connection to holy sites in Jerusalem.
UNESCO's draft resolution, sponsored by several Arab countries, uses only the Islamic name for a hilltop compound sacred to both Jews and Muslims, which includes the Western Wall, a remnant of the biblical temple and the holiest site where Jews can pray.
Israelis and many Jews around the world viewed it as the latest example of an ingrained anti-Israel bias at the UN, where Israel and its allies are far outnumbered by Arab countries and their supporters.
Israel captured East Jerusalem, with sites holy to Jews, Christians and Muslims, in the 1967 war. Palestinians claim the territory as part of their future state, and its fate is a central dispute
C. GS3 Related
Category: Science & Technology
Topic: Developments
Key Points:
Researchers from the Indian Institute of Science (IISc) – Bangalore have developed a cost-effective, high-performance, self-powered UV photodetector that can use the harvested optical energy for direct self-charging of energy storage devices such as super capacitor. It can also be used for operating electronic devices in the absence of external power source.
The photodetector has been developed by the researchers by integrating semiconducting vanadium doped zinc oxide – VZnO nanoflakes with a conducting polymer. The photodetector has superior performance in terms of faster detection of photo signals in the order of milliseconds even when UV light intensity is low.
2. Hubble shows 2 trillion galaxies in observable universe
Category: Space
Topic: NASA
Key Points:
The 3D modelling of images collected over 20 years by the Hubble Space Telescope shows that there are a dizzying two trillion galaxies in the universe, up to twenty times more than previously thought.
The analysis reached back more than 13 billion years very near the time of the Big Bang thought to have given birth to the universe.
3. NITI Aayog reviewing centre's stake in CONCOR
Category: Economy
Topic: NITI Aayog
Key Points:
The Union Finance Ministry has returned a proposal of NITI Aayog for strategic disinvestment of the Centre's stake in Container Corporation of India Ltd (CONCOR) on the ground that the move could potentially lead to a public sector monopoly becoming a private sector monopoly.
In light of the Ministry's response the Aayog is re-examining its proposal. It is also taking on board the views in this regard of the Railways Ministry since CONCOR works under it. In 2006, the anti-trust watchdog Competition Commission of India had ruled that Indian Railways and CONCOR had not abused their dominant position in the freight services segment.
Note – Container Corporation of India Ltd (CONCOR) is a logistics company; it is a network of 64 terminals, offering scheduled and on-demand rapid rail and road services between the hinterland and ports, and between terminals across the country.
It is the only listed company of Indian Railways with a cash surplus of Rs.2,400 crore and zero debt on its balance sheet.
Category: Economy
Topic: FOREX reserves
Key Points:
According to the latest data released by the Reserve Bank of India (RBI), India's foreign exchange reserves fell $ 4.34 billion as the central bank intervened in the currency market. The fall in the foreign exchange reserves which stood at $367.64 billion was led by a decline in foreign currency assets which fell $4.31 billion.
It reflects the central bank's intervention in the foreign exchange market to control heightened currency volatility triggered by stronger U.S. macro data points that created highly bullish dollar sentiment overseas.
Category: Economy
Topic: Headline Inflation – WPI
Key Points:
According to the data released by the Union Ministry of Commerce and Industry Wholesale price inflation (WPI) eased marginally to 3.6 per cent due to a cooling off of food prices. Inflation in the food category eased to 5.75 per cent.
The slowdown in the growth of the WPI comes at a time when India's retail inflation also eased sharply. Growth in the Consumer Price Index stood at 4.3 per cent, the slowest in more than a year. This shows that the Reserve Bank of India was correct in cutting rates in its latest policy review.
Inflation has declined due to the sufficient rains and some supply side management by the authorities
D. GS4 Related
E. Important Editorials: A Quick Glance
The Hindu
The overcrowding of prisons in the country is a long-standing problem that is seldom addressed effectively. Even though the Supreme Court has, from time to time, raised the issue of prison reforms in general, and that of overcrowding in particular, measures to decongest jails have been sporadic and half-hearted.
The issue is once again in the news, with the Supreme Court bemoaning that prisons in Delhi and nine States have an occupancy rate of 150 per cent of their capacity. The average occupancy in all jails in the country was 117.4 per cent, as of December 31, 2014. What makes the picture bleaker is that there is little change even though the court has passed a series of interim orders to the States on measures to decongest prisons. In particular, the court had on February 5 and May 6 this year spelt out steps that the authorities should take to reduce prison occupancy. Cramped conditions in prison militate against the prisoner's right to good health and dignity. Further, as pointed out by the amicus curiae in this case, an excessive prison population creates problems of hygiene, sanitation, management and discipline. Of equal concern are the available staff strength and the level of training they receive.
It is unedifying to note that not one State or Union Territory has bothered to prepare a plan of action, as directed by the court five months ago, to reduce crowding and to augment infrastructure so that more space is available to each prisoner. The court received some information about proposals for constructing additional jails, but has found that these are only ad hoc proposals, with no indication of either a time frame or the resources provided for building these facilities.
The court's sense of disquiet is understandable, as many States seem to ignore the obvious mismatch between the extent to which they keep the law and order machinery active and the space and resources provided for those jailed under such action. Last year, it was found that a little over two-thirds of India's prisoners were undertrials. Poverty remains the main reason for this, as most prisoners are unable to execute bail bonds or provide sureties. Since 2014, there is some effort to invoke Section 436A of the Code of Criminal Procedure, under which undertrials who have completed half of the maximum jail term specified for their offences may be released on personal bonds. But much more needs to be done. Failing to address the problem of crowded jails may prove costly for the administration of criminal justice.
A big foreign policy challenge awaiting the next U.S. President is the frosty relationship with an angry, resurgent Russia. Talk about a post-Cold War partnership between the world's two greatest military powers is now a thing of the past. It looks like a throwback to the Cold War days with Russia and the U.S. fighting a proxy war in Ukraine, leading two competing military operations in Syria and raising allegations and counter-allegations on a host of issues, ranging from human rights violations and breaking international norms to interfering in each other's domestic politics.
Tensions came to a head this month when the U.S. pulled out of talks with Russia over the Syria conflict. This was immediately after President Vladimir Putin abandoned a key nuclear disarmament treaty with Washington, demanding the removal of sanctions on Moscow. If the belligerence and intransigence both countries display are any indication, international politics is set to get a lot more murky.
There could be several triggers for this escalation, but the real problem is that the Cold War-era mistrust between Washington and Moscow was never really buried. Friction has been increasingly evident on the watch of President Putin, as he pursues an aggressive foreign policy framed around what he regards as Russian interests. This happened in Georgia in 2008, Ukraine in 2014 and Syria the year after. In turn, the Obama administration's coercive diplomacy in dealing with Russia's aggression has widened the rift. The suspension of Russia from the G8 moved Moscow farther away from the West, while sanctions negated the goodwill built, since the 1990s, between Moscow and the West.
To be sure, Russia is a shadow of what the Soviet Union was at its peak. Its economy is struggling in the wake of the slump in oil prices. Its currency is in a free fall. Its geopolitical influence is largely limited to the Central Asia and Caucasus. And its foreign policy doesn't have any high moral ground – the interference in Ukraine was a direct threat to the modern international system, while in Syria it's defending a brutal regime that's accused of killing its own citizens. But in an international system largely dominated by the U.S., Russia, still an extremely consequential military power, remains the key player whose cooperation is necessary to resolve several of today's crises.
Treating it as a rogue nation or trying to isolate and weaken it through sanctions and other means could only be counterproductive. The Iran nuclear deal shows that even the most complex international issues could be resolved if Russia and the U.S. work together with creative diplomacy. Ideally, that should set the model for U.S.-Russia partnership.
F. Concepts-in-News: Related Concepts to Revise/Learn:
Counter-Terrorism initiatives
BRICS
Uniform civil code (Art-44)
US-Russia relations
FOREX reserves
Headline and core inflation
G. BILLS/ACTS/SCHEMES/ORGS IN NEWS
BRICS
NITI Aayog
H. Fun with Practice Questions 🙂
Question 1: Which of the following countries have signed free Trade Agreements (FTA's) with ASEAN?
a) i) ii) iii) & iv)
b) i), iii) iv) & v)
c) i) iii) iv) v) & vi)
d) All the above
Question 2: The Container Corporation of India Ltd (CONCOR) works under
a) The Union ministry of Railwaysb) The Union ministry of Road Transport
c) The Union ministry of Shipping
d) None of these
Question 3: Which country recently hosted the BRICS Media summit for the 1st time?
a) China
b) India
c) Brazil
d) Russia
Question 4: The World Bank Publishes which of the following reports 
World Development report
World Economic Situations & Prospects.
World Investment report
a) 1) & 2)
b) 2) & 3) Only
c) 1) & 3) Only
d) All the above
Question 5: The Uniform Civil Code (UCC) in recent times has been subjected to a lot of deliberations and discussions. Which part of the Indian constitution explicitly mentions it?
a) Fundamental Dutiesb) Fundamental Rights
c) Directive Principles of State Policy (DPSP)
d) Part 3 of the Indian Constitution.
"Proper Current Affairs preparation is the key to success in the UPSC- Civil Services Examination. We have now launched a comprehensive 'Online Current Affairs Crash Course'.
Limited seats available. Click here to Know More."