30 October 1909
Birth of Homi Bhabha
---
What happened?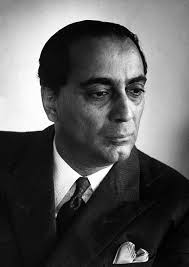 On 30 October 1909, the 'Father of the Indian Nuclear Programme' Homi Jehangir Bhabha was born in Bombay.
Homi Bhabha
Born to a wealthy Parsi family to Jehangir and Meheren Bhabha, Homi Bhabha was educated at the Elphinstone College, Bombay and Cambridge University, UK.
He pursued a degree in mechanical engineering as per the wishes of his family, and then acquired a degree in mathematics too. He studied under mathematician Paul Dirac. He was a brilliant student and won many scholarships.
In 1933, he secured a doctorate in nuclear physics. His paper for his doctoral thesis was titled 'The Absorption of Cosmic radiation'. This won him the Newton Studentship which he held for three years. He completed his thesis under Ralph Fowler. Apart from working at Cambridge, he also spent time working in Copenhagen with Nobel laureate Niels Bohr.
A paper he published in 1935 on electron-positron scattering was appreciated much by the scientific community and this phenomenon was later renamed Bhabha scattering.
He returned to India in 1939 and then became a Reader in the Physics Department at the Indian Institute of Science, which was then headed by eminent scientist and Nobel laureate C V Raman.
At the IISC, he established the Cosmic Ray Research Unit. He also played a big role in the establishment of the Tata Institute of Fundamental Research in Mumbai.
Bhabha convinced the then Prime Minister Jawaharlal Nehru to start a nuclear programme.
He started research on nuclear weapons in 1944. He set up the Tata Institute of Fundamental Research in 1945 and also the Atomic Energy Commission in 1948. He was the first chairman of the Commission.
Bhabha represented India in IAEA and in 1955, was also the President of the United Nations Conference on the Peaceful Uses of Atomic Energy in Geneva.
He was an aggressive promoter of nuclear weapons for the country's defence.
Bhabha was instrumental in devising the strategy behind the country's nuclear programme. He pioneered the use of thorium to extract uranium from it rather than relying on the meagre reserves of uranium in India. He formulated India's three-stage nuclear power programme.
Homi Bhabha died in a plane crash near Mont Blanc in the Swiss Alps while on his way to Vienna for a meeting on 24 January 1966. He was 56 years old.
Various institutes have been named after this eminent physicist such as the Homi Bhabha National Institute, the Homi Bhabha Centre for Science Education and the Bhabha Atomic Research Centre (BARC). BARC (formerly known as the Atomic Energy Establishment) is India's leading nuclear research facility located in Bombay.
Awards
Adams Prize (1942) – University of Cambridge
Padma Bhushan (1954) – Government of India
Fellow of the Royal Society – Royal Society, London
Also on this day 


---


1883: Death of Dayanand Saraswati, founder of the Arya Samaj.
1887: Birth of Sukumar Roy, Bengali poet and playwright who mainly wrote for children.
1908: Birth of freedom fighter and social worker Muthuramalinga Thevar.
1960: Birth of football great Diego Maradona in Argentina.
1963: Death of Muthuramalinga Thevar.
2014: Sweden became the first European Union member to officially recognise the state of Palestine.

See previous 'This Day in History' here.
Also see the biographies of: