On 25 September 1920, Satish Dhawan, the man who shaped India's space programme was born in Srinagar, Jammu & Kashmir. He is honoured as the 'Father of experimental fluid dynamics research' in India. In today's edition of This Day in History, you can read all about the life and contribution of pioneer scientist Satish Dhawan, for the IAS exam.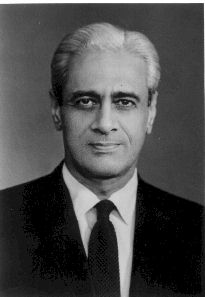 Get an edge over your competition in one of the toughest exams by visiting the UPSC Previous Year Question Papers page
Strengthen your preparation for the UPSC exam by checking the following links:
Satish Dhawan Biography
Dhawan was regarded as one of the most distinguished researchers in the field of turbulence and boundary layers in India.
He graduated from the University of Punjab with a BA in Mathematics and Physics, a BE in Mechanical Engineering and unusually, an MA in English Literature. He received his higher education in the USA with a master's in Aeronautical Engineering from the University of Minnesota. He also went on to complete his PhD in Aeronautics and Mathematics from the California Institute of Technology in 1951. His doctoral advisor was the eminent American professor Hans W. Liepmann.
Dhawan was a professor in the Indian Institute of Science (IISc) and in 1962, he became its director. Despite being a celebrated researcher, he called himself a teacher and was devoted to that profession.
He was instrumental in carrying out ground-breaking research at a low cost. His research also helped solve many of the problems faced by the then new industry in India, the aircraft industry.
He was also responsible for setting up India's first supersonic wind tunnel at IISc.
In 1972, Prof. Dhawan was appointed the Chairman of the Space Commission, the Chairman of the Indian Space Research Organisation (ISRO), and Secretary, Department of Space, Government of India.
Under the leadership of Prof. Dhawan, the Indian space programme grew by leaps and bounds. The country was able to conduct programmes on launch vehicles and satellites. Many experiments were also carried out in remote sensing and satellite communications. All this was vital to the development of the country. His efforts led to the development of the INSAT, the IRS (Indian Remote Sensing Satellite) and the PSLV.
Under Prof. Dhawan, ISRO appreciated the social problems of a developing country and used space technology to steer the nation towards development and growth.
Satish Dhawan passed away on 3 January 2002 aged 81.
The satellite launch centre at Sriharikota, Andhra Pradesh, has been renamed the Satish Dhawan Space Centre.
Awards
Distinguished Alumnus Award, Indian Institute of Science
Distinguished Alumnus Award, California Institute of Technology – 1969
Padma Bhushan – 1971
Padma Vibhushan – 1981
Indira Gandhi Award for National Integration – 1999
Also on This Day 


---


1899: Birth of Udumalai Narayana Kavi, famous Tamil poet.
1990: Death of SS Chauhan, the first student who immolated himself and died in protest 
against the Mandal Commission recommendations.
1990: Death of freedom fighter and politician Prafulla Chandra Sen.

See previous 'This Day in History' here.
For more related articles and UPSC preparation materials, visit the links given below: