Vikram Sarabhai, the 'Father of Indian space programme' was born on 12 August 1919 in Ahmedabad, Bombay Presidency. In this edition of This Day in History, you can read about the life and contribution of Dr. Vikram Sarabhai for the IAS exam.
Improve your chances of cracking the IAS Exam by attempting the CSAT Mock Tests now!!
Candidates can check the following links to strengthen their UPSC preparation:
Vikram Sarabhai Biography
Born into a Gujarati industrialist family, Dr Vikram Ambalal Sarabhai was educated at Gujarat College and the University of Cambridge. His doctoral thesis at Cambridge was on 'Cosmic Ray investigation in Tropical Latitudes'.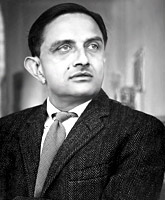 He has also conducted research in cosmic rays at the Indian Institute of Science in Bangalore under the guidance of Nobel laureate Dr C V Raman (7th November 1888 – 21 November 1970). After returning to India from Cambridge, he set up the Physical Research Laboratory (PRL) at Ahmedabad in 1947. PRL was one of the first organisations in India to conduct research in the field of space sciences.
Dr Sarabhai understood the importance of having a space research programme for a developing country and convinced the government of it. He pioneered space research in India. He was instrumental in establishing the Indian Space Research Organisation (ISRO) in 1969. He also set up India's first rocket launching station at Thumba, Thiruvananthapuram with the help of Dr Homi Bhabha. Thus, he is widely regarded as the 'Father of Indian space programme'.

He was also the Chairman of the Atomic Energy Commission (Founded on August 3, 1954) and played a major role in the establishment of many educational Institutes in India. His involvement in the development of India in terms of education and science was visible even after his death, based on his dialogue with NASA, The Satellite Instructional Television Experiment (SITE), launched in 1976.
His contribution to the field of Indian Space Centre has been great in every respect. His contribution in launching the first Indian Satellite, Aryabhatta is also undeniable. Apart from Science and Space, he took an active interest in fields of business and industry. He was the founder of the Ahmedabad Textile Industry's Research Association and managed it till 1956.
Vikram Sarabhai, along with, The 'Father of India's Nuclear Science Program', Homi Bhabha had set up the first rocket launching station in India. It was built in St Mary Magdalene Church near Thiruvananthapuram.
Candidates preparing for the upcoming UPSC 2023 exam must be aware of the life and achievements of Vikram Sarabhai.
He also established the Vikram A. Sarabhai Community Science Centre (VASCSC) in the 1960s to popularise science and maths among students and the public. He was given the position of Vice President in the fourth U.N.Conference on 'Peaceful uses of Atomic Energy'.
After the death of Homi Bhabha, Vikram Sarabhai was largely responsible for the establishment and development of nuclear power plants in India. He was intensively involved in educating children in remote areas of the country through satellite communication and worked for the evolvement of satellite-based remote sensing of natural resources.
Given below is the list of Institutes established by Vikram Sarabhai along with the honours and awards he was presented with during his life:
Institutes established by Vikram Sarabhai
Indian Institute of Management Ahmedabad (IIMA)
Operations Research Group (ORG) – India's first market research organization
Ahmedabad Textile Industry's Research Association (ATIRA)
Center for Environmental Planning and Technology (CEPT)
Faster Breeder Test Reactor (FBTR) at Kalpakkam
Blind Men Association (BMA)
Electronics Corporation of India Limited (ECIL) at Hyderabad
Variable Energy Cyclotron Project at Calcutta
Uranium Corporation of India Limited (UCIL) at Jharkhand.
Darpana Academy of Performing Arts (along with his wife, dancer Mrinalini Sarabhai)
Awards and honours conferred
President of the Physics section, Indian Science Congress (1962)
Vice-President, Fourth U.N. Conference on 'Peaceful uses of Atomic Energy' (1971)
President of the General Conference of the I.A.E.A., Vienna (1970)
The Vikram Sarabhai Space Centre, (VSSC) which conducts research in the field of rocket propellants in Thiruvananthapuram is named after him.
A crater on the moon 'BESSEL A' has been named the Sarabhai crater by the International Astronomical Union in 1973.
Shanti Swarup Bhatnagar Award (1962)
Padma Bhushan (1966)
Padma Vibhushan, posthumous (1972)
Dr Sarabhai died in December 1971 at Kovalam, Thiruvananthapuram aged 52.
Also on This Day 
---
1765: The East India Company conferred Diwani rights over Bengal, Bihar and Odisha by Mughal Emperor Shah Alam II which paved the way for British expansion into India. 1868: Birth of Lord Chelmsford, Viceroy of India from 1916 to 1921. Chelmsford, along with Edwin Montague implemented the Montague-Chelmsford reforms that gave more autonomy to local representative bodies in India. 1991: The Terrorist and Disruptive Activities (prevention) amendment bill (TADA) was passed by the Parliament.
See previous 'This Day in History' here.
Multiple Choice Question
The Indian National Committee for Space Research (INCOSPAR) was established by Jawaharlal Nehru in 1962 under the Department of Atomic Energy (DAE).

INCOSPAR set up the Thumba Equatorial Rocket Launching Station (TERLS) at Thumba, near Thiruvananthapuram at India's southern tip. TERLS is a spaceport used to launch rockets.

ISRO has developed three types of launch vehicles (or rockets) namely, the PSLV (Polar Satellite Launch Vehicle), the GSLV (Geosynchronous Satellite Launch Vehicle), and Geosynchronous Satellite Launch Vehicle Mark III (GSLV Mark III or LVM).

Thermal Infrared Imaging Spectrometer (TIS) is to map the surface composition and mineralogy of Mars. It was one of the payloads carried on India's Mars Mission.
Choose the correct answer from the below-given options.
Only Statements 1 and 2 are correct

Only Statements 1 and 3 are correct

Only Statements 2 and 3 are correct

None of the above-given statements is false.
Answer: D
Also read the biographies of: