K Vijay Kumar IPS became a household name in 2004 when the Special Task Force led by him killed the dreaded brigand Veerappan in a carefully planned operation. Vijay Kumar has retired from the IPS since then and is currently an Advisor to the Governor of Jammu & Kashmir. He still continues to inspire police officers and troops across the country for his daredevilry and awe-inspiring body of work. Read on for more on the story of super-cop K Vijay Kumar.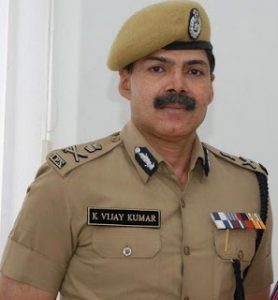 Background
Vijay Kumar was born on 15th September 1952 (ironically the same year that Veerappan was born) to a police officer Krishnan Nair and his wife Kousalya.
His native is Palakkad, Kerala, though he grew up in Tamil Nadu. Vijay Kumar had five other siblings.
As a child, he nurtured the Khaki dream seeing his father who was his first hero.
He studied at the Madras Christian College and then cleared the civil services exam in 1975. For more on IAS toppers, click on the linked article.
Despite being eligible for the IAS, Vijay Kumar chose the Indian Police Officer over it clearly showing his passion for the police force. For a comparison of both the IPS and the IAS, click the given link.
He was allocated the Tamil Nadu cadre.
Career
He started his career as an Assistant Superintendent of Police at Pattukkottai.
Then he was posted in Trichy and Sembiam. He also worked in Dharmapuri, Salem, Vellore and Dindigul as the SP.
Between 1985 and 1990, he was part of the Special Protection Group (SPG) that took care of security for Rajiv Gandhi.
This experience helped him in raising the Special Security Group (SSG) for J Jayalalitha in 1991.
He also worked in the BSF as the Inspector General of BSF Kashmir. He counts his BSF days as his most memorable, "Days in BSF were the most challenging and every day has been unforgettable".
After his central deputation, he returned to Tamil Nadu. He was appointed as the ADGP/ Commissioner of Police of Chennai city in 2001 and quickly earned fame as a cop who was cleaning up the city.
He was rated as one of the best commissioners the city had ever seen. He put behind bars several hardcore criminals and goondas.
When he and his trusted team faced protests from human rights activists over the police encounters, he said, "Our guns are not meant to be ornaments when we are attacked."
He was a hands-on cop and not someone who was used to issuing orders from the top.
In 2004, when he led the STF that was formed to catch Veerappan, he worked on the field among his men.
His popularity among his men was evident when they carried him on their shoulders after the success of 'Operation Cocoon', the codename for the operation that brought an end to Veerappan's life and his infamous criminal record. For more on how the brigand Veerappan was caught, check the liked page.
Vijay Kumar has also worked at the National Police Academy in Hyderabad as its Director.
He was also the Director-General of the Central Reserve Police Force (CRPF).
After retirement in 2012, he served as the Senior Security Advisor to the Union Home Ministry where his vast experience in counter-insurgency and security operations was of immense value and help.
Currently, he is the Advisor to the J&K Governor with the portfolios of home, forest, ecology and environment, youth services and sports, health and medical education, civil aviation, hospitality and protocol, information and estates.
Awards & Recognition
Jammu & Kashmir Medal
Counter Insurgency Medal
Police Medal for Meritorious Service
President's Police Medal for Distinguished Service
President's Police Medal for Gallantry (Awarded in 2005 for his role in catching Veerappan)
Trivia
Vijay Kumar is a fitness freak, who at 65 years looks way younger and not like the grandfather that he is to his grandchildren.
He remembers his IPS training days and the words of the then Director of the Academy S M Diaz which he obviously took to heart – "Your belt size must never change throughout your career".
He is an avid reader and also has several degrees to his credit including two master's degrees in law and a master's degree in business law.
He has authored a book titled 'Veerappan: Chasing the Brigand' in which he chronicles the capture of the dacoit.
If you wish to read more civil services success stories, check out our Get Inspired segment.
Related Links: