NCERT Books are considered to lay a strong foundation for the UPSC Exam Preparation. It is also believed that it is not possible to clear the UPSC exam without reading the NCERT Books. The simple language used in the NCERT books, the topics covered etc. help the IAS aspirants in understanding the subject before they proceed with covering the UPSC Syllabus, in depth from various different sources.
Candidates can enhance their UPSC exam preparation by attempting
UPSC Previous Years Question Papers
now!!
To complement your preparation for the upcoming exam, check the following links:
Class 10 Polity NCERT for Download
Polity is one of the four core subjects in the UPSC Syllabus. The questions from Polity appear in both the Prelims as well as Mains examination. For those who are not very comfortable with the basic concepts in polity and the Indian Constitution, it is advisable that they begin their preparation by thoroughly going through the NCERT Polity books to understand the concepts (as they are explained in a simplified manner) and build a strong base for further preparation.
Here's a list of NCERT Textbook of Class X Polity in a downloadable format. This list of Class 10 Polity Book is most important for UPSC exam preparation and will come handy at various levels in the preparation of the IAS Exam. Aspirants  can download these NCERT Polity Books for free.
This particular book is titled "Democratic Politics-II", a textbook in Political Science for Class 10. This book contains chapters that can be downloaded individually by clicking on the links given below.
PREFACE
FOREWORD
A NOTE FOR YOU
HOW TO USE THIS BOOK
DEMOCRATIC POLITICS - II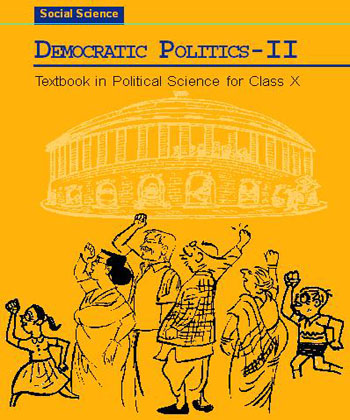 CHAPTER 1: POWER SHARING
CHAPTER 2: FEDERALISM 
CHAPTER 3: DEMOCRACY AND DIVERSITY
CHAPTER 4: GENDER, RELIGION AND CASTE
CHAPTER 5: POPULAR STRUGGLES AND MOVEMENTS
CHAPTER 6: POLITICAL PARTIES
CHAPTER 7: OUTCOMES OF DEMOCRACY
CHAPTER 8: CHALLENGES TO DEMOCRACY
Note:
It is advisable to make short notes while going through the NCERT books (as pointers, flash card format) as it will come handy while revising the Subject and will save a lot of time. Multiple Revisions are a must, in order to clear the examination in the First attempt.
Also Read:
The above details would help candidates prepare for UPSC 2021.
Related Links