"Don't blame circumstances, if I can become IAS, anyone can try partaking in the civil services" – Govind Jaiswal
Although there are many stories of IAS success, Govind Jaiswal's is not like any other.
His is a story of sheer determination and dedication. Jaiswal's journey to being an IAS topper was a hard fraught one since his family was steeped in poverty.
Read on to know more about his UPSC preparation and struggle to clear the IAS exam.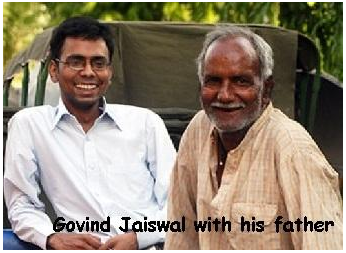 In a televised interview he gave after clearing the civil services exam in his very first attempt, Govind Jaiswal narrated the incident that changed his life course.
As an eleven-year-old, he had gone to play at a rich friend's house. There, he was insulted for being the son of a rickshaw puller and thrown out.
Young Govind did not even fully understand the reason behind this insult, as the seeping of economic disparities into social separations generally escape children's comprehension.
But, an older acquaintance explained to him the cruel ways of the world and told him that unless he changed his circumstances, he could expect this treatment from others throughout his life.
On inquiry as to what is the highest position of service one could aspire to, Govind was informed that the IAS is the topmost job in the country.
It was then that the young boy decided that one day he would become an IAS officer. But this was a journey fraught with difficulties.
UPSC Topper Govind Jaiswal – Background
Govind's father Narayan worked at a government ration shop and was able to buy and hire out a few rickshaws.
At one point, the family was moderately financially secure. But things took a turn for the worse and the family had to survive on meagre earnings from Narayan who had a hearing disability and carried a wounded leg.
Despite hardships, he managed to marry off his three graduate daughters.
Now the whole family looked upon Govind to bring success in his chosen field. It wasn't easy for Govind to study amidst taunts like, 'What will you gain by studies? You can probably own two rickshaws.'
But, he got immense backing from his family who supported him to live in Delhi (which some consider the mecca of IAS coaching); as he was unable to concentrate on his studies from their one-room, power-cut-ridden dwelling in Varanasi.
Journey towards the IAS
Govind's dedication and sincerity towards his ambition were unwavering.
He gave Maths tuitions and even skipped meals in Delhi to save money.
His father had sold a piece of land that he owned in order to send him to Delhi. Meanwhile, his father's leg got worse and he had to stop pulling rickshaws.
Govind knew that he couldn't let anybody down. He had no choice but to succeed.
He knew he did not have the luxury of a second or third attempt. In his own words, "Anyone who can understand my hardships and circumstances will realize that I had no other option. Neither I could go for lower government jobs as they are mostly fixed nor I could start a business as I had no money for it. I went for the option I was left with: worked hard on studies."
And succeed he did. In his first attempt itself, Govind Jaiswal, who attended a government school and a modest college in Varanasi, secured 48th rank in the UPSC civil services exam in 2006.
All this at the young age of 22! To understand what the family sacrificed to see their son do well, just look at the first thing Govind said he would do with his first salary – get proper treatment for his father's wounded septic leg.
Govind bagged the amazing rank of 46 with Hindi as a medium. Get a list of the UPSC books in Hindi at the linked article.
Govind's story shows that the civil services exam can be cracked by anyone with the will and determination to work hard.
Your background, father's job, financial status, etc. do not matter. As far as the UPSC civil services are concerned, the only thing separating success and failure is your work.
If you work and fight off distractions and temptations, you can crack the exam and change your life forever.
Govind's mantra whenever kids mocked his zeal towards studies was to picture his struggling family.
Lessons to learn from UPSC Topper Govind Jaiswal's story
Never take insults and disrespect to heart. Use them as stepping stones to alter your own life.
Work hard with single-minded devotion. It pays.
Don't use excuses like a distraction, family circumstances, etc. to not work towards your goal. If one man can do it, so can ten others.
A poor grasp of the English language is not a handicap. What is important is for you to be conversant and articulate in any one language. You can always learn English.
He says, "The problem is not a language, it is confidence. My ability to read and express in Hindi made me an achiever. If you are confident enough to articulate your thoughts, then no one can hinder your success. No language is superior or inferior. It's an unwanted perception made by society."
The civil service is truly a leveller in our society. He said on his decision to try for the IAS, "I decided to try for the IAS because this is one government job where you don't need money or approach to get in, and I had neither…"
Read the stories of other candidates who cleared the IAS exam in the Hindi medium:
Govind Jaiswal Facts
Rank: 48
Year: 2006
Medium: Hindi
Govind Jaiswal IAS optional subjects: Philosophy & History
Attempt: First
Related Links: