Komal Ganatra cleared the UPSC civil services exam in the year 2012 and secured an all-India rank of 591. However, Komal's is not any ordinary UPSC success story. She had to pull herself up from a mire of despair and hopelessness to study for the civil services exam. In this article, we bring you the inspiring story of Komal Ganatra, who is a pillar of strength and resilience for men and women alike.
Komal Ganatra Background Story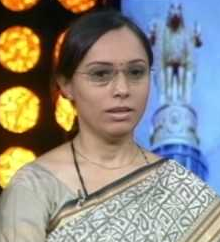 Komal Ganatra was married to a New Zealand-based businessman in 2008 at the age of 26.
However, her husband's parents started demanding dowry from her and threw her out of their house for her inability to produce enough dowry.
Her husband deserted her and left for New Zealand. All this happened just two weeks after her wedding day.
A distraught Komal approached the police and government departments to ensure justice for herself. However, nothing came out of it.
She then moved back to her parents' house in Savarkundla, Gujarat. Back in her hometown, she and her parents had to face the taunts of relatives and neighbours.
Komal, who had a diploma in engineering, then decided to live by herself in a remote village about 40 km from her hometown.
She started working as a primary school teacher there and was living on a scant salary of Rs.5000 per month.
She started preparing for the civil services there. Her inability to get help from the government motivated her to become a 'part' of the system and bring about a change in it.
Komal Ganatra did her diploma in engineering from Rajkot Government Polytechnic. She also acquired a BA degree from Dr Babasaheb Ambedkar Open University, and a Primary Teachers Training Certificate from a college in her hometown.
UPSC Preparation
There were practical difficulties in her remote residence like intermittent power supply and the lack of a proper guidance for her IAS preparation.
Komal also could not get an English newspaper there which is so vital for daily current affairs in the UPSC exam. You can get the daily news articles necessary for UPSC in a crisp, ready-to-read format at our daily news analysis.
However, she did briefly go to Sardar Patel Institute of Public Administration (SPIPA), an institution run by the Gujarat government to train IAS aspirants. IAS preparation involves understanding the nuances of the exam, prioritising the topics, taking mock tests and knowing how to write answers as well. For this, IAS coaching is extremely beneficial and can help students crack the UPSC exam.
In 2012, when Komal took the civil services exam, it was her fourth attempt. She secured an all India rank of 591 and was allocated the Indian Revenue Service (IRS).
For a comparison of the IRS and the more popular IAS, click here.
Komal's optional subjects were History optional and Gujarati Literature.
Komal's medium of interview was Gujarati.
In 2012, the UPSC exam was topped by Kerala girl UPSC topper Haritha V Kumar. Read more about Haritha's IAS preparation here.
Komal Ganatra Facts
Rank: 591
CSE: 2012
Attempt: Fourth
Optionals: Gujarati Literature, History
Service allocated: IRS
IAS aspirants can take a cue from the stories of UPSC toppers and understand the strategy they employed to crack the UPSC exam. For more such civil services success stories, check our Get Inspired segment.
Related Links: