Seema Pujani – Lawyer to Diplomat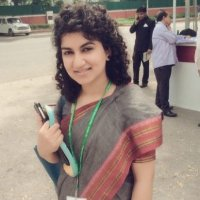 Seema Pujani secured a commendable all-India rank of 37 in the 2014 UPSC civil services exam. She chose the Indian Foreign Service (IFS) over the IAS and is now a career diplomat. Pujani ditched an opportunity to study at the Bucerius Law School, Germany to pursue her civil services dream. She had cracked the 2013 CSE also but had secured a rank of 599 and was allotted the Indian Trade Service (ITS). In 2014, she was rewarded with her preferred choice of the foreign services in the UPSC CSE. Read on for Seema Pujani's civil services success story.
Brief bio
A native of Faridabad, Pujani is the youngest daughter of Mr Amar Nath Pujani, a retired SDM of Faridabad. Although she participated in extra-curricular activities in school, academics was a top priority in her family. Her two elder sisters are doctors. Pujani had taken the science stream in class XII in order to pursue engineering. But she soon acknowledged that her interests lay elsewhere in the field of social sciences and languages. Therefore, post her XII, she took the law entrance exam. Pujani secured admission into one of the top law colleges of India, the National Law School of India University (NLSIU), Bangalore.
According to Pujani, the rigorous training received and the multicultural environment at NLSIU sharpened her sensibilities and increased her strength and endurance. The event management activities, book discussions and the vibrant interactions at the institute might have moulded her for her future role as India's diplomat. She also credits her stint at the institute for her acquiring skills like critical thinking and analysis. She says, "If you survived law school, you will survive anywhere."
Why civil services?
As a child, Pujani wanted to become a veterinary doctor. Even when she was studying to become a lawyer, she did not have the civil services on her mind. Instead, she was interested in social reform, international and humanitarian organisations. The civil services bug bit her in 2009 when two seniors, Mr Srikar Sridhar IAS and Ms Aparna Ray IFS visited their campus. Then it struck Pujani that the life and job of a diplomat was matchless. She also saw it as an honour to serve the country in the capacity of an IFS officer.
First attempt
In Pujani's maiden attempt at the CSE, she secured a rank of 599. She was allotted the Indian Trade Service and started training at the Indian Institute of Foreign Trade, New Delhi. Opting for the civil services was a tough decision because Pujani had secured admission for post-graduation at the Bucerius Law School in Germany.
Second attempt
Pujani's second attempt saw her better her rank. Both times, she had given her preference order as IFS over IAS. Her brilliant rank of 37 ensured that she got her desired post.
Not surprisingly, Pujani had opted for Law as her optional subject.
Seema Pujani's marks:
Essay – 139; GS1 – 89; GS2 – 102; GS3 – 86; GS4 – 107; Optional 1 – 133; Optional 2 – 121
Total marks in mains written exam: 777
Interview – 201
Total marks – 978/2025 (48.3%)
Also Read | Story of Ummul Kher who Battled Unimaginable Odds to Crack UPSC Exam
Visit BYJU'S Website for strategy and articles on free IAS prep and all the latest on UPSC IAS exam.