29 August 1905
Hockey legend Dhyan Chand was born.
---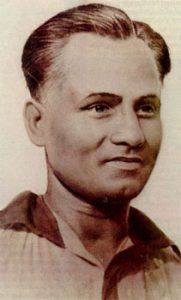 What happened?
On August 29, 1905, Dhyan Chand Singh was born in Allahabad to Sameshwar Singh and Sharada Singh. His birth anniversary is celebrated as National Sports Day in India.
Bio
Dhyan Chand's father was in the British Indian army and he too joined the army at age of 16.
As a child, Chand was drawn more towards wrestling than hockey.
After joining the army, he used to play army hockey tournaments.
On a tour to New Zealand, as part of the Indian Army hockey team, Chand impressed one and all with his brilliant game. On his return to India, Chand was promoted to the rank of Lance Naik.
Chand played field hockey for the United Provinces team from where he got selected to play for the Indian team that went to the 1928 Amsterdam Olympics.
In the 1928 Olympics, the Indian team won gold defeating their opponents by huge margins. This was the country's first gold medal.
Dhyan Chand netted many goals and international newspapers described him as a 'magician of hockey'.
His amazing control over the ball and superb passes garnered a lot of attention and appreciation.
In the next Olympics which was held in Los Angeles (USA) in 1932, the Indian team repeated their stellar performance of 1928 and won the gold. Chand along with his brother Roop Singh scored 25 out of the 35 goals India scored. This led to them being nicknamed the 'hockey twins'.
In the final match against hosts USA, India had a comprehensive victory scoring 24 goals (which was a world record broken only in 2003) as against USA's 1 goal.
In 1934, Chand was made the captain of the Indian team.
In the Berlin Olympics of 1936, India faced hosts Germany in the finals. India won 8-1 with Dhyan Chand scoring 3 goals. Amazingly, the only goal conceded by India in the entire tournament was the one goal in the finals.
Chand played many domestic and international matches and shone like a star in all of them.
This 'Wizard of Hockey' was matched by none in the game of hockey and did wonders to being glory and happiness to a country that was reeling under a colonial power.
In 1956, Chand retired from the army a Major. In the same year, he was conferred the Padma Bhushan.
After retirement, Chand coached for many years.
Not surprisingly, Dhyan Chand is considered the greatest hockey player of all times.
Dhyan Chand died of liver cancer on 3rd December 1979 aged 74.
His birth anniversary is celebrated as National Sports Day in India since 1995.
On this day, the President gives several awards related to sports like the Arjuna Award, Dronacharya Award and the Rajiv Gandhi Khel Ratna Award.
In 2002, the National Stadium in New Delhi was renamed Major Dhyan Chand National Stadium.
Chand's autobiography titled 'Goal' was published in 1952.
Also on this day 


---


1947: Dr B R Ambedkar appointed the President of the Constitutional Council.

See previous 'This Day in History' here.
Also See: