UPSC Preliminary Examination often asked questions based on geographical locations of places in the news. National and International Places that have recurred in the current affairs are important for IAS Exam aspirants.
Aspirants must be aware of latest current affairs topics to score well in UPSC Prelims exam 2023.
To get acquainted with the types of questions asked around current affairs for UPSC, concerning such places in the news, check this question that was asked in prelims 2020:
Siachen Glacier is situated to the:
East of Aksai Chin
East of Leh
North of Gilgit
North of Nubra Valley
In 2019, check this question:
Consider the following pairs:
| | |
| --- | --- |
| Sea | Bordering Country |
| Adriatic Sea | Albania |
| Black Sea | Croatia |
| Caspian Sea | Kazakhstan |
| Mediterranean Sea | Morocco |
| Red Sea | Syria |

Which of the pairs given above are correctly matched?
(a) 1, 2 and 4 only
(b) 1, 3 and 4 only
(c) 2 and 5 only
(d) 1, 2, 3, 4 and 5
As world geography is also a part of the UPSC Syllabus, most of the questions based on it overlap with the places that were seen in the news.
Hence, here we try to compile all such places that are mentioned in the news in a course of one year ahead of the UPSC Prelims examination.
Places in News UPSC Notes PDF –Download PDF Here
For UPSC Prelims, there are various BYJU'S free of cost initiatives that can boost your IAS preparation. Check them from the links given below:
National Places in the News in 2022
The table below provides the list of important places in India that have been mentioned in the current affairs of 2021-22:
| | |
| --- | --- |
| Places | Reasons to be in the news |
| Nadabet | Inaugural of an India-Pakistan border viewing point at Nadabet in Gujarat. |
| Erra Matti Dibbalu | The Erra Matti Dibbalu, situated between the Visakhapatnam and Bheemunipatnam, are uncommon red sand dunes that serve as a reminder of millions of years of geological activity. |
| Mekedatu | The state government of Karnataka  originally commissioned the Mekedatu project in 2017. It is a contentious project between Karnataka and Tamil Nadu. |
| Orang National Park | The state government of Assam has issued an initial notice for the addition of 200.32 square kilometres to the 78.82 square kilometres Orang National Park, which is the state's oldest reserve, and which is located around 110 kilometres northeast of Guwahati.  On September 21, 2021 the government removed the 'Rajiv Gandhi' prefix from Orang, which had been provided by the government in 1992. |
| Chisumle- Demchok Road | India inaugurated the world's highest motorable road in Umling La Pass, located in eastern Ladakh. |
| Atal Tunnel | The World Book of Records has recently certified Atal Tunnel as the World's Longest Highway Tunnel over 10,000 feet. It connects Manali to the Lahaul-Spiti Valley in all weather conditions. |
| Zojila Tunnel | The Zojila tunnel, which would be India's longest road tunnel, and Asia's longest bidirectional tunnel, is being proposed. When completed, the Zojila tunnel would allow year-round travel across Srinagar and Ladakh. |
| Pangong Tso | The continued border tension between India and China around Pangong-Tso lake in Ladakh. |
| River Lukha | One of Meghalaya's major rivers is the Lukha. The river has been rendered dead by unchecked mining activity and effluents released by cement factories. |
| River Bhogdoi | The death knells for the River Bhogdoi in Assam have been sounded by uncontrolled coal mining activities in Nagaland, along with effluent discharges from tea farms and encroachment. |
International Places in the News in 2022
| | |
| --- | --- |
| Places | Reasons to be in the news |
| Black Sea | The sinking of the huge Russian warship Moskva. |
| Solomon Islands | The Solomon Islands and China have agreed to a security agreement that might allow China to increase its military involvement in the South Pacific island country. |
| Mount Kilimanjaro, Mount Kenya and Mount Ruwenzori | According to a recent research by the World Meteorological Organization (WMO), climate change may cause three African mountain glaciers (Mount Kilimanjaro, Mount Kenya, and Mount Ruwenzori) to vanish by 2040. |
| Hunga-Tonga-Hunga-Ha'apai volcano | Eruption of the marine underwater volcano located south-east of Fiji. |
| Japan | Eruption of Japan's largest volcano Mount Aso Volcano. |
| Indonesia | Shifting of its capital from Jakarta to East Kalimantan. |
| Turkmenistan | The Darvaza gas crater, popularly called as the Gateway to Hell or the Doors of Hell, is a cavern formed by a burning natural gas field near Darvaza, in Turkmenistan. |
| Queensland, Australia | Carmichael Mine has begun shipping coal through an Indian multinational. It's in the North Galilee Basin of Queensland, Australia. |
| Africa | The Food and Agriculture Organization (FAO) concluded in a research that Africa's Great Green Wall (GGW) programme to mitigate desertification in the Sahel region is an essential contribution to tackling climate change. |
| Zaporizhzhia | After seizing control of the Zaporizhzhia nuclear power facility, Russia halted Ukraine's supply of electricity. |
Kindly refer to the below video for video description and in-detailed analysis of the places and the reason they were in news: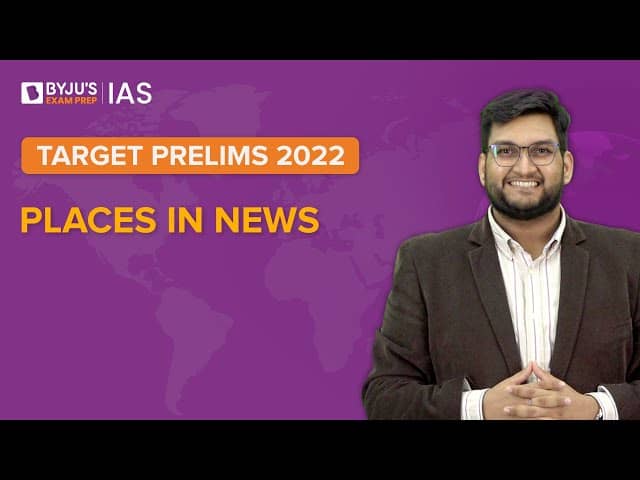 National Places in the News in 2021
The table below provides the list of important places in India that have been mentioned in the current affairs of 2020-21:
Places
Reasons to be in the news
Daman
Cyclone Nisarga
Lonar Lake
Haloarchaea Microbes turned its water pink
Ladakh, Arunachal Pradesh, Himachal Pradesh, Uttarakhand, Sikkim
Border Area Development Programme
Mumbai
Megacity Flood Warning System
Odisha, Andhra Pradesh
Vamsadhara River Water Dispute
Periyar Tiger Reserve/Cardamom Hills/Pandalam Hills
Drive to eradicate aquatic catfish to protect local fish species
Naku La Pass
India-China Face-off
Kodumanal/Tamil Nadu
Megalithic Burials, etc. Excavation
Tadoba-Andhari Tiger Reserve
Proposed Human Dam
Andhra Pradesh
First Online Waste Exchange Platform
Sukhna Lake/Chandigarh
Sukhna Lake Management Plan – WWF and India
Kamakhya Temple/Assam
Ambubachi Mela
Madhya Pradesh
Second-Largest Wheat Producer in the country
Vadhavan Port
To be India's 13th Major Port; Part of Sagarmala Initiative
Narcondam Island
Important Bird Area by Birdlife International
Tillari Forest
Gets conservation reserve tag
Dahanu/Maharashtra
Vadhavan Port Initiative
Lipulekh, Kalapani, Limpiyadhura
Nepal's Revised Political Map
Gairsain
Summer Capital of Uttarakhand
Gir National Park
Increase in Asiatic Lion Population
Mahakali River
India-Nepal Political Map Issue
Maguri-Motapung Wetland
Assam's Baghjan Oil Well Gas Leak
Kushinagar/Uttar Pradesh
Kushinagar International Airport
Galwan Valley
Line of Actual Control (LAC) Tensions
Ladakh
India's first green Hydrogen Mobility project
Haryana

Sultanpur National Park, Gurugram – Recently declared as Ramsar site
Bhindawas Wildlife Sanctuary, Jhajjar – Recently declared as Ramsar site
India's first 'Grain ATM' launched in Gurugram – automatic machine – 70 kg grain in 7 minutes.

Tamil Nadu
India's first wetland conservation centre to be set up in Chennai
Gujarat

Thol Lake Wildlife Sanctuary –  Recently declared as Ramsar site
Wadhvana Wetland –  Recently declared as Ramsar site
Dholavira – Inscribed on UNESCO's World Heritage list; 40th World Heritage Site of India.
NTPC to set up India's single largest solar park [capacity –  4.75 gigawatt (GW)] in Rann of Kutch.

New Delhi
First Bio-Bank of the world in Ayurveda at All India Institute of Ayurveda
Karnataka

Indian Railway's first-ever movable freshwater tunnel aquarium at Bengaluru station
1st state in the country to officially implement National Education Policy 2020
The first state in India to provide reservations for transgender in all government services

Odisha

Puri – First city in the country to implement the Drink from Tap Project
Bhitarkanika National Park – a threat to mangrove vegetation and crocodiles due to massive diversion of freshwater from the Brahmani river basin.

Telangana
Rudreswara Temple (Ramappa Temple) – Inscribed on UNESCO's World Heritage list; 39th World Heritage Site of India.
Bihar
The first state to have its own ethanol policy for biofuel.
Uttarakhand
First State To Launch Earthquake Alert App
Gujarat, Maharashtra, Goa, Kerala, Karnataka, and Tamil Nadu
Cyclone Tauktae – Very severe cyclonic storm (VSCS) – Developed as a depression in the Arabian Sea
Kerala

Wins India Biodiversity Award 2021
India's First Digital University

Rajasthan
The first state to provide health insurance for all its residents
Madhya Pradesh
Fossils of 'Dickinsonia' – the earliest known living animal is found at Bhimbetka rock shelters by the Geological Survey of India
Chandigarh
India's first amputee clinic
International Places in the News in 2021
Places
Reason to be in the news
Ambarnaya River/Arctic Region
Oil Spill in Russia's Arctic Region Power Plant
Senkaku Islands
China-Japan dispute
Tokara Islands
A small archipelago in Japan/Mysterious Volcanoes
Litani River
Tonnes of dead fish wash up on the shore of polluted Lebanese lake
Pashupatinath Temple/Nepal
India's assistance in the construction of sanitation facility
Demilitarized Zone (DMZ)
North Korea-South Korea Tensions
Amami Islands
Archipelago, part of Japan
Bandar Abbas Port/Hormuz Strait
Operation Samudra Setu
South China Sea
Leaders of G7 raised concerns about the situation in and around the South China Sea
Baltic Sea
The navies of India and Russia concluded the 12th edition of the biennial Exercise Indra Navy at Volgograd, Russia in the Baltic Sea.
French Guiana
World's first commercial fully re-programmable satellite lifted from here.
China

The first batch of 'space rice'.
World's first country to ban synthetic cannabinoids.

Sweden

World's first carbon-neutral cement plant to be built.
Joins International Solar Alliance (ISA).

El Salvador

World's First Country To Make Bitcoin Legal Tender
Certified as malaria-free by WHO

Malta
Financial Action Task Force, or FATF, added this country to the 'grey list'.
Liverpool
UNESCO World Heritage Status has been stripped off
Brisbane, Australia
Announced as host of the 2032 Olympics
Portugal
World's longest pedestrian suspension bridge
Antarctica
World's largest iceberg breaks off
Mount Nyiragongo
It is located inside Virunga National Park, Democratic Republic of Congo, which erupted recently.
New Zealand
World's 1st Climate Change Law For Financial Firms
Note: Places in the news will be updated periodically. Candidates are advised to visit this article on a regular basis for daily current affairs topics.
Also, refer to the video given below to know about the places in the news. This is important from the UPSC prelims perspective.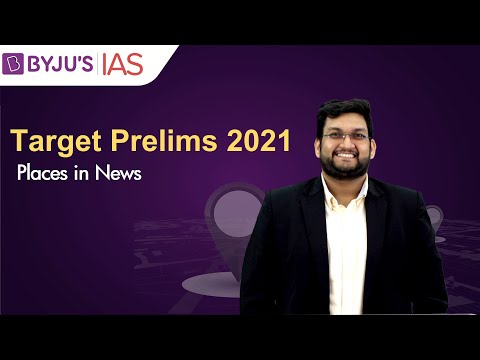 How to remember places in the news for UPSC?
There are a few tips that a candidate could follow to remember important places in the news:
Ensure a separate space to jot down the name and location of these places as and when you come across them either through the newspaper or current affairs magazine.
Keep an atlas with you and, for international places, mark them on the map.
While reading the physical geography of India and the world, mark important rivers, mountains, straits on the map.
The questions based on places in the news are rewarding. If a candidate has been consistent with current events, it is easier for him/her to remember them during the examination. Too much time should not be spent on studying this portion.
Get the list of species in news for UPSC in the linked article.
Candidates can refer to the links below for more IAS preparation articles:
UPSC Preparation: