Clearing the CAT exam is just the first hurdle. Candidates who have cleared the required cut off marks will have to pass the second stage of the B-Schools evaluation process (Written Ability Test, Group Discussion, Case Discussion, Personal Interview, Extempore, etc,.) The Personal Interview is the final frontier in the admission process of most of the B-Schools.
The interview is used to assess the clarity of thoughts, future goals and the suitability with the B-school of the candidates.

Institutes schedule the interview at the following locations. Candidates are required to travel to the nearest/ preferred location when called for the same.
The Interview Location Details for the Respective IIMs:
| | | |
| --- | --- | --- |
| Sl. No. | Institute | Interview Center |
| 1 | IIM – Ahmedabad | New Delhi, Kolkata, Bengaluru and Ahmedabad |
| 2 | IIM – Bangalore | New Delhi, Kolkata and Bangalore |
| 3 | IIM – Lucknow | Lucknow, Delhi, Mumbai, Hyderabad, Kolkata and Bangalore |
| 4 | IIM – Indore | New Delhi, Hyderabad, Indore, Kolkata, Chennai, Bangalore and Mumbai |
| 5 | IIM – Calcutta | Mumbai, New Delhi and Kolkata |
| 6 | IIM – Kozhikode | Mumbai, Kolkata, New Delhi and Kozhikode |
| 7 | IIM – Shillong | New Delhi, Mumbai, Shillong and Kolkata |
| 8 | IIM – Rohtak | Delhi, Kolkata, Mumbai, Chennai and Bangalore |
| 9 | IIM – Ranchi | Mumbai, Kolkata, Delhi, Chennai and Bangalore |
| 10 | IIM – Raipur | Mumbai, Kolkata, Delhi, Chennai and Bangalore |
| 11 | IIM – Trichy | Mumbai, Kolkata, Delhi, Chennai and Bangalore |
| 12 | IIM – Udaipur | Mumbai, Kolkata, Delhi, Chennai and Bangalore |
| 13 | IIM – Kashipur | Mumbai, Kolkata, Delhi, Chennai and Bangalore |
| 14 | IIM – Nagpur | Information Not Available |
| 15 | IIM – Bodh Gaya | IIM Calcutta |
| 16 | IIM – Visakhapatnam | IIM Bangalore |
| 17 | IIM – Amritsar | IIM Kozhikode |
| 18 | IIM – Sambalpur | IIM Indore |
| 19 | IIM – Sirmaur | IIM Lucknow |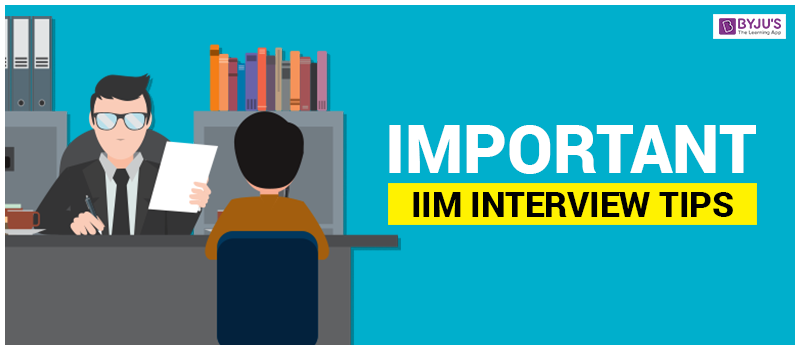 Remember the interview panel is here to select you not reject you. Here are some of the Do's and Don'ts you should keep in mind before taking an interview:
Do:
You are going to face questions like "Why do you want to go to our Institute?" "What are your future plans?" "What are your long-term goals?" etc. Be prepared to answer them well. So, prepare yourself beforehand with all the important and common MBA interview questions to be able to tackle the interview.
Carve a good plan for why you want to do an MBA
Why MBA is the question every aspirant is going to face. Make sure you prepare beforehand for this question. Why MBA is the most frequently asked question in the Interview round
Try to go in-depth about the skills and work experience you have listed in your CV. Always be prepared to get questions regarding your previous work experience.
Despite months of preparation, no one can predict the questions that the candidate might have to face in the personal interview of CAT. The personal interview is a perfect setup to judge a candidate's interpersonal and communication skills.
There are a few things that should be kept in mind before a candidate appears for a Personal Interview for B-Schools. They are as follows:
Documents
Bring the right documents to the interview
Copies of Resume, Grade Sheets (10th, 11th, 12th, Graduation), ID Proof and Recommendation Letters (if any)
Attractive CV
The CV should be informative, attractive and easy to read
Be well-versed with the contents of the CV
Should be able to answer questions, if asked outside the CV
Be Well Groomed
Important to know what to wear to an interview and be well-groomed
Body language should be appropriate
Have a positive attitude
Presence Of Mind
Give the right answer at the right time
Helps to amaze the panel with spontaneity, make the ambience lighter, give out-of-the-box answers
Be assertive and attentive
Be Prepared
Have well thought out answers to questions such as "Tell me about yourself?"
Be prepared with your strategies to tackle the panellist
Follow Your Instincts
Always believe in yourself
Go with your instincts if the answer to the question asked is partially known
Be Textbook Ready
Be well versed with academics (freshers) and work experience (working professionals)
Be prepared with current issues in business-economy, taxation and foreign competition
Communication Skills
Speaking and listening skills are often tested
Understand the question well and provide a precise answer
Do not bluff, Use appropriate language
Walk into the interview with newfound confidence
Don't fidget, think positively, make eye contact with the panel
Be calm, cool and collected
Self-Awareness
Keep up-to-date with all the latest happenings across the world (current affairs)
Read the newspaper and business-related magazines every day
Don't:
Bluff or lie to the interviewer
Don't think that the people sitting there in the panel would acknowledge everything in the CV blindly. They are smart and that's why they are there.
Try to start a conversation and carve out a story in the form of your previous experiences. Try to start the conversation with your strengths and weaknesses with relevant examples from your past achievements or failures.
Never try to contradict what you had said earlier in the group discussion.
Tell anything good or bad about any other institute
Try to talk about balances. Be very diplomatic in answering these kinds of questions.
The personal interview is the last bridge between the candidates and the B-schools; hence it is the most important step of the selection process. Preparing for GD/PI sessions is a good time to reflect and introspect on one's career goals and reasons why one is opting for a management career. Tricky Questions are a common norm in the Personal Interview round and candidates are required to answer these questions with confidence, logic and ease.
Stay tuned with BYJU'S for more preparation tips and get notified about the latest CAT updates to prepare effectively.