Table of Contents:
1. SC upholds law on criminal defamation
2. Five-year plans passe, 3-level framework soon
3. Madhesis on the warpath again
4. Supreme Court pulls up Centre over delay in payment under MGNREGA
5. China using 'coercive tactics' to enforce maritime claims: Pentagon
1. New IPR policy retains access to cheap drugs
2. Exports shrink 6.7 per cent in April
1. Can India grow at 8 to 9 per cent?
1. The Business Line: Course correction
.
+++++++++++++++++++++++++++++++++++++++++++++++
Useful News Articles
A. GS1 Related
Nothing here for today folks!
B. GS2 Related
1. SC upholds law on criminal defamation
Topic: Polity
Category: Judiciary
Location: The Hindu
Key points:
In a judgment that holds far-reaching implications for political dissent and a free press, the SC upheld a colonial and pre-Constitutional law criminalising defamation
The 268-page verdict dismissed apprehensions, raised by personalities across the political spectrum and media organisations championing the fundamental right under Article 19 (1) (a) of the Constitution, that criminal defamation may have an adverse effect on the freedom to circulate one's independent view
The petitioners facing criminal defamation trial have been given eight weeks to approach the High Courts concerned under Article 226 and Section 482 of the Cr.PC to quash the proceedings against them
2. Five-year plans passe, 3-level framework soon
Topic: Polity
 Category: Executive
Location: The Hindu
Key points:
The Prime Minister approved a three-level planning framework for replacing the five-year plans, the last of which ends in March next year
In the new framework, there will be a 3-year Action Plan for 2017-18 to 2019-20, aligned to the award period of the 14th Finance Commission
In it there is also a 7-year strategy from 2017-18 to 2023-24 to convert "longer vision into implementable policy and action as part of the "National Development Agenda" with a mid-term review after three years, in the financial year ending March 2020
Finally, it will have an over-arching 15-year aspirational plan for achieving the Sustainable Development Goals
3. Madhesis on the warpath again
Topic: International Relations
Category: Indo- Nepal Relations
Location: The Hindu
Key points:
The Madhesi protesters under the leadership of the United Madhesi Democratic Front (UMDF) of Nepal declared that they will start a new round of agitation enforcing a blockade on the capital Kathmandu
The protest will start three months after the end of a crippling economic blockade that the UMDF had launched demanding citizenship rights for the Madhesis of Nepal.
"Since our last declaration in February, the government has done nothing to address the democratic aspirations of the Madhesi people. We will not let the government function unless it carries out amendments to the Nepali Constitution guaranteeing citizenship rights. Instead, it has been blackmailing India showing the China card because India has supported the amendments," said UMDF
4. Supreme Court pulls up Centre over delay in payment under MGNREGA
Topic: Polity
Category: Judicial Intervention
Location: The Indian Express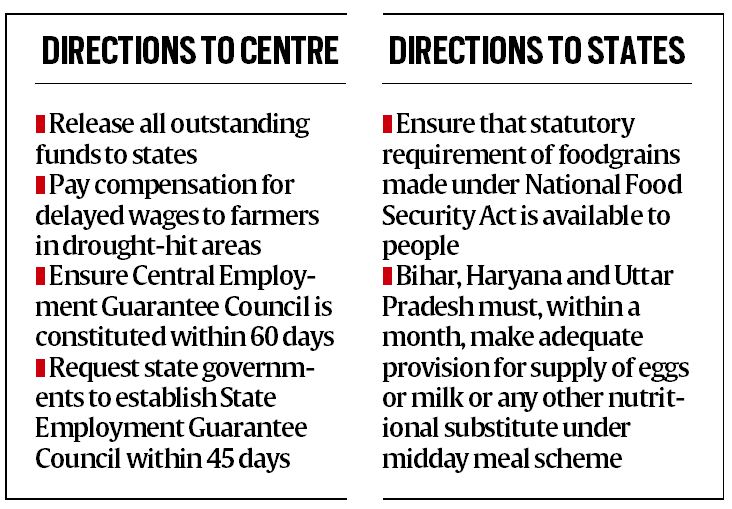 Key points:
The SCreproached the Centre for "unconscionable delay" in release of funds for MGNREGA scheme and directed it to set up monitoring committees to ensure implementation of all social welfare legislation, including the food security law
The court said it was extremely unfortunate that the government had no provision for providing compensation to the workers, and it was regrettable that it cleared the pending wage bill for 2015-16 only during the pendency of the case
It ordered the Centre to release all outstanding funds for MGNREGA to the states and directed it to pay compensation for delayed wages to farmers in drought-hit areas
5. China using 'coercive tactics' to enforce maritime claims: Pentagon
Topic: International Relations
Category: India-China Relations
Location: The Indian Express
Key points:
A new Pentagon report says China is using coercive tactics short of armed conflict, such as the use of law enforcement vessels to enforce maritime claims, to advance their interests in ways that are calculated to fall below the threshold of provoking conflict
"China has reclaimed more than 3,200 acres of land in the southeastern South China Sea. But the country's focus has shifted to developing and weaponising those man-made islands so it will have greater control over the maritime region without resorting to armed conflict," the report adds.
C. GS3 Related
1. New IPR policy retains access to cheap drugs
Topic: Economy
Category: IPR policy
Location: The Hindu
Key points:
The government announced the National Intellectual Property Rights (IPR) Policy
The Policy, to be reviewed every five years, aims to push IPRs as a marketable financial asset, promote innovation and entrepreneurship, while protecting public interest including ensuring the availability of essential and life-saving drugs at affordable prices consideration said the finance minister
Though there are U.S. concerns including the "rejections" of patent applications for innovative pharmaceutical products due to "unpredictable" application of Section 3(d) of the (Indian) Patents Act, the ministerclarified that the policy will ensure that no changes are made in that Section (which prevents ever-greening of drug patents) and the patent-disabling Compulsory Licensing regime
2. Exports shrink 6.7 per cent in April
Topic: Economy
Category: Exports
Location: The Hindu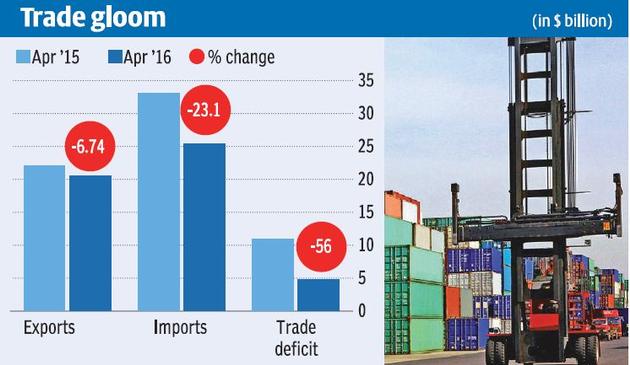 Key points:
India's shipments shrank 6.7 per cent in April for the seventeenth successive month as imports fell 23 per cent, narrowing the trade deficit by 20 per cent, government data showed
Exports during April 2016 were valued at $20.6 billion, 6.7 per cent lower than the $22 billion during April 2015, according to the Commerce Ministry
Imports during the same period were valued at $25.4 billion compared with the $33 billion the same month a year ago. The trade deficit shrank for the fourth consecutive month in April to 20 per cent
D. GS4 Related
E. Important Editorials: A Quick Glance
1. Can India grow at 8 to 9 percent?
Topic: Economy
Category: Growth
Key points
The economy in the recent past has shown that it has the resilience to do so. But to overcome the current phase of declining investment rate, political and social cohesion is imperative
Does India have the capability to grow at 8 to 9 per cent in a sustained way? What is the potential rate of growth of India?
Normally, potential growth is measured using historical trends
we need to understand the factors that led to the slowdown since 2011-12
Three sets of reasons are attributed for the slowdown
First, the external environment had deteriorated sharply. The recovery from the crisis of 2008 was tepid. However, it would be wrong to attribute the slowdown in India primarily to external factors
The domestic factors are the key. Second, there were severe supply bottlenecks. Agricultural production fell sharply in 2009-10 because of a severe drought. This triggered an inflation which lasted for several years thereafter. Coal output fell. Iron ore output fell, partly because of court decisions
The third set of reasons is basically non-economic which led collectively to a weakening of investment. A multitude of issues relating to scams and perceived delays in decision-making created an element of uncertainty in the minds of investors. New investments began to fall
An analysis of the data of the period since 2012-13 reveals two trends
First, there has been a decline in investment rate
Second, the decline in growth rate is greater than the decline in investment rate indicating a rise in the incremental capital-output ratio (ICOR). In 2007-08, India's investment rate was 38 per cent of GDP. It declined steadily to touch 34.8 per cent in 2012-13. This is according to earlier National Income estimates. However, according to the revised estimates, the investment rate began to fall only from 2013-14. The declining trend continues into 2015-16
With an ICOR of 4, which was what it was in the high growth phase, even the lower investment rate should have given us a higher growth than what the economy has seen since 2011-12. The rise in ICOR can be attributed to the delay in completion of projects or the lack of complementary investments. In some cases, it can also be due to non-availability of critical inputs. The delay in completion of projects can be due to internal reasons as well as policy constraints. It is here questions relating to land and environment enter
Even with the existing level of investment rate, it should be possible to grow at 7.5 per cent in the short run, provided ways are found to speedily complete projects
However, only a return to higher levels of saving and investment can take us back to 8-9 per cent growth seen earlier. Thus what is needed to achieve the "potential" is to raise the investment rate and improve the productivity of capital.
The emphasis on the level of investment and productivity of capital as key to achieve the "potential" raises another issue of whether the Indian economy is "supply constrained" or "demand constrained"
The rise in investment rate must be supported by a rise in the domestic saving rate. An increase in investment rate supported by a widening current account deficit is not sustainable and is fraught with serious consequences. Only a current account deficit in the region of 1 to 1.5 per cent is sustainable
Incremental capital output ratio is a catch-all variable which is influenced by a host of factors. Obviously, it depends on technology. It also depends upon the skill of the labour force which in turn depends on the quality of the education system. Another catch-all expression "ease of doing business" is also relevant. Bureaucratic hurdles which impede speedy execution of projects need to be removed. Thus improving the productivity of capital needs action on several fronts.
Making a prediction about the future is always hazardous. Many things can go wrong. The Indian economy in the recent past has shown that it has the resilience to grow at 8 to 9 per cent. Therefore achieving the required investment rate to support such a high growth is very much in the realm of possibility
However, we need to overcome the current phase of declining investment rate. Investment sentiment is influenced by non-economic factors as well. An environment of political and social cohesion is imperative. Equally, we can get the ICOR back to a lower level. Raising the productivity of capital will require policy reforms including administrative reforms as well as firm-level improvements. The "potential" to grow at 8 to 9 per cent at least for a decade exists. We have to make it happen
Topic: Judiciary
Category: verdicts
Key points:
The Supreme Court verdict upholding the provisions of the Indian Penal Code that make defamation a criminal offence is retrograde and out of tune with the times. Many countries, including neighbouring Sri Lanka, have decriminalised defamation, which should be a civil offence alone
The court has unfortunately accepted the self-serving argument by the Centre that criminal defamation does not have a chilling, inhibiting effect on the freedom of expression
The court has sought to create an artificial balance between the fundamental right of free speech under Article 19(1) (a) and the right to reputation as part of one's right to life under Article 21. When an individual has the recourse to sue respondents in civil courts for damages against loss of reputation, there is hardly any justification to keep the criminal option open
It is true that 'defamation' is one of the reasonable restrictions to free speech envisaged in the Constitution, but this is not enough to justify retaining its criminal component. In the Indian context, criminal defamation is not generally a dispute between two individuals. It is invariably a shield for public servants, political leaders, corporations and institutions against critical scrutiny as well as questions from the media and citizens
The challenge to the validity of Section 499 and 500 of the IPC was undoubtedly the biggest free speech issue to have arisen in recent times. The two-judge Bench could have referred the matter to a Constitution Bench.
If criminal defamation is really needed to protect reputations, it is befuddling how the right to reputation under Article 21 can be extended to collectives such as the government, corporations and institutions, which presumably have the resources to set right damage to their reputations
The outcome is often of little significance, as it is the process that is the punishment. The court could have read down Section 199 of the Code of Criminal Procedure that allows public prosecutors to step into the shoes of allegedly defamed public servants
It is patently unfair to allow the State to use its legal machinery to suppress criticism without public servants concerned being required to testify in court on the actual injury or loss of reputation suffered by them
The faith the court has reposed in the ability of prosecutors and lower court judges to apply their mind before instituting cases or issuing summons is worrying. Given the presence of key political figures among those who challenged the provisions, perhaps the last hope is that Parliament may be rallied to scrap it
1. The Business Line: Course correction
Topic: Economy
Category: State of Indian Economy
Key Points
The latest numbers on factory output and retail inflation are not exactly encouraging for those expecting a GDP growth of 7.6 per cent this year, against 7.3 per cent in 2015-16
The factory output index was up just 0.1 per cent in March (an unflattering 2.4 per cent for the whole year), despite a low base effect
What's worse, there has been a steep downturn after October 2015, with the following three months recording negative growth and February turning in a growth rate of just 2 per cent
The post-October slide is explained by the pronounced decline in capital goods and consumer non-durables
The huge disparity between the performance of consumer durables and non-durables, the former growing at double digit rates in 2015-16, tells a socio-economic tale: urban demand has held up, even as rural demand has slumped
The reasons for this rural-urban divide are not far to seek — while 2014-15 and 2015-16 were bad agriculture years, food inflation (specifically protein inflation) remained elevated, reducing the disposable income in rural India for mass consumer items
Moreover, drought-like conditions in many parts of India in March and April have led to a spike in food inflation to 6.4 per cent in March, against 5.4 per cent and 5.2 per cent, respectively, in January and February
As always, future price and output scenarios would depend critically on how the monsoon pans out this time. While the Seventh Pay Commission will shore up urban demand, the rural economy is in dire need of a natural as well as policy stimulus.
The poor industrial output data do not sit well with an estimated 9.5 per cent manufacturing growth in 2015-16, even though the latter is a value measure.The Centre must clear the air, so that the credibility of India's GDP statistics is not affected.
An investment-constrained economy needs a public investment push, with India Inc still too debt-strapped to take the initiative. The Centre must walk the talk on investment, in keeping with the spirit of its 2015-16 Budget
Topic: Society
Category: Women and Backward classes
Key Points
The arguments for upholding the exclusion of women, and of Dalits are misleading
Beyond blind references to tradition, analogies are sometimes made between exclusionary Places of Worship and housing societies. Those analogies are imperfect but breaking them down may lend some clarity
There is legal precedent to exclude people from membership of a housing society. A housing society can openly discriminate and refuse to allow membership to a citizen who does not have a specific lifestyle, or does not hail from a given caste, religion or community
The justification is that you cannot force people into intimate association with other persons
Private clubs, which are in some ways similar to housing societies can also refuse membership to anybody, depending on specific articles of association and by-laws. In most clubs, a member must also pass some sort of vetting process before being granted membership.
If this analogy is held, Places of worship(PoW)should be allowed to discriminate and run themselves on exclusionary principles
But there are key differences between a Places of Worship and a housing society and that is why the analogy breaks down
First, the influence of a housing society doesn't extend beyond its walls. The members pay subscription fees. Societies don't raise money from non-members and they don't exclude members from their premises. Membership cannot be denied on grounds of gender. Also, the rules of a society, however eccentric, cannot be imposed on anybody (including members) outside its own walls
Unfortunately, none of this is true for a religion. Religions have no compunctions about taking money from people who are excluded from PoWs. Also, a decree issued from within a PoW can affect the lives of people living outside it. Such decrees can and are often enforced in coercive ways, or with threats of outright violence, affecting even non-believers. What is more, unlike societies, PoWs and the religious trusts running PoWs are often exempted from tax
On a principle of reciprocity, anybody whose life is affected by a PoW should influence the PoW back. One way to influence a PoW's style of functioning is by going there and networking with the believers. Since women, and Dalits, are often the targets of the most oppressive of religious and social decrees, they should surely have the right to enter the PoWs and have a go at changing the way those function. If the PoWs insist on exclusivity, rescind their tax exempt status
F. Concepts-in-News: Related Concepts to Revise/Learn:
National IPR Policy
Section 499 & 500 of IPC
Art 19(1)(a)
Art 226
MGNREGA
South China Sea Dispute
7th Pay Commission
G. Fun with Practice Questions 🙂
Question 1: According to IMD's new definition, an year is declared as a Deficient Year if
A. Rainfall deficiency is more than 10% and 20-40% area of the country is under drought conditionsB. Rainfall deficiency is more than 10% and when the spatial coverage of the drought is more than 40%
C. Percentage departure of realized rainfall is > 10% of the Long Period Average
D. Percentage departure of realized rainfall is < 10% of the Long Period Average
Which of the following is correct?
1). A
2). B
3). C
4). D
Question 2: Which of the following statement(s) is/are correct?
Section 499 of IPC defines defamation
According to Section 500, whoever defames another shall be punished with simple imprisonment for a term which may extend to two years, or with fine, or with both
a) 1 only
b) 2 only
c) Both 1 and 2
d) Neither 1 nor 2
Question 3: Which of the following statement(s) is/are correct?
Under a compulsory license, an individual or company seeking to use another's intellectual property can do so without seeking the rights holder's consent, and pays the rights holder a set fee for the license
The general rule under intellectual property laws says that the intellectual property owner enjoys exclusive rights to allow or decline the use of intellectual property of the owner
a)1 only
b)2 only
c)Both 1 and 2
d)Neither 1 nor 2
Question 4: Which of the given below statement(s) is/are correct about proposed National IPR Policy?
IP Promotion & Development Council (IPPDC) is to be established as nodal organization to finance better commercialization of IP rights; valuation, licensing and technology transfer
It proposes the establishment of national level institute of Excellence to provide thought leadership in IP
a) 1 only
b) 2 only
c) both 1 and 2
d) Neither 1 nor 2
Question 5: Which of the following state(s) border N
The Paracel islands are in northern part of South China Sea. They are claimed by China, Taiwan and Vietnam
The Spratly Islands arein southern part of South China Sea. They are claimed by Brunei, China, Malaysia, the Philippines, Taiwan and Vietnam
a) 1 only
b) 2 only
c) Both 1 and 2
d) Neither 1 nor 2
"Proper Current Affairs preparation is the key to success in the UPSC- Civil Services Examination. We have now launched a comprehensive 'Online Current Affairs Crash Course'.
Limited seats available. Click here to Know More."