Table of Contents:
1. Modi's Africa outreach to begin from Mozambique
2. China developing soft-power infra along Silk Road
3. Dhaka asks Islamabad to stop interference in internal affairs
1. The biggest-ever fire sale of Indian corporate assets has begun, to tide over bad loans crisis
2. Bangladesh's battle for its future
1. From Plate to Plough: Drop by careful drop
1. PIB update
a) Revenue Department takes various measures to boost-up growth and employment generation;
b) Visit of Indian Warships to Dubai (UAE)
c) Meeting of SAARC Countries on protection of Children to be held in Delhi from 9th-11th May, 2016
2. Business Standard: Emerging markets should go for gold
3. The Economic Times:Foster financial inclusion by mobile banking and Aadhaar project
.
+++++++++++++++++++++++++++++++++++++++++++++++
Useful News Articles
A. GS1 Related
Nothing here for today folks!
B. GS2 Related
1. Modi's Africa outreach to begin from Mozambique
Topic: International Relations Category: Afro-Indian Ties Location: The Hindu Key points:
The Indian PM is to visit Mozambique next month as part of the government's energy diplomacy
Mozambique is expected to become a major energy exporter like Nigeria if it can set a proper legal framework to enable foreign firms to explore oil and gas in the country. India has been a major campaigner to facilitate the pro-energy legal framework in the country
The visit to South Africa after that will havea more political and of symbolic value. South Africa has been a partner of India under the BRICS platform and the visit to Johannesburg is likely to provide an important dialogue to the run up to the BRICS summit to be held in Goa later this
  Look into India-Africa Forum Summit(2015) held in New Delhi, India and Mozambique have already signed a crucial MoU to cooperate in the new and renewable energy sector Afro-Indian partnership is mutual in every aspect not lopsided. Comment
2. China developing soft-power infra along Silk Road
Topic: International Relations Category: OBOR Location: The Hindu Key points:
The first Silk Road International Cultural Expo, whose mascot would be the Mogao grottoes is being organized in Dunhuang in North western China .72 countries have been invited to participate in the mega-event
The artwork in Mogao cavesare being restoredunder the authority of the Dunhuang Academy in Dunhuang
The caves have intricately painted walls and statues depicting the life and thought of Buddha. They also symbolize India-China relations
Analysts say that by leveraging culture, the Chinese wish to message to the world that the One Belt One Road (OBOR) connectivity project is an extension of China's symbiotic and peaceful engagement of Asia and Europe that ran for over a millennia along the Silk Road super-highway
3. Dhaka asks Islamabad to stop interference in internal affairs
Topic: India's Neighbourhood Category: Pakistan-Bangladesh Location: The Hindu Key points:
Dhaka has urged Islamabad not to interfere in internal affairs of Bangladesh after Pakistan expressed concerns over rejection of Jamaat-e-Islami chief MotiurRahmanNizamis's review plea against death sentence(Bangladesh's Supreme Court had given its final verdict on Nizami on May 5)
Bangladesh also asked Pakistan "to stop misinterpreting" the 1974 tripartite agreement — between India Pakistan and Bangladesh — which was referred by Islamabad while reacting to the war crimes trial
As per the agreement, 195 Pakistani war criminals were repatriated to Pakistan and 93,000 Pakistani Prisoners of War. However, Bangladeshi nationals who committed war crimes could be tried
C. GS3 Related
1. The biggest-ever fire sale of Indian corporate assets has begun, to tide over bad loans crisis
Topic: Economy Category: Banking-Debt Recovery Location: The Hindu Key points: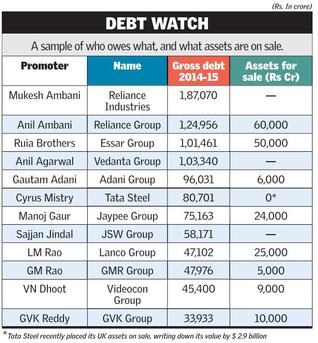 The Reserve Bank of India's (RBI) has decided to clean up the balance sheets of Indian banks, which are collectively saddled with Rs five lakh crore of bad loans
For most affected firms and groups, this will mean they will be forced to sell prized assets to repay their ballooning debts
D. GS4 Related
E. Important Editorials: A Quick Glance
Topic: Judiciary Category: Judicial Reforms Key points:
In India politics surrounding the prisoners' ethnic origin or linguistic affinity is often the basis for pleas for clemency
Rarely is a more compelling reason invoked: the possibility of an offender's economic background, educational level, social status or religious identity working against his interests in legal proceedings
A report released on Friday by the National Law University, Delhi, on the working of the death penalty in India provides validation and proof for something that those familiar with administration of justice knew all along: that most of those sentenced to death in the country are poor and uneducated; and many belong to religious minorities
The link between socio-economic standing and access to competent legal counsel and effective representation is quite strong. A question of concern that arises is whether these statistics indicate systemic bias or institutionalized prejudice
It is not uncommon that legal grounds unavailable to the vulnerable are invoked in favour of the influential
While invoking any ground to commute a death sentence to life is welcome, the impression is inescapable that such relief often comes at a very late stage and only to those with the means to pursue legal remedies till the very end
When a judicial system that is seen as favouring the influential resorts to capital punishment, it will be vulnerable to the charge of socio-economic bias
Law and society, therefore, will be better served if the death penalty itself is abolished
The statistics that are out must reinforce the larger moral argument against the state taking the life of a human being — any human being — as punishment.
2. Bangladesh's battle for its future
Topic: India's Neighbouhood Category: Bangladesh Key points:
The murders of liberals, bloggers, secularists and LGBT rights activists continue in Bangladesh
 The exact identity of the killers is widely contested-The Jamaat-e-Islami, the leading Islamist group of Bangladesh and the IS are blamed among others
the murders cannot be seen in isolation from the ongoing war crimes trials of those who collaborated with the Pakistan Army during the Liberation War of 1971, causing countless deaths in the months leading up to the creation of Bangladesh
 The attacks are but indications of a battle being waged between two sets of ideas on the country's past, present and future. The first set imagines Bangladesh as a nation born of a struggle against the linguistic and cultural hegemony of what was then West Pakistan, and founded on a commitment to liberal, secular and civic values. The second imagines the country not in civic terms but as yet another outpost of political Islam
 The activists have bravely taken positions on the front lines of this struggle against Islamists. It is this stark contrast that has rendered the rights activists sworn enemies of the Islamists.
To the ruling Awami League's credit, the government set up the war crimes trials despite threats from the Islamists. It also sought thus to delegitimise groups such as the Jamaat-e-Islami that had harboured war criminals and allied themselves with powerful political forces, including successive military dictatorships and the Bangladesh Nationalist Party, to stall the transition of Bangladesh into a progressive, democratic nation state
But Prime Minister Sheikh Hasina has tended to limit her government's role to prosecuting the trials
The government has failed to bring the assassins of bloggers, rights activists and others to justice — it perhaps fears a greater blowback from the Islamists if it does so
Ordinary citizens are being exposed as the first line of defence against extremism
Hasina will be jeopardising Bangladesh's future as a democratic nation if her government does not rally on the side of the rights activists against the Islamists
Already, groups such as the Islamic State seem to be emboldened by the actions of the Islamists and have publicly sought to deepen their base in Bangladesh
The longer the government remains on the sidelines in this fight for secularism, the stronger the forces of extremism will become
Topic: Environment Category: Water conservation Key Points: Water troubles
Marathwada Region(Maharashtra) – too many borewells driving the water table down
Telangana-dependence on private tankers
Tamil nadu (krishnagiri, dharmapuri districts)-fluoride contamination of ground water
Mettur(Tamil Nadu) wasted run off water
Causes of the problem
Maharashtra-endemic corruption (Rs. 1,18,000 crore was spent in that State over 12 years, and yet only 18 per cent of gross cropped area was under irrigation)
Also alarming is the distorting effects of crop subsidies and a skewed agricultural produce market that rewards farmers who cultivate unsuitably water-intensive crops such as sugarcane and other cash crops
Solutions
interlinking the key river basins,water conservation, storage and groundwater recharge
1. From Plate to Plough: Drop by careful drop
Topic: Environment/Agriculture Category: Water Conservation Key Points:
India has almost 18 percent of global population but only 4 percent of fresh water resources
 On per capita water availability basis, India falls in the category of "water stressed" nations, defined as those with less than 1700 cubic metre water per capita, per year
In 2011, its average water availability hovered around 1545 cubic metre, down from 1816 cubic metres in 2001
Almost 78 percent of India's water is being used for irrigation. With expanding urbanization , the share of agriculture in water consumption will have to go down
The ultimate irrigation potential (UIP) in the country, at current levels of technology, is 139.9 million hectares (m ha). Of this, almost 54 per cent comes from surface irrigation and 46 percent from groundwater resources. Our gross cropped area (GCA) is around   195 m ha
 Surface irrigation comprises of major and medium irrigation schemes (42 per cent) and minor surface irrigation schemes (12 per cent)
 Overall irrigation potential can go up from 139.9 m ha today to 170 m ha, if we tap the potential of inter-linking of rivers
This needs to be seen in context of the Prime Minister's clarion call for "harkhetkopani," and "per drop, more crop" under PM's KrishiSinchayeeYojana.
Much of government expenditure on irrigation goes for major and medium irrigation schemes. These schemes are not executed efficiently (Large leakages make it even worse)
The other bane is the widening gap between irrigation potential created (IPC) and irrigation potential utilised (IPU). While overall IPC so far is around 113 m ha, only about 91 m ha has been utilized
 This gives only 47 per cent irrigation cover to GCA
Where goes the unutilized water? Anyone who gets access to water first, goes for water intensive crops like sugarcane, paddy, bananas, etc. as water is highly subsidised. As a result, not much water is left for tail-enders. No wonder IPU falls much short of IPC
In groundwater, the problem is over-exploitation and falling water tables. More than 80 per cent of administrative units in Punjab, Haryana, Rajasthan and Delhi are overexploited, and water table is depleting by one feet each year
This is eating away resources of future generations. And one of the key factors behind this is the highly subsidised power supplied to rural areas.
So where do we go from here to streamline water policies? The subsidy on power and canal waters together amounts to almost Rs 100,000 crore. Political economy of pricing is such that raising their prices to recover full costs seems very difficult, if not impossible. One needs innovations in public policy
One innovation could be installing meters to measure power consumption, and also canal waters, and then incentivizing farmers to save their consumption by rewarding them with monetary value of say 75 per cent of the savings at a price equivalent to what it would cost to supply from fresh investments. China is doing some such pilots, and our estimates suggest that about 30 per cent savings in water and power is feasible.
Another innovation could be to ration power and water supplies on per ha basis, and let farmers choose cropping patterns based on that allocation. If any farmer wants more of these beyond their rationed quantity, they will have to pay full cost pricing.
Still another innovation will be to replace inefficient pump sets by more energy efficient ones at government cost. Estimates suggest that almost 30 per cent power can be saved. But to save water, we need to promote drip and sprinklers aggressively, especially for sugarcane and banana, saving 40-50 per cent water. So far less than 5 percent of India's cropped area is under micro-irrigation, and potential is at least three to four times more. Similarly, flooding of rice fields needs to be replaced by SRI (System of Rice Intensification) technique, which can save about 30 per cent water.
Last but not least, stop protecting these water intensive crops. Currently import duty on sugar is 40 per cent and on rice 70-80 percent. In fact, India is a net exporter of "virtual water" as 1 kg of rice requires 3000 to 5000 litres of water and 1 kg of sugar about 2000 litres of water, and both are being exported
 We need to shift from supply side augmentation to demand side management, and incentivising peasantry to save water by rewarding them, and making imports of water guzzler farm products liberal
i) Revenue Department takes various measures to boost-up growth and employment generation;
The Revenue Department of the Ministry of Finance has taken several steps for boosting-up growth and employment generation:
Lowering the Corporate tax rates to 25%for new manufacturing companies
Extending tax benefits for housing sectorso as to promote construction industry
Rate of tax on royalty and fees for technical servicesreduced from 25% to 10%
Tax incentives for Start-up India
Also steps were taken to give relief to the small tax payers and to the small business and professionals:

The limit of deduction under Income tax Act 1961 has been enhanced from  1 lakh per annum to Rs. 2 lakhper annum, subject to the additional Rs. 50,000/- being contributed to NPS.
The scope of presumptive taxation regime for small businesses has been extended by increasing the turnover up to  2 croresThe presumptive taxation benefit is now available for professionals having turnover upto Rs. 50,00,000/-
ii) Visit of Indian Warships to Dubai (UAE) 
In a demonstration of India's commitment to maritime relations with countries in the Gulf, Indian Naval Ships have arrived at Dubai on a four day visit.
During the visit, the crew of IN ships will undertake professional interactions with the UAE Navy towards enhancing co-operation between the two forces.
In addition, calls on senior Government and military authorities, sporting and cultural interactions and sharing of best practices, aimed at strengthening mutual understanding between the two navies, are also planned.
Bilateral relations between India and UAE are characterised by strong bonds of friendship based on cultural and economic ties dating back to nearly 3000 BC.
These have been further strengthened in recent times by a vibrant economic relationship and growing convergence on security issues.
UAE is India's second largest trading partner and Indians are the largest expatriate community in the UAE.
The visit of Prime Minister of India to UAE in August 2015 heralded the beginning of a comprehensive strategic partnership, wherein both nations agreed to cooperate in maritime security and strengthen defence relations.
India and UAE are also members of Indian Ocean Naval Symposium (IONS), a voluntary and co-operative initiative between 30 countries of the Indian Ocean Region, which has served as an ideal forum for sharing of information and cooperation on maritime issues.
iii) Meeting of SAARC Countries on protection of Children to be held in Delhi from 9th-11th May, 2016 
The eight nations composing the South Asia Initiative to End Violence Against Children (SAIEVAC) are assembling in New Delhi from 9th-11th May, 2016
It is a Ministerial level meetingto set strategies and agree on commitments to ensure the protection and security of the children of the region.
  Please click here to go to BEST of PIB section to read more on this upcoming meeting
2. Business Standard: Emerging markets should go for gold
Topic: Economy Category: Foreign Reserves Key points:
Are emerging-market central banks overweight in dollars and underweight in gold?
There is a good case to be made that a shift in emerging markets toward accumulating gold would help the international financial system function more smoothly and benefit everyone.
Emerging markets hold reserves because they do not have the luxury of being able to inflate their way out of a financial crunch or a government debt crisis. Simply put, they live in a world where a large fraction of international debt – and an even larger share of global trade – is still denominated in hard currency. So they hold reserves of such currencies as a backstop against fiscal and financial catastrophe. Yes, in principle, it would be a much better world if emerging markets could somehow pool their resources, perhaps through an International Monetary Fund facility; but the trust required to make such an arrangement work simply is not yet there.
Why would the system work better with a larger share of gold reserves?
The problem with the status quo is that emerging markets as a group are competing for rich-country bonds (read – rich countries are borrowing from emerging markets / emerging markets are buying dollar bonds to stock up reserves to pay international debt), which is helping to drive down the interest rates they receive(as demand is more, rich countries need pay only less interest). With interest rates stuck near zero, rich-country bond prices cannot drop much more than they already have, while the supply of advanced-country debt is limited by tax capacity and risk tolerance
Gold, despite being in nearly fixed supply, does not have this problem, because there is no limit on its price. Moreover, there is a case to be made that gold is an extremely low-risk asset with average real returns comparable to very short-term debt. And, because gold is a highly liquid asset – a key criterion for a reserve asset – central banks can afford to look past its short-term volatility to longer-run average returns
True, gold does not pay interest, and there are costs associated with storage. But these costs can be managed relatively efficiently by holding gold offshore if necessary (many countries hold gold at the New York Federal Reserve); and, over time, the price can go up. It is for this reason that the system as a whole can never run out of monetary gold
By shifting to gold, emerging markets would not somehow benefit at the expense of advanced economies. After all, the status quo is that advanced-economy central banks and treasuries hold vastly more gold than emerging markets do, and a systematic shift by emerging markets will bid up its price. But this is not a systemic problem; and, in fact, a rise in gold prices would close part of the gap between demand and supply for safe assets that has emerged due to the zero lower bound on interest rates
There has never been a compelling reason for emerging markets to buy into the rich-country case for completely demonetizing gold. And there isn't one now.While economic growth may broadly be accounted for as an increase in the levels of productivity and production (cap)abilities of an economy, economic development is understood in terms of a quantifiable, irreversible rise in per-capita income for an economy over a period of time
3. The Economic Times:Foster financial inclusion by mobile banking and Aadhaar project
Topic: Banking Category: RBI regulation Key points:
The Reserve Bank of India's (RBI) has published draft guidelines for 'on-tap' licensing of banks
Clearing licenses continuously will help extend the reach of formal finance in India, a grossly under banked country
The rules bar large corporate houses from controlling banks, but they can hold less than 10% stake in a bank
Allowing professionals and individuals with a minimum experience of 10 years and giving large non-banking finance companies a chance to convert themselves into banks is welcome
The RBI has also eased its earlier guidelines that had mandated the holding company route to own a bank. Individuals or a standalone promoting entity need not have a non-operative financial holding company (NOFHC)
However, if other group businesses are proposed to be set up after incorporation, the bank will have to move towards an NOFHC structure. But promoters need not own more than 51% stake in the NOFHC. Flexible norms for different lenders and ring-fencing the bank from any possible troubles of other businesses make eminent sense.
The condition that new banks must open at least 25% of their branches in rural areas is onerous. Instead, banks can be mandated to generate the same proportion of business from the hinterland
The best way to foster financial inclusion is to leverage on the use of technologies such as mobile banking and take advantage of the Aadhaar project
F. Concepts-in-News: Related Concepts to Revise/Learn:
1974 Tripartite agreement(1971 Indo-Pak war)
OBOR
India-Africa Forum Summit (2015)
BRICS
G. Fun with Practice Questions 🙂
Question 1: Which of the following is/are true about One Belt One Road?
It is proposed to pass through both Europe and East Asia
The Silk Road Fund is dedicated to lending for infrastructure projects related to the initiative
a) 1 only b) 2 only c) Both 1 and 2 d) Neither 1 nor 2
Question 2: Which of the following statement(s) is/are correct?
There was a large influx of refugees to India from East Bengal (Bangladesh) in 1971
Enclaves in India and Bangladesh were exchanged by the 2 countrieswith the passage the 100th Amendment to the Indian Constitution
a) 1 only b) 2 only c) Both 1 and 2 d) Neither 1 nor 2
Question 3: Which of the following African countries are included in OPEC?
Nigeria
Angola
Libya
Algeria
a. 1 only b. 1 and 2 c. 2, 3 and 4 d. All the Above
Question 4: Which of the following statement(s) is/are true?
UAE is India's second largest trading partner
Indians are the largest expatriate community in the UAE
a) 1 only b) 2 only c) Both 1 and 2 d) Neither 1 nor 2
Question 5: Which of the following district(s) is/are not part of the Marathwada Region?
Latur
Aurangabad
Nanded
Kalaburagi
a) 1 only b) 2 only c) 1,2 and 3 d) 1,3 and 4
"Proper Current Affairs preparation is the key to success in the UPSC- Civil Services Examination. We have now launched a comprehensive 'Online Current Affairs Crash Course'. Limited seats available. Click here to Know More."