Table of Contents:
1. India, Japan wrangle over N-pact note
2. SC sets up panel on night shelters
3. U.K. & France back UNSC permanent seat for India
4. Powerful earthquake strikes New Zealand
1. Move to cashless economy a key motive behind notes ban
2. Pune-based IISER researchers fabricate a flexible nanogenerator for wearable electronics
3. New light on dark matter
4. Indo-U.S. collaboration to focus on pelagic fish resources
1. Concepts-in-News: Related Concepts to Revise/Learn
2. BILLS/ACTS/SCHEMES/ORGS IN NEWS
.
+++++++++++++++++++++++++++++++++++++++++++++++
Useful News Articles
A. GS1 Related
Nothing here today folks!
B. GS2 Related
Category: Bilateral
Topic: India – Japan
Key Points:
Indian and Japanese officials continued to wrangle over the legality of a document signed as part of the nuclear deal during Prime Minister Narendra Modi's visit to Tokyo recently.
The document indicates a link between nuclear testing and the cancellation of the deal. While government sources say the document is not legally binding, a Japanese official insisted the document had been signed by the nuclear negotiators in the presence of Prime Ministers Shinzo Abe and Narendra Modi, and hence legally binding.
The 'Note on Views and Understanding' which was signed directly after the nuclear cooperation agreement contains contentious clauses that effectively allow Japan to invoke an emergency suspension of supplies if India were to test a nuclear weapon, and to contest any compensation claims from India in court. India has traditionally refused to link its nuclear trade with pre-conditions on testing, holding it is a matter of nuclear sovereignty, and instead giving a voluntary moratorium on tests.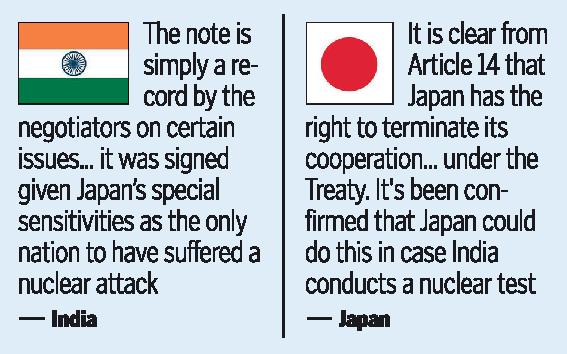 In response to questions about the differences, government sources said the note is simply a record by the negotiators of respective views on certain issues, given Japan's special sensitivities as the only nation to have suffered a nuclear attack.
The wrangling over the Indo-Japan deal, which was hailed as a landmark agreement casts a shadow similar to the controversy over the Indo-U.S. nuclear deal in January 2015.
Category: Judiciary – Supreme Court
Topic: Judicial reforms
Key Points:
The Supreme Court has asked the government to respond on the lackadaisical attitude shown by authorities to provide sufficient number of night shelters to the poor and homeless in the towns and cities of northern States despite the availability of funds. The Apex court said a careful consideration of the submissions of parties and the material on record discloses that the destitute in urban areas continue to suffer without shelters.
Noting the disparity between the claims of the government and the adverse reports of the National Legal Services Authority – NALSA, the Bench observed that the city's poor shiver in the winter cold as welfare measures like the National Urban Livelihoods Mission – NULM scheme continue to remain a distant dream.
The court directed that a Committee headed by former Delhi High Court judge Justice Kailash Gambhir be constituted to verify the availability of night shelters, including if they are in compliance with the operational guidelines under the NULM and to inquire into the reasons for slow progress in setting up shelter homes by the States/Union Territories.
The committee shall further inquire about non-utilisation and/or diversion/misutilisation of funds allocated for the scheme for providing shelters to the urban homeless. The committee shall issue suitable recommendations to the States to ensure that at least temporary shelters are provided for the homeless in urban areas to protect them during winter season. The State governments shall ensure compliance with the recommendations along the time frame indicated by the committee.
Category: International
Topic: Expansion of UNSC
Key Points:
India's bid for a permanent seat in a reformed U.N. Security Council has received a strong support from many U.N. member-states, including the K. and France. Among the large number of nations supporting a permanent seat for India and other emerging powers like Brazil and Germany were two veto-wielding permanent members of the Council, the United Kingdom and France.
India's Ambassador to the U.N. Syed Akbaruddin lamented the never-ending carousel of discussions on UNSC reforms saying it is time to break the impasse to urgently reform the U.N. body that is unresponsive to the current global situation.
German ambassador to the U.N. Harald Braun, speaking on behalf of the G4 Group of Brazil, India, Japan and Germany, said Council reform was an urgent matter, saying the Council must be rendered fit-for-purpose in order to face the current global challenges of peace and security. He added that all regions must be adequately represented to ensure legitimacy and effectiveness.
Category: International issues
Topic: Disasters
Key Points:
A powerful earthquake that rocked New Zealand triggered landslides and a small tsunami, cracked apart roads and homes and left two people dead, but largely spared the country the devastation it saw five years ago when a deadly earthquake struck the same region. The magnitude 7.8 earthquake struck the South Island in a mostly rural area that's dotted with small towns. Near the epicenter, it opened up snaking fissures in roads and sparked landslides.
The quake caused damage in Wellington, the capital, more than 200 kilometers to the north. It was also strongly felt to the south in the city of Christchurch, which was devastated by an earthquake in 2011 that killed 185 people.
C. GS3 Related
Category: Indian Economy
Topic: Impact of Demonetization
Key Points:
The withdrawal of 500 and 1,000 rupee notes may have come as a bolt from the blue. But it appears to be a part of a calculated process set in motion way back in January 2014. The fulcrum of that larger process revolves around addressing the twin menace afflicting the decision-making exercise of the economy managers. The unaccounted pockets of the economy and illegal notes together combine to render policy initiatives ineffective and redundant.
The Raghuram Rajan-led Reserve Bank of India had sought to crack the whip on this way back in January 2014 by deciding to withdraw completely from circulation all bank notes issued prior to 2005. It provided enough time-window for the public to exchange these currencies. The apex bank had said then that these notes were legal tender but must be exchanged for new ones from banks.
The idea then was to replace the older notes with new ones with hugely beefed-up security features. By withdrawing these notes, the RBI, it was pointed out, wanted to weed out fake notes in the system if any and also ensure that faking becomes difficult and costly by introducing new notes with tighter security features. The withdrawal of notes issued prior to 2005 clearly aimed at ending the fake note menace which had far greater implications from security point of view of a nation. The recent demonetisation of Rs. 500 and Rs. 1,000 notes must be read as a continuation of this larger process.
It is not about how much black money government could catch. It is about how much unaccounted money this could bring into the system. This move also must be read in tandem with several other initiatives of the authorities – both monetary and fiscal to force people to come on board and embrace the formal system.
A Series of efforts to have a connected web by linking Aadhar number, PAN number and bank account and the like have all been carefully calibrated to push a steady movement towards an organized system. The prevalence of a vast space outside the organised sector, it is pointed out, is making things difficult for the policy planners to offer precisely workable prescriptions. On many an occasion, the RBI bosses have stressed this limiting factor. Given all these, the de-monetisation cannot be treated as an isolated exercise but must be viewed as a larger effort to push the society into a cashless one.
Viewed from a holistic perspective, the latest move should be judged by the efficacy or otherwise of the system to capture all sorts of financial transactions – small and big ones alike. Hopefully, this could help bring in a sense of fairness and equity in the economy. At the same time, one expects this to facilitate policy formulators arriving at reasonably accurate diagnosis for the ills of the economy in a dynamic situation.
 Card usage surges, micro-lending grinds to a halt –
The country's micro finance sector (MFI), which essentially extends small loans to the poor and weaker section of the society, is one of the worst hit by the demonetisation move of the Centre. The micro finance sector extends loans and well as accepts repayments in cash. With Rs.500 and Rs.1,000 notes being demonetised, both business and recovery of loans have been impacted badly.
Microfinance Institutions Network (MFIN), the self regulatory body of micro lenders has written to both the Finance Ministry as well as the banking regulator for allowing them to accept Rs.500 and Rs.1, 000 bank notes.
Centre's demonetisation move has led to a spike in the usage of debit and credit cards, especially in the small ticket size segment as currency notes are increasingly becoming scarce in banks and ATMs.
Category: S&T
Topic: IISER Research
Key Points:
Researchers from Pune's Indian Institute of Science Education and Research (IISER) and the National Chemical Laboratory have produced a Nano-generator by electrospinning a piezoelectric polymer directly into a flexible, conducting carbon cloth. The carbon cloth was produced by the researchers by heating a piece of cotton cloth at 800 degree C for several hours in an inert atmosphere.
 Producing wearable electronics that uses a portable nanogenerator which generates electric power when pressure or twist is applied got a shot in the arm. The nanogenerator, which was fabricated by the researchers, produced 14 volts when thumb pressure was applied.
Currently, there is considerable research emphasis to develop flexible or wearable devices. Such devices should be portable, lightweight, shock-resistant, and inexpensive. And the devices should ideally be powered by harvesting easily available mechanical or vibration energy, making battery or related wiring redundant. Piezoelectric materials, which can generate electrical power locally through stress or flexing, are a great proposition in this regard.
To improve the piezovoltage of the polymer fibres, the researchers coated the fibres with a stronger, inorganic ferroelectric material – BaTiO3 paste. In addition, the ferroelectric material was also incorporated into the polymer to further enhance the piezoelectric property. This was done right when the polymer was electrospun.
New light on dark matter
Category: S&T
Topic: Space Research
Key Points:
German and Hungarian scientists have thrown some light on a type of dark matter particle that has been postulated, known as the Axion. Dark matter is as mysterious as it sounds, very little is known about; it makes up about 85 per cent of all the matter in the universe.
The Scientists have established that Axions can have a mass between 50 and 1500 micro electron volts, making them some 10 billion times lighter than the electron. An interesting fact is that these calculations were done numerically using a Bluegen/Q super computer – JuQueen, housed in the Julich Supercomputer Centre in Germany.
Dark matter is so known because it interacts weakly with matter and so is notoriously difficult to detect. Yet, indirect proof of its existence comes from observation of rapidly rotating galaxies, which cannot be held together merely by the gravitational pull of the matter they contain there has to be a lot of invisible stuff known as dark matter to prevent them from flying apart with the force of their own energies. Such inferences imply that nearly 85 per cent of the universe is made of dark matter; the known matter only contributes 15 per cent.
 Several candidate particles have been postulated that may constitute dark matter – both highly massive and lightweight but none of the experiments have detected any such particle so far, directly. Axions are particles proposed by extending quantum chromodynamics (QCD) the theory that describes strong interactions, the way quarks and gluons bond to form matter particles such as protons, neutrons etc.
Though they have been proposed and there are experiments to study them – for instance, the Axion Dark Matter Experiment – ADMX, there has been no real handle on these until now. The present work sets a mass bound on the axions, between 50 and 1500 micro electron volts. This would require that there exist ten million such particles for every cubic centimetre of the universe. Also, because dark matter is not evenly spread out, but occurs in clumps, there should be nearly a trillion axions per cubic centimetre in the Milky Way our galaxy.
Category: S&T
Topic: Indo-U.S. Collaboration
Key Points:
The Ministry of Earth Sciences, India and the National Oceanic and Atmospheric Administration – U.S., are jointly working on a research collaboration programme to use combined scientific and technical skills in enhancing the observations of the Earth. The research would focus on prediction of pelagic fish resources, especially sardines.
The small pelagic, Indian oil sardine, mackerel and anchovies, contribute almost 55 per cent of the marine fish catch from the south eastern Arabian Sea. Of this, the sardine alone accounts for almost 16 per cent. Almost 90 per cent of the artisan fishermen directly or indirectly rely on these fishes for their livelihood and so the inter-annual variations in the availability of these fishes have a considerable impact on the economy of the common men.
Increasing frequency and extent of harmful algal blooms in the coastal and oceanic area of the Indian Exclusive zone is a cause for concern, as it disrupts biogeochemical cycles and possibly enhances the oxygen minimum zones. This in turn affects marine ecosystem processes such as energy flow and prey availability for mid- and upper-trophic predators. Therefore, the understanding of formation mechanisms of the harmful algal blooms, its spread and the environmental set-up favouring their production is of utmost significance.
 The institutions together would develop improved predictive capability for the small pelagic of the south eastern Arabian Sea especially sardines and develop harmful algal blooms monitoring and prediction system for the coastal oceanic occurrence. There would be technological support and sharing of expertise for the development of statistical forecast models on the abundance and distribution of small pelagic fishes and biophysical models to relate plankton production to physical ocean dynamics.
D. GS4 Related
Nothing here today folks!
E. Important Editorials: A Quick Glance
The Hindu
Key Points:
When India conducted its nuclear tests in 1998, Japan was the country that took it the hardest: it put all political exchanges with India on hold, froze aid and announced economic sanctions within hours.
A thaw in ties didn't come until 2001, when sanctions were lifted. And then, in 2009, the two countries began an annual strategic dialogue. This has now come to fruition with the signing of the nuclear cooperation agreement in Tokyo during Prime Minister Narendra Modi's visit. The deal is critical to India's renewable energy plans.
Japanese companies that produce cutting-edge reactor technology were previously not allowed to supply parts to India. In addition, Japanese companies have significant holdings in their U.S. and French partners negotiating for nuclear reactors now, and that would have held up the deals. This is Japan's first nuclear deal with a non-signatory to the Non Proliferation Treaty and it recognises India's exemplary record in nuclear prudence. It is indeed a much-needed moral boost as New Delhi strives for membership in the Nuclear Suppliers Group (NSG). The move will boost the meagre, and dipping, bilateral trade of $15 billion, and lift the strategic military and defence relationship.
There are several riders to this rosy prognosis, however. First, the nuclear deal has to be approved by Japan's Parliament. This will not be aided by unhelpful references such as those made recently by Defence Minister Manohar Parrikar, about revisiting India's no-first-use nuclear weapons policy.
In Japan, Prime Minister Shinzo Abe may face criticism that he extracted too few assurances from India on a nuclear test ban. In India, Mr. Modi may be criticised for giving in too much, as a note slipped into the agreement now accepts an emergency suspension of the deal if India tests a weapon.
The clock is ticking, and Mr. Abe must bring the deal to Parliament in early 2017 to ensure that the commercial agreement for Westinghouse's six reactors in Andhra Pradesh that is due in June 2017 comes through. This will also coincide with the next plenary of the NSG. Both New Delhi and Tokyo must also be wary of the impact on Beijing of this new stage in their ties. China has been hedging against deeper Japan-India ties in Asia by investing in its relationship with Russia and Pakistan. As the two Asian rivals to China, India and Japan might need the partnership even more in the days to come, as the U.S. President-elect has indicated a lower level of interest in playing policeman in the region.
F. Concepts-in-News: Related Concepts to Revise/Learn:
Concepts-in-News: Related Concepts to Revise/Learn:
Free Legal aid National Legal Services Authority – NALSA Demonetization Micro-Finance institutions (MFI) Pelagic fish resources Dark Matter Black money Natural Disasters
BILLS/ACTS/SCHEMES/ORGS IN NEWS
| | |
| --- | --- |
| BILLS/ACTS/SCHEMES/ORGS IN NEWS | |
| Dark Matter | |
| National Oceanic and Atmospheric Administration – NOAA | |
G. Fun with Practice Questions 🙂
Question 1.Recently, India signed an agreement with _____ to conduct research on prediction of pelagic fish resources, especially sardines.

a) U.S. b) Sweden c) Norway d) U.K.
Question 2.Which of the following statements are correct regarding the dark matter w.r.t the Space research?

It makes up about 85 per cent of all the matter in the universe.
It does not emit or interact with electromagnetic radiation, such as light, and is thus invisible to the entire electromagnetic spectrum.
a) (i) only b) (ii) only c) Both (i) and (ii) d) Neither (i) nor (ii)
Question 3.Which of the following statements are correct regarding the National Legal Services Authority - NALSA?
It is a statutory body headed by the CJI
It is responsible for providing free legal services to eligible candidates and to organize Lok Adalats for speedy resolution of cases.
a) (i) only b) (ii) only c) Both (i) and (ii) d) Neither (i) nor (ii)
Question 4.The main objective of the G4 nations is
a) Expansion of UNSC and its reforms b) Non-Alignment towards the major blocs in geo-politics c) International Financial reforms d) Status-quo in UNSC
Question 5.Which of the following countries are not part of Nuclear Suppliers group – NSG?
a) India, Pakistan, China, New Zealand b) India, Pakistan, Sri Lanka c) India, Pakistan, South-Africa d) India, Pakistan, China, Sri Lanka
"Proper Current Affairs preparation is the key to success in the UPSC- Civil Services Examination. We have now launched a comprehensive 'Online Current Affairs Crash Course'. Limited seats available. Click here to Know More."