Table of Contents:
1. Centre extends AFSPA to check Naga factions
2. Do you have an action plan on pollution: SC asks centre
3. India makes fresh push to gain NSG entry
4. China and Pakistan decide to start counter-terror system jointly
1. Rs. 500, Rs. 1,000 notes no longer legal tender
2. Commercial apps will soon be able to strike open data gold
1. Concepts-in-News: Related Concepts to Revise/Learn
2. BILLS/ACTS/SCHEMES/ORGS IN NEWS
.
+++++++++++++++++++++++++++++++++++++++++++++++
Useful News Articles
A. GS1 Related
Nothing here today folks!
B. GS2 Related
Category: Government legislations
Topic: AFSPA
Key Points:
The Centre has decided to extend the Armed Forces Special Powers Act – AFSPA in 3 districts of Arunachal Pradesh. One of the primary reasons cited by the Centre is extortion and intimidation by the cadres of National Socialist Council of Nagaland – NSCN (Isak-Muivah), who are contriving to dominate areas hitherto occupied by NSCN (Khaplang).
The ceasefire signed with NSCN-IM is only for Nagaland; it does not include Arunachal Pradesh and Manipur. This notification has been issued after much consultation between the security agencies.
The Government signed a framework agreement with NSCN-IM in September 2015 to find a final solution to the 6-decade-old Naga issue. The order said the 3 districts were being declared as disturbed area under Section 3 of the AFSPA as Naga underground factions including NSCN-IM and NSCN-K continue to indulge in extortion, area domination, recruitment of locals and inter-factional rivalry.
The Home Ministry for the first time has extended AFSPA in the districts of Tirap, Changlang and Longding all bordering Assam, as the NSCN-IM was desperate to regain control from the NSCN-K.
NSCN-K was banned in 2015 after its alleged involvement in an ambush on an Army convoy in Manipur's Chandel district, resulting in the death of 17 personnel. Its leader S.S. Khaplang is said to be in Myanmar. The Home Ministry said security scenario in 3 districts of Arunachal Pradesh remains vitiated by the spill over of the Naga insurgency.
Note – After decades of violence, the NSCN-IM had entered into a ceasefire agreement with India in 1997. The largest group representing the Nagas has demanded a Greater Nagalim or a contiguous land for the Nagas, across the States of Nagaland, Arunachal Pradesh, Manipur and Mizoram.
Category: Air Pollution
Topic: Judicial activism
Key Points:
The Apex Court asked the Centre, "Will you have an action plan ready before pollution attains such lethal levels that the entire city will be shut down and human lives are threatened". The centre promised to share comprehensive details of the government's plans with the court.
Addressing the centre, Chief Justice of India T.S. Thakur said "When pollution increases, first schools are shut down. When it becomes dangerous, construction activities etc., are shut down. When it becomes even more dangerous, hazardous industries are shut down. When it becomes lethal, the entire city is shut down"
The bench said cities like Beijing and Singapore had to be shut down due to pollution.
Category: Multilateral Groupings
Topic: NSG
Key Points:
India's bid for membership of the Nuclear Suppliers Group (NSG) will be the centre-stage once again as the group meets for the Consultative Group technical meeting on September 9-10, followed by the Plenary session in Vienna.
While a slew of leaders from New Zealand, Turkey, Brazil and South Africa, all NSG countries that have hardline positions, have been invited to India recently, India's nuclear negotiators have travelled to other countries, who are still unconvinced about the issue of non-signatories to the Non Proliferations Treaty – NPT like India being made members of the nuclear club.
 However, with China making it clear that its position hasn't changed, and little movement in the objections of other countries on the issue of the NPT, officials are calling it a long haul, given that the NSG works by consensus.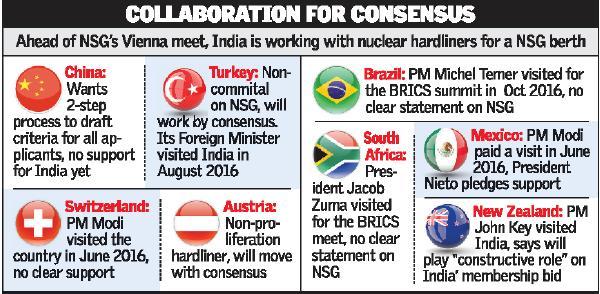 At best, India will hope that a process will be set into motion to define criteria for non signatories to the NPT, but that the criteria will broadly fit India's credentials as a non-proliferator. India, Pakistan, Israel and South Sudan are all non-signatories of NPT, of which India and Pakistan have both applied for NSG membership in 2015.
Meanwhile, India has been working with its support base that includes the U.S., Japan, Australia and South Korea, that has been exerting its influence as the new Chairperson of the NSG to push for India's case. India also hopes Prime Minister Modi's visit to Tokyo on November 11 that coincides with the NSG Plenary session will boost India's non-proliferation image, as India and Japan are expected to announce their civil nuclear accord.
The U.S., that has backed India, said it remained optimistic about India's chances of NSG membership by the end of 2016.
Category: Bilateral
Topic: China-Pak
Key Points:
China and Pakistan planned to set up a Joint counter-terrorism command system even as they held a bilateral anti-terrorism exercise. Their joint military exercise was carried out in a border region and involved elite commandos from both special forces
The Chinese and Pakistani forces have conducted in-depth and detailed communication regarding the subjects of construction of a counter-terrorism command system and use of tactics
C. GS3 Related
Category: Indian Economy
Topic: Black money
Key Points:
Prime Minister of India Narendra Modi in a surprise address to the nation announced that 500 and 1,000 rupee notes will cease to be legal tender from 9th Nov, 2016. He said the decision was taken to root out the menace of Terrorism, black money and corruption. Notes of 100, 50, 20, 10, five, two and one rupee remain legal tender and will be unaffected by the decision.
 This is one of the methods to end circulation of unaccounted wealth across the country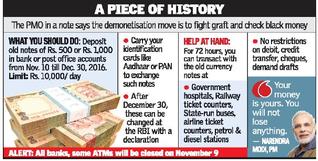 The 500 and 1000 rupee notes hoarded by anti-national and anti-social elements will become just worthless pieces of paper. The rights and the interests of honest, hard-working people will be fully protected.
Secretary of Department of Economic affairs said the Reserve Bank of India will issue new 500 and Rs. 2,000 notes starting from November 10. The new Rs. 500 note will feature the Red Fort and the new Rs. 2,000 note will feature Mangalyaan.
The Prime Minister made a pointed reference to cross-border terror which was being funded by forged currency notes. Justifying the last-minute announcement to demonetise the currency notes, the government said that the move was necessary to stop terrorists and drug cartels in their tracks. An element of surprise is essential, or else the black money holders would have made necessary arrangements.
The Government claimed that this will result in a reduction of inflation as conspicuous consumption will come down. The magnitude of cash in circulation is directly linked to the level of corruption. Inflation becomes worse through the deployment of cash earned in corrupt ways. The poor have to bear the brunt of this. It has a direct effect on the purchasing power of the poor and the middle class. People have experienced when buying land or a house, that apart from the amount paid by cheque, a large amount is demanded in cash. This creates problems for an honest person in buying property. The misuse of cash has led to artificial increase in the cost of goods and services like houses, land, and higher education, health care and so on.
High circulation of cash also strengthens the hawala trade which is directly connected to black money and illegal trade in weapons. Debate on the role of black money in elections has been going on for years.
 Note – Till March 2016, Rs. 14 lakh crore out of Rs. 16 lakh crore worth currency issued by RBI were in denominations of Rs. 500 and Rs. 1,000, as per the central bank's official data.
 Corruption, black money & terrorism are festering sores: PM Modi
Prime Minister Narendra Modi announced demonetisation of 1000 and Rs. 500 notes with effect from midnight, making these notes invalid in a major assault on black money, fake currency and corruption.
Chronology: The government began a battle against corruption by setting up an SIT headed by a retired Supreme Court judge, immediately upon taking office. Since then
a law was passed in 2015 for disclosure of foreign black money;
agreements with many countries, including the USA, have been made to add provisions for sharing banking information;
a strict law has come into force from August 2016 to curb benami transactions, which are used to deploy black money earned through corruption;
a scheme was introduced for declaring black money after paying a stiff penalty
The Government has brought into the open nearly 1.25 lakh crore rupees of black money belonging to the corrupt.
Note – However, the unaccounted money stashed abroad is a different thing and needs to be addressed separately.
New notes to cost RBI more than Rs. 12,000 crore –
Replacing all the Rs. 500 and Rs. 1,000 denomination notes with other denominations, as ordered by the government, could cost the Reserve Bank of India at least Rs. 12,000 crore, based on the number of notes in circulation and the cost incurred in printing them.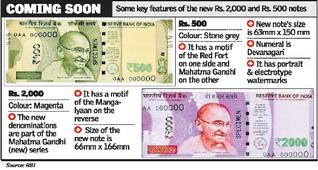 Category: Indian Economy – Government's Policies
Topic: E-Apps
Key Points:
The Centre will soon notify a policy that will allow apps and services to be created for commercial purposes using over 42,000 databases. This will remove the restriction on their use solely for academic purposes. The Open Government Data Platform publishes datasets collected by various Ministries and departments, including Agriculture, Union Budget, Transport and Commerce.
 India has chosen to make public a lot of government data, giving it a place among the top 10 countries that have an open data platform. Earlier, the government permitted their use only for academic or government purposes. Recently, centre took a decision to allow people to create value added services for commercial purposes.
D. GS4 Related
Nothing here today folks!
E. Important Editorials: A Quick Glance
The Hindu
Key Points:
The operation to recapture Raqqa in Syria launched by a U.S.-backed coalition of Kurdish and Arab fighters is bound to increase the military pressure on the Islamic State, which is already under attack in Mosul, its power centre in Iraq. The Raqqa offensive has long been on the cards.
The Syrian Democratic Forces (SDF) finally moved their troops to the city's defence lines after getting weapons and the clearance from the U.S. As in the case of the battle for Mosul where the U.S. provides air cover to the Iraqi forces and Shia militias, in Raqqa it will provide assistance to the SDF.
The U.S. strategy is to choke the IS from both sides, and its partners on the ground seem ready to take the high risk of attacking the group's strongest bases. Over the past year the Kurdish fighters have been consistently effective in ground battles against the IS. Most of the major territorial losses of the IS in Syria – be it Kobane, Tal Abyad or Manbij were at the hands of the Kurds.
The jihadist group, which once had direct access to the Turkish border, has now retreated to its core in Syria, stretching from Raqqa to Deir Ezzour. Against this background, the SDF clearly has an upper hand; the IS will also find it challenging to defend two of its most important cities at the same time. But that doesn't mean that the SDF will have an easy walk into Raqqa.
The SDF is certain to face strong resistance. Raqqa is one of the first cities the IS captured; it has in place a ferocious, ideologically charged and battle-ready team to build a strong defence. As the ongoing Mosul battle shows, breaching the IS defence lines will take time and also lives.
Raqqa has a population of about 2.2 lakh. Major air-borne campaigns to help the SDF advance on the ground will be risky and could result in large civilian casualties. The IS also uses human shields to stop ground advances of enemies. But the most pressing challenge the SDF faces is the response from Turkey.
Raqqa is a Sunni-populated town. Turkey is opposed to the SDF taking over Raqqa as a major constituent of the coalition is the Kurdish militia, the People's Protection Units (YPG).
Turkey sees the YPG as the Syrian unit of the Kurdistan Workers' Party, which it calls a terrorist force. The dilemma that the U.S. faces is one of bringing both the YPG and Turkey on the same side of the battle for Raqqa. Turkey had in the past played dubious games with the IS. If it decides to do that again now, the war on the IS could be derailed.
F. Concepts-in-News: Related Concepts to Revise/Learn:
Concepts-in-News: Related Concepts to Revise/Learn

Armed Forces Special Powers act – AFSPA Nuclear Suppliers Group Air Pollution Black Money Operation Raqqa
BILLS/ACTS/SCHEMES/ORGS IN NEWS
| | |
| --- | --- |
| BILLS/ACTS/SCHEMES/ORGS IN NEWS | Links to Refer |
| Treaty on the Non-Proliferation of Nuclear Weapons | https://en.wikipedia.org/wiki/Treaty_on_the_Non-Proliferation_of_Nuclear_Weapons |
| Nuclear Suppliers Group | https://en.wikipedia.org/wiki/Nuclear_Suppliers_Group |
G. Fun with Practice Questions 🙂
Question 1:The centre recently extended AFSPA in order to counter extortion and intimidation by the cadres of National Socialist Council of Nagaland – NSCN in the 3 districts of
	
a) Nagaland b) Arunachal Pradesh c) Himachal Pradesh d) Mizoram
Question 2.	Which of the following countries are non-signatories of nuclear non-proliferation treaty?

a) India, Pakistan, Israel and South-Sudan b) India, Israel, Iran and South-Sudan c) India, Pakistan, North-Korea and South-Sudan d) India, North-Korea, Israel, South-Sudan
Question 3.	It is reported that Photochemical smog is responsible for severe deterioration of air quality in New Delhi. What are its constituents?
Ozone (O3)
Peroxy-Acyl Nitrate (PAN)
Nitrogen di oxide (NO2)
a) (i) only b) (i) and (ii) only c) (ii) and (iii) only d) All 3
Question 4.	Which of the following are the steps taken by the centre to counter the menace of black money/parallel economy?
Formation of a Special Investigative Team (SIT) under Retd. Judge
Income disclosure scheme – 2016
a strict law has come into force from August 2016 to curb benami transactions
Cancelling legal tender of 500 and 1,000 rupee notes
a) (i) only b) (i) and (ii) only c) (i), (ii) and (iii) only d) All 4
Question 5.	Which of the following cities are located in Syria?
a) Raqqa, Mosul, Damascus b) Raqqa, Sirte, Damascus c) Raqqa and Damascus d) Raqqa, Mosul, Damascus and Sirte
"Proper Current Affairs preparation is the key to success in the UPSC- Civil Services Examination. We have now launched a comprehensive 'Online Current Affairs Crash Course'. Limited seats available. Click here to Know More."