Table of Contents:
1. Encephalitis ravages Odisha tribe, claims 60 children
2. Ominous curb on media freedom
1. Still unwieldy but just in time
2. Turkey wants India to start free trade pact talks soon
1. Paris Climate Agreement Comes into Force Today Environment Ministry Building to Display 'Smiley' With Lights, with Slogan – "We Did It"
2. India, UNISDR sign Statement of Cooperation on Sendai Framework Reiterate commitment and cooperation towards Disaster Risk Reduction
.
+++++++++++++++++++++++++++++++++++++++++++++++
Useful News Articles
A. GS1 Related
Nothing here today folks!
B. GS2 Related
Category: Social Justice
Topic: Health
Key Points:
The on-going outbreak of Japanese Encephalitis and Acute Encephalitis Syndrome (JE and AES) has severely affected the Koya community, Malkangiri's indigenous tribe
Deaths have also been reported from the Bhumia, Paraja and Kondh tribes
Few deaths have also been recorded among Bangladeshi settlers, who live close to the Koyas villages
Koyas in the remote and inaccessible Kalimela and Korukonda blocks have been the worst hit
Category: Governance
Topic: Freedom of speech and expression
Key Points:
The order of the Information and Broadcasting Ministry, directing that Hindi television channel NDTV India be taken off air for 24 hours on November 9, is a serious violation of media freedom
Ever since media coverage of the terror attacks in Mumbai in November 2008 created a controversy, it has been accepted that there is a need for restrained and responsible coverage of anti-terrorism operations and potential hostage situations
The News Broadcasting Standards Authority, set up by the News Broadcasters Association, came up with a set of rules
The Ministry could have either approached the authority, which is headed by a former Supreme Court judge, or formed an independent panel to adjudicate the question
Instead, it has invoked a rule introduced in June 2015 that imposes a blanket ban on all live coverage of any anti-terrorist operation until it ends
It has cited statutory provisions that empower the government to regulate or prohibit the transmission of TV programmes
There is no mention of any provision for appeal. None can reasonably argue that irresponsible live coverage of an ongoing operation should attract no penalty
A problem arises when the penalty is decided by a government panel
Taking a channel off air for however brief a period is a serious decision that could be read as a signal to other newsrooms to self-censor
C. GS3 Related
Category: Indian Economy
Topic: Taxation
Key Points:
The cess on top of GST to be levied on luxury and sin goods is neither desirable nor efficient
Unless its levy is restricted to end-use products at the point of sale, it would further distort the efficiency gains from GST as input credit for cess paid on intermediary goods is unlikely
The government has argued that the cess will help compensate States for five years and that the Council can take a call on doing away with it thereafter
Similar visibility should be provided on dovetailing the multiple tax rates into two or three in the coming years, if not the international norm of a single GST rate
Multiple rates will not just pose an administrative challenge but also spur ugly corporate lobbying of the kind that the Finance Minister wanted to nix by phasing out exemptions in direct taxes
Category: Indian Economy
Topic: External Trade
Key Points:
Turkey wants India to start talks on a proposed Free Trade Agreement (FTA) soon and said the ongoing political turmoil will not impact foreign investment flows
Though there is an India-Turkey Joint Study Group report on "the feasibility and possibility of concluding a Comprehensive Economic Partnership Agreement" (CEPA or, in other words, a FTA), no dates have been fixed for starting FTA negotiations
In FY'16, India-Turkey trade had shrunk nearly 28 per cent year-on-year to $4.91 billion of which India's exports to Turkey were $4.14 billion (contraction of 22.7 per cent) while Turkey's exports to India fell 47 per cent to $776 million
D. GS4 Related
Nothing here today folks!
E. Important Editorials: A Quick Glance
PIB
Category: Environment
Topic: Climate Change
Key Points:
The "Paris Climate Agreement", comes into force on 4th November 2016. India and other countries will display a 'Smiley' with lights, with the slogan "We Did It" on important buildings
India ratified the Paris Agreement on 2nd October 2016, the birth anniversary of Mahatma Gandhi and the Agreement has the support of majority of the countries
This is a global effort
Till date, 94 Parties have ratified it, of the 197 Parties to the United Nations Framework Convention on Climate Change (UNFCCC)
The image has the globe as the background of smiley
Along with the image, "Paris agreement – We did it – #SmileforthePlanet" will be displayed on one side of the Ministry's building in the evening today, to celebrate the Paris Agreement
Indira Paryavaran Bhawan will be displaying the symbol in India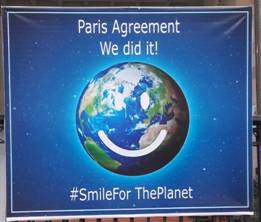 Category: Disaster Management
Topic: International Cooperation
Key Points:
India and United Nations Office for Disaster Risk Reduction signed a Statement of Cooperation during the second day of the Asian Ministerial Conference on Disaster Risk Reduction (AMCDRR) 2016
The Statement underlined the guiding principles, objectives and areas of cooperation between India and UNISDR towards the effective implementation and monitoring of the Sendai Framework on Disaster Risk Reduction (SFDRR), which was adopted at the Third World Conference on DRR at Sendai in Japan in March, 2015
India will partner with UNISDR to work towards strengthening the capacity of Asian countries in ensuring risk resilient development
It will also facilitate the sharing of knowledge and experiences, and collaborative efforts towards addressing critical regional challenges
The cooperation aims to ensure effective implementation and monitoring of the Sendai Framework through Training and capacity building for Asian countries; promoting international and regional cooperation to reinforce political commitment, facilitate knowledge sharing and strengthen the capacity of UNISDR for monitoring and review of the Sendai Framework
F. Concepts-in-News: Related Concepts to Revise/Learn:
Paris Climate Summit
Sendai Framework
Japanese Encephalitis
GST
Freedom of Speech and Expression
G. BILLS/ACTS/SCHEMES/ORGS IN NEWS
The United Nations Office for Disaster Risk Reduction
H. Fun with Practice Questions 🙂
Question 1:Which of the following encircles the Mediterranean sea? 
a) Turkey b) Egypt c) Algeria d) All of the above
Question 2:Which of the following is/are enshrined by Article 19 of the constitution?
a) freedom of speech and expression; b) freedom as to attendance at religious instruction or religious worship in certain education institutions c) freedom to form associations or unions d) Only a and c
Question 3:Which of the following is true?
The Sendai Framework for Disaster Risk Reduction 2015-2030 is the successor instrument to the Hyogo Framework for Action (HFA) 2005-2015
It was adopted on March 18, 2015 at the World Conference on Disaster Risk Reduction held in Sendai, Japan
a) Only i b) Only ii c) Both I and ii d) None of the above
Question 4:Which of the following is true regarding Japanese Encephalitis ? 
Japanese encephalitis virus (JEV) is a flavivirus related to dengue, yellow fever and West Nile viruses, and is spread by mosquitoes
There is no cure for the disease
a) Only 1 b) Only 2 c) Both 1 and 2 d) Neither 1 nor 2
Question 5:Which of the following is not true?
The Kyoto Protocol is an international agreement linked to the United Nations Framework Convention on Climate Change, which commits its Parties by setting internationally binding emission reduction targets
In Doha, Qatar, on 8 December 2012, the "Doha Amendment to the Kyoto Protocol" was adopted
a) Only 1 b) Only 2 c) Both 1 and 2 d) Neither 1 nor 2
"Proper Current Affairs preparation is the key to success in the UPSC- Civil Services Examination. We have now launched a comprehensive 'Online Current Affairs Crash Course'. Limited seats available. Click here to Know More."