The Blue Flag is a certification awarded to beaches, marinas and sustainable boat tourism operators that meet the requirements. This is an important topic in the UPSC exam environment and ecology segment. In this article, you can read all about the Blue Flag Certification for the IAS exam.
Blue Flag Certification UPSC Notes:- Download PDF Here
Blue Flag Certification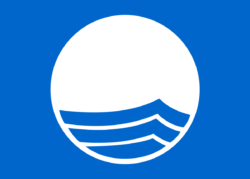 The Blue Flag Certification is awarded by a non-profit organization called the Foundation for Environmental Education (FEE).
To qualify for the Blue Flag certificate, a series of stringent requirements or criteria should be satisfied. 

The criteria are environmental, educational, access and safety related. There are a total of 33 criteria.

The certification is awarded to beaches, marinas (which are small ports or harbours designed for pleasure yachts or boats) and sustainable boat tourism operators in FEE member countries.

The Blue Flag is an eco-label and blue flag beaches should provide clean and hygienic bathing water, along with basic infrastructure for tourists.

Operators of beaches or boating tourism that have been awarded the 'blue flag' are allowed to display the blue flag logo.

This is awarded to local authorities or private operators only of the member countries.

Blue Flag also advocates against inequality, disparity, unemployment, depletion of natural resources, health and environmental threats, pollution as well as general environmental degradation.

The Blue Flag Programme originally started in France in 1985. It was presented to the FEE in 1987. It then became the European Blue Flag.

In 2001, when South Africa became the first country outside of Europe to join the programme, the initiative changed its name to International Blue Flag. 

At this time, the FEE acquired its current name, losing an 'E' since earlier it had European in its name.

There are more than 4000 blue flag beaches worldwide with Spain leading the number of beaches per country with this certification.
About the Foundation for Environmental Education (FEE)
The FEE is headquartered in Copenhagen, Denmark.

It was founded in 1981 as the Foundation for Environmental Education in Europe (FEEE).

Currently, it has 77 member countries.

Its other programmes include:

Green Key

Eco Schools

Young Reporters for the Environment

Learning about Forests

Global Forest Fund
Blue Flag Mission
The mission of the Blue Flag Programme is described below:
Promoting and participating in environmental educational programmes for the users of marinas, beaches and boating operators.

Implementing efficient safety & environmental management systems.

Committing to collaborative action & partnerships in order to promote sustainable tourism development.

Monitoring environmental conditions in order to mitigate the impact of human activity at the marinas, beaches and boating operators.
Blue Flag Beaches in India
Chandrabhaga beach on the Konark coast of Odisha is not only India's but also Asia's first beach to get the Blue Flag certification. 
In 2019, the Indian Government had identified 13 other beaches in the country for blue flag certification. This required relaxing certain rules of the Coastal Regulation Zone notification, to enable certain construction activities on the beaches.
The pilot beaches are given in the table below:
| | | |
| --- | --- | --- |
| Ghoghala beach (Diu) | Shivrajpur beach (Gujarat) | Bhogave (Maharashtra) |
| Padubidri and Kasarkod (Karnataka) | Kappad beach (Kerala) | Kovalam beach (Tamil Nadu) |
| Eden beach (Puducherry) | Rushikonda beach (Andhra Pradesh) | Miramar beach (Goa) |
| Golden beach (Odisha) | Radhanagar beach (Andaman & Nicobar Islands) | Bangaram beach (Lakshadweep) |