Sister Nivedita, a disciple of Swami Vivekananda passed away in Darjeeling aged 43. She is known for her charitable work and furthering advancement of education of Indian women. the This article will give details about Sister Nivedita within the context of the IAS Exam.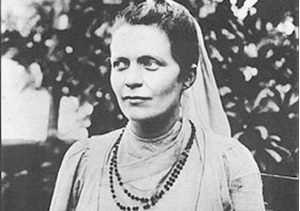 Get an edge over your competition in one of the toughest exams by visiting the UPSC Previous Year Question Papers page
Strengthen your preparation for the UPSC exam by checking the following links:
Sister Nivedita Biography
Born Margaret Elizabeth Noble in Ireland, Sister Nivedita became an ardent disciple of Swami Vivekananda after meeting him in 1895 in London.
Daughter of a pastor, she learnt the values of service to mankind during her formative years.
She became a teacher at the age of 17 and was engaged to be married. But, her fiancé died before the marriage and she moved on.
She studied varied subjects like physics, music, literature and arts and also read various religious books. She had also gained a reputation as a prolific writer in London. She developed her own unique methodology of teaching.
In 1895, Margaret met Swami Vivekananda in London. She came under his spell and came to Calcutta in 1898. She was drawn towards Vedanta philosophy and Vivekananda's teachings.
Her life changed forever when she took monastic orders on 25 March 1898. Swami Vivekananda initiated her into the vow of Brahmacharya and renamed her 'Nivedita' meaning 'the dedicated one'. Thus, she became the first western woman to take up formal monastic orders in India.
She also met Sarada Devi, wife of Ramakrishna and became devoted to her.
Sister Nivedita travelled widely in India and learnt much about Indian history and philosophy. She also learnt Bengali.
Vivekananda gave her the responsibility of women's education in India. Nivedita dedicated herself to the cause and even travelled to the USA to popularise her cause.
She wrote several books and articles. Some of them are 'Kali the Mother', 'Cradle Tales of Hinduism', 'The Master as I Saw Him', 'Religion and Dharma', 'Civic & National Ideals', etc.
She also took an active interest in the Indian national movement and supported the cause. She was also close to Aurobindo Ghosh.
During the 1899 plague epidemic in Calcutta, she plunged herself into service and also encouraged people to voluntarily serve those in need.
Nivedita established a girls' school in Calcutta. She taught girls, adult women and widows in her school.
A relatively less known fact about her is her support to the Indian scientist Dr. J C Bose in his work. She helped him financially and also in getting recognition since he faced discrimination from the establishment.
She had immense respect for India and this is reflected in the following excerpt from an editorial written by her.
The whole history of the world shows that the Indian intellect is second to none. This must be proved by the performance of a task beyond the power of others, the seizing of the first place in the intellectual advance of the world. Is there any inherent weakness that would make it impossible for us to do this? Are the countrymen of Bhaskaracharya and Shankaracharya inferior to the countrymen of Newton and Darwin? We trust not. It is for us, by the power of our thought, to break down the iron walls of opposition that confront us, and to seize and enjoy the intellectual sovereignty of the world.
Sister Nivedita died in Darjeeling, West Bengal in 1911 aged 43 owing to ill health.
Her memorial erected in Darjeeling says, 'Here reposes Sister Nivedita who gave her all to India.'

Also on this day 
---
1998: India and Mauritius signed a civil aviation agreement in New Delhi. 1999: Atal Bihari Vajpayee became the Prime Minister of India for the third time.
See previous 'This Day in History' here.
Related Links: