Table of Contents:
1. More differently abled attend schools than before: Census
1. A.P., Telangana top in ease of doing business
1. NITI Aayog launches the first ever Agricultural Marketing & Farm Friendly Reforms Index. Maharashtra ranks first
.
+++++++++++++++++++++++++++++++++++++++++++++++
Useful News Articles
A. GS1 Related
Nothing here today folks!
B. GS2 Related
Category: Social Justice
Topic: Vulnerable sections of society
Key Points:

Nearly two-thirds of the disabled population in the age-group of 5-19 in 2011 were attending educational institutions, according to new census data release
Category: International Relations
Topic: India-Pakistan
Key Points:
Exchange of fire between Indian and Pakistani forces on the Line of Control and the International Boundary has rendered the 2003 ceasefire ever more fragile
The brunt of these exchanges is borne by the civilian population in the border villages
Hundreds have been shifted to shelters and bunkers for safety
The density of civilian settlement is much higher on the Indian side in comparison to Pakistan's. As a result, the increased firing across the border creates more pressure on India
After the two countries agreed to a ceasefire in 2003, the resultant calm had won the confidence of local residents
The current spiral of violence threatens this peace dividend
After the surgical strikes, the security forces retain a free hand in responding to infiltrations and instances of firing
The latest incident underscores the need for an urgent political initiative to prevent the cycle of brutality and reprisal from acquiring its own momentum, as happened in the early 2010s
It is time the government gathered the reins to address the issue politically and have peace restored on the border
C. GS3 Related
Category: Indian Economy
Topic: Development
Key Points: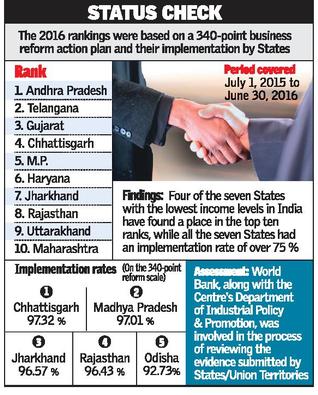 Andhra Pradesh and Telangana have jointly topped the 2016 all-India State/Union Territory-wise ease of doing business rankings, while last year's topper Gujarat slipped to the third spot
The rankings have been arrived at on the basis of a 340-point business reform action plan and their implementation by the States
The World Bank said what was interesting this year was that four of the seven States with the lowest income levels in India had found a place in the top 10, while all the seven such States had an implementation rate of over 75 per cent
These low-income States included Chhattisgarh, Madhya Pradesh, Rajasthan, Odisha, Uttar Pradesh and Bihar
The Bank, along with the Centre's Department of Industrial Policy & Promotion (DIPP) was involved in the process of reviewing the evidence submitted by States/UTs regarding implementation of reforms for the rankings
D. GS4 Related
Nothing here today folks!
E. Important Editorials: A Quick Glance
The Hindu
Category: International Relations
Topic: India – Afghanistan
Key Points:
India is a small fish in this pond. But its clout is growing
Indian arms exports doubled by value from 2012- 13 to 2014- 15 to over $ 200 million
The recipients included Afghanistan, Nepal, Myanmar, Vietnam, South Korea, and even major exporters like Russia, Israel, and Britain. Most of these have been spares and minor equipment
Last month, Prime Minister Narendra Modi announced a $ 500 million line of defence credit to Vietnam during his trip to Hanoi, building on an earlier line of credit two years ago for Indian patrol boats
India has a long history of modest arms provision and training in South Asia and Africa, but by and large it has held back from game- changing sales that would have strategic ripples
India's growing arms footprint in Afghanistan points to an important future aspect of its regional power projection
PIB
Key Points:
NITI Aayog has identified three key areas for reform and is now persuading states to undertake the reforms. The areas identified for immediate reforms are:

Agricultural market reforms
Land lease reforms
Reforms related to forestry on private land – felling and transit of trees

Agricultural development in India has entirely ignored the potential of marketing and has continued to follow its old trajectory
Therefore, the benefits that can be accrued from agriculture are largely untapped
Productivity is some states is regrettably low and there is a vast disconnect between prices received by farmers and the prices paid by consumers
Moreover, private capital and modernization have completely evaded agriculture, resulting in barely any addition to the value chain
The poor state of reforms in the sector is also the primary reason for the non-performance of agricultural food processing industry in India
NITI Aayog has launched an index to rank States and UTs that is based on implementation of seven provisions proposed under model APMC Act, joining eNAM initiative, special treatment to fruits and vegetables for marketing and level of taxes in mandis
The Index is named as "Agricultural Marketing and Farmer Friendly Reforms Index" and it has a score which can have minimum value "0" implying no reforms and maximum value "100" implying complete reforms in the selected areas
The state of Maharashtra achieved first rank in implementation of various reforms
F. Concepts-in-News: Related Concepts to Revise/Learn:
India – Pakistan
India – Afghanistan
Niti Aayog
Air Quality Index
G. BILLS/ACTS/SCHEMES/ORGS IN NEWS
G. Fun with Practice Questions 🙂
Question 1:Which of the following organizations brings out the publication known as 'World Economic Outlook'? 
(a) The International Monetary Fund (b) The United Nations Development Programme (c) The World Economic Forum (d) The World Bank
Question 2: Consider the following statements,
The neighbouring countries of Laos are, Cambodia, Thailand, Vietnam, Myanmar and China.
Vietnam shares a coastline with the Gulf of Tonkin.
Which of the above statements is/are correct? a) 1 Only b) 2 Only c) Both 1 and 2 d) Neither 1 nor 2
Question 3: Consider the following statements about the ancient Nalanda University?
Nalanda was established in the 5th century AD in Bihar, India.
It was devoted to Buddhist studies, but it also trained students in fine arts, medicine, mathematics, astronomy, politics and the art of war.
Hsuan Tsang, the famous pilgrim from China came here and studied and taught for 5 years in the 7th Century A.D.
Which of the above statements is/are correct? a) 1 and 2 Only b) 3 Only c) All 1, 2 and 3 d) 2 and 3 Only
Question 4: Which of the following is true regarding the river Brahmaputra?
NITI Aayog is the premier policy 'Think Tank' of the Government of India, providing both directional and policy inputs.
At the core of NITI Aayog's creation are two hubs – Team India Hub and the Knowledge and Innovation Hub.
The Team India Hub leads the engagement of states with the Central government, while the Knowledge and Innovation Hub builds NITI's think-tank capabilities. These hubs reflect the two key tasks of the Aayog.
a) 1 and 2 Only b) 2 and 3 Only c) All 1, 2 and 3 d) 2 Only
Question 5:  Which of the following is/are true?
National Agriculture Market (e-NAM) is all India electronic trading portal which aims at to form a unified national market for agricultural products by making a network for the markets related to the existing Agricultural Product Marketing Committee (APMC).
Pradhan Mantri Krishi Sinchayee Yojana has been launched to provide relief to the farmers due to poor monsoon. Under this scheme emphasis are being put on "water to each and every farm" that is to say to provide facilities of irrigation to each and every farmer along with enhancement of water conservation skill.
a) Only 1 b) Only 2 c) Both 1 and 2 d) Neither 1 nor 2
"Proper Current Affairs preparation is the key to success in the UPSC- Civil Services Examination. We have now launched a comprehensive 'Online Current Affairs Crash Course'. Limited seats available. Click here to Know More."