Table of Contents:
1. Centre moots registry to vet geospatial data
2. Indo-Sri Lanka fishermen talks end in stalemate
3. Nepal asks India to avoid interference
1. States yet to come up with options for cess on GST
2. S&P rules out India rating upgrade
1. Concepts-in-News: Related Concepts to Revise/Learn
2. BILLS/ACTS/SCHEMES/ORGS IN NEWS
.
+++++++++++++++++++++++++++++++++++++++++++++++
Useful News Articles
A. GS1 Related
Nothing here today folks!
B. GS2 Related
Category: National programs and policies
Topic: Geospatial data
Key Points:
The government is developing a national data registry to collect and store geospatial data. The registry will also serve as a source of authenticated information which means the officials at the Survey of India would vet it for accuracy and see whether it contains information that contravenes national security.
The Department of Science and Technology (DST) will be the nodal coordinating agency for the implementation of the Registry. It requires all agencies – state, private and academic to collect and store geospatial data to share it with the registry.
The purpose of such a registry was to create a catalogue that would prevent duplication of data sets and help users locate the right agencies to source information. The registry will be a meta-data repository: it will not actually be a source of geospatial data but will only inform about the nature of the data a service provider has. Thus, everyone from restaurant-location-service providers to hospital-location aggregators will have to comply with the directive, and the government may bring in legislation.
The data registry initiative, though independent of the Geospatial Bill, would also double as a clearing house for geospatial applications. The Survey of India is the foremost authority on different kinds of map. Such a registry would serve as a check on the quality of data.
Note – India's geospatial industry covers a wide range of services, from information on remote-sensing information to personalised services, and, according to industry estimates, expected to be $20 billion market by 2025.
Category: Bilateral
Topic: Indo – Srilanka Fisherman issue
Key Points:
A fresh round of bilateral talks between Indian and Sri Lankan fisher leaders at Rameswaram over a long pending issue ended in a stalemate. The Sri Lankan fisher leaders rejected a demand from their Indian counterparts for a 3 year phasing out period from Sri Lankan waters.
12 fishermen association members from Tamil Nadu and 10 of their counterparts from northern Sri Lanka met at the conference arranged by Union ministry of External Affairs at Rameswaram after a gap of nearly one and a half years, with all previous rounds of negotiations related proving futile. However, this was the first meeting in which high-level government officials from both sides were also present.
The Sri Lankan fishermen want their Indian counterparts to stop engaging in bottom-trawling, a fishing practice known to harm the marine ecosystem. Indian fishermen demanded they be allowed to do fishing for 85 days per year for the next three years following which it will withdraw the fishermen completely.
Sri Lankan fishermen group strongly put forth its position that it won't release any single vessel arrested without following due procedures. The Sri Lankan fisher leaders demanded compensation for the losses incurred due to alleged fishing by Tamil Nadu fishermen in their waters before moving forward with further dialogue. The Sri Lankan fishermen alleged that Tamil Nadu fishermen illegally hatch fisheries stock causing huge losses to them.
Category: Bilateral
Topic: India – Nepal
Key Points:
Nepal accorded a warm welcome to President of India Pranab Mukherjee but asserted that India should avoid interfering in the internal issues of the country. Soon upon the arrival of the Indian President, divisions in Nepali politics became evident on the issue of constitutional amendments for the Madhesi people of the plains, even as the visiting President praised the democratic struggle in Nepal and urged his hosts to draft a constitution that would address the diverse social fabric
Nepal maintained that Prime Minister Pushpa Kamal Dahal Prachanda was on his way to complete a series of amendments to the year-old Constitution, but said they would prefer to do so without interference from major powers, including India.
C. GS3 Related
Category: Economy
Topic: GST
Key Points:
Multiple slabs, ranging from 0 to 26 per cent, with a cess on ultra luxuries and demerit goods in the top-most slab, is the only rate structure for consideration in the GST Council, which is scheduled to reconvene for the next round of deliberations.
The States that had objected to the imposition of cess on GST, leading the last Council meeting to end inconclusively, have not put up any alternative proposals for inclusion in the agenda. The States' main grouse was that the Centre's proposal regarding the imposition of a cess on the GST for generating the revenues it will need to fund compensations to States for losses arising out of the transition to the new indirect tax regime would amount to the use of GST revenues for compensating GST losses.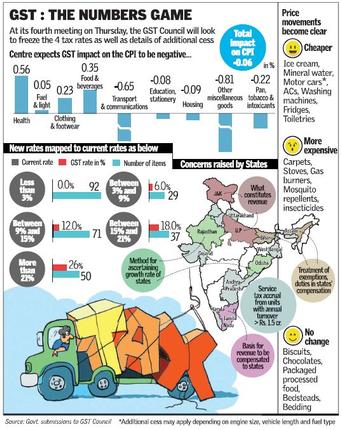 GST Council officials explained that the option of fixing the top-most slab at a level higher than the proposed 26 per cent as an alternative to the imposition of the cess is not feasible: "Not all of the revenues raised from the GST will come to the Centre as it will have to devolve 42 per cent of the collections to all states, including those not suffering losses, in accordance with the Finance Commission's award… so the Centre will have to raise revenues in excess of the sum required to fund the compensations…this will overburden tax payers". This would also hold for revenues raised from direct taxes such as income tax for compensating States.
On the other hand, the revenues mopped up from the cess, the Centre argued would go into a separate escrow account from where direct disbursements will be made only to those states that will be eligible for compensations from the Centre in line with pre-determined formulae.
GST Council officials also ruled out a single-rate GST saying it would be too regressive. A country like India cannot overnight raise the incidence of indirect taxes on goods and services consumed by the poor to 12 or 15 or 15.5 per cent and at the same time we can also not slash taxation rates falling on the rich to these levels from 40 per cent or more currently
Category: Credit Rating Agencies
Topic: S&P
Key Points:
Credit rating agency Standards & Poor ruled out any upgrade in India's sovereign rating through 2017 despite policy stability and reforms. The Agency's Global Ratings maintained the lowest investment grade rating of 'BBB – ' with a 'stable' outlook for India saying it wants to see more efforts to lower government debt to below 60 per cent of the GDP and that it did not expect revenues to rise enough to meaningfully lower the deficit over the medium term.
S&P said the stable outlook balances India's sound external position and inclusive policy making tradition against the vulnerabilities stemming from its low per capita income and weak public finances.
Reacting strongly to the ratings, the Department of Economic Affairs said the upgrade did not come despite the fact that reforms undertaken by India was unparalleled by any major economy anywhere in the world and that called for introspection on part of the rating agencies.
D. GS4 Related
Nothing here today folks!
E. Important Editorials: A Quick Glance
The Hindu:
Key Points:
The massive pollution cloud enveloping northern India every year is a good example of the growing disconnect between official policy and ground realities. It has been known for long that burning of agricultural waste in the northern States significantly contributes to the poor air quality in large parts of the Indo-Gangetic Basin, with local and cascading impacts felt from Punjab all the way to West Bengal.
Harmful fine particulate matter measuring 2.5 mm in diameter (PM2.5) is among the pollutants released. Punjab responded to the issue with a prohibition on the burning of paddy straw, and the launch of initiatives aimed at better utilisation of biomass, including as a fuel to produce power. Yet, there is no mission mode approach to the annual crisis.
The efforts do not match the scale of agricultural residues produced, for one, and fail to address farmers' anxiety to remove the surplus from the fields quickly to make way for the next crop. The national production of crop waste is of the order of 500 million tonnes a year, with Uttar Pradesh, Punjab and West Bengal topping the list. Again, 80 per cent of straw from paddy is burnt in some States, impacting air quality and depriving croplands of nutrients.
It is an irony that the national capital and several other cities suffer crippling pollution in the post-monsoon and winter months partly due to biomass burning, when demand for fodder is rising and the surplus material could be used productively.
Pilot projects to produce power using biomass demonstrated in Rajasthan, and mechanised composting and biogas production units of the Indian Agricultural Research Institute could be scaled up, and farmers given liberal support to deploy such solutions. Given the twin benefits of pollution abatement and better productivity, conservation agriculture needs to be popularised. This would encourage farmers to use newer low-till seeding technologies that allow much of the crop residues to remain on site, and curb the release of a variety of pollutants.
Burning residues add greenhouse gases that cause global warming, besides pollutants such as carbon monoxide, ammonia, nitrous oxide and sulphur dioxide that severely affect human health. Sustained work is called for, given that higher agricultural productivity to meet food needs is inevitable, with a cascading increase in biomass volumes.
The challenge is to identify measures to utilise it. By one estimate, if India can reach its own air quality standards for fine particulate matter from all sources, annual premature deaths can be cut by almost 10 per cent. A programme to cut pollution from waste-burning would be a good start.
F. Concepts-in-News: Related Concepts to Revise/Learn:
1.Concepts-in-News: Related Concepts to Revise/Learn Geo-spatial data Indo-Lanka Fishermen issue Air Pollution One Rank One Pension scheme Credit rating agencies GST Council Survey of India
2.BILLS/ACTS/SCHEMES/ORGS IN NEWS
G. Fun with Practice Questions 🙂
Question 1:Which of the following statement is not correct regarding GST Council?
a) It upholds the Federal structure of the Indian political system in Tax administration b) It is headed by the Union Finance minister c) All 29 states are represented in the council d) The centre and states have equal voting rights
Question 2:Madhesi people of the plains appears in news in the context of -
a) India – Nepal b) India – Sri Lanka c) India – Pakistan d) Pakistan – Afghanistan
Question 3:Which of the following statements are correct regarding the Survey of India?
It is India's central engineering agency in charge of mapping and surveying.
Survey of India publishes maps and the unrestricted category maps can be obtained at very reasonable prices from its several Geo-spatial data centers.
a) (i) only b) (ii) only c) Both (i) and (ii) d) Neither (i) nor (ii)
Question 4:The National Air Quality index is released annually by 
a) Union ministry of Environment & Forests b) Union ministry of Science & Technology c) Central pollution control board d) National air quality monitoring agency
Question 5:Which of the following is not a credit rating agency -
a) Standards & Poor b) Moody's c) CRISIL d) NIFTY
"Proper Current Affairs preparation is the key to success in the UPSC- Civil Services Examination. We have now launched a comprehensive 'Online Current Affairs Crash Course'. Limited seats available. Click here to Know More."