10 January 1966
Tashkent Declaration
---
What happened?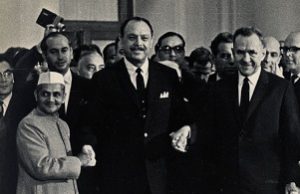 On 10 January 1966, India and Pakistan signed the Tashkent Declaration to bring peace in the wake of the Indo-Pakistani War of 1965.
Background
Ever since the country's partition in 1947, there were battles and fighting in the border regions of India and Pakistan especially on the contentious issue of Kashmir.
The first Indo-Pakistani war had taken place in 1947 itself immediately after the countries had become independent. This resulted in the establishment of the Line of Control (LOC) as the de facto border between India and Pakistan in Kashmir.
In April 1965, regular fighting started on a small scale on the border. It continued until September that year until the two major powers of the day, USA and the USSR intervened.
Under the auspices of the USSR, a meeting was held at Tashkent, USSR (now in Uzbekistan) from 4th to 10th January 1966 in order to create a more lasting peace accord between India and Pakistan.
The meeting was held between the Indian Prime Minister Lal Bahadur Shastri and the Pakistani President Muhammad Ayub Khan. The Soviet Premier Alexei Kosygin acted as the moderator.
According to the Declaration, India and Pakistan agreed to pull back their forces to their pre-conflict positions (positions held prior to 5 August 1965) by 25 February 1966.
They also agreed not to interfere in the internal matters of each other. They agreed to discourage propaganda against each other and encourage friendly discourse.
Both governments agreed to observe the Vienna Convention of 1961 on diplomatic discourse and agreed to return their respective High Commissions to their posts.
They agreed to restore economic cooperation and trade as before. They also agreed to maintain friendly neighbourly relations with each other.
Although viewed as a success at that time, the Indo-Pakistani problem still persists. The Kashmir issue is yet to be resolved and fighting continues along the border.
The Tashkent Declaration was criticised in India because of the omission of a no-war pact.
Shastri died mysteriously in Tashkent after signing the agreement. It was reported that he died of a heart attack but there have been conspiracy theories on his death speculating that he was assassinated.
Also on this day




---


1886: Birth of John Mathai, India's first railway minister.

1920: India became a member of the League of Nations.

1959: American civil rights activist Martin Luther King arrived in New Delhi.
See previous 'This Day in History' here.
Also see: