23 March 1931
Bhagat Singh, Rajguru and Sukhdev were hanged by the British
---
What happened?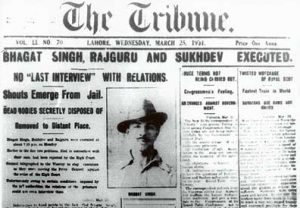 Revolutionary freedom fighters Bhagat Singh, Shivaram Rajguru and Sukhdev Thapar were hanged to death by the British government for their activities on March 23, 1931, at the Lahore Jail. This day is observed as 'Martyrs' Day' in India.
Bhagat Singh, Rajguru, Sukhdev
In this edition of This Day in History, you can read about the martyrdom of revolutionaries Bhagat Singh, Rajguru and Sukhdev for the cause of Indian independence. This is an important episode in the freedom movement and as IAS aspirants, you must be aware of the background and details of it.
When national leader Lala Lajpat Rai died of a heart attack in November 1928 after he was brutally lathi-charged on the orders of the Superintendent of Police James A. Scott,

Bhagat Singh

and his associates vowed to avenge his death.

Singh and Rajguru shot and killed an Assistant Superintendent of Police of Lahore, John Saunders in a case of mistaken identity. Nevertheless, they proclaimed that Lala Lajpat Rai's death had been avenged.

As Singh and Rajguru fled,

Chandrashekhar Azad

shot a police constable Chanan Singh who was pursuing the revolutionaries.

The young revolutionaries were on the run for many months.

They were all members of the

Hindustan Socialist Republican Association

which were an organisation involved in revolutionary activities. They believed that only an armed revolution could bring about freedom from colonial rule.

In April 1929, Bhagat Singh and Batukeshwar Dutt threw two bombs in the Central Legislative Assembly at Delhi to protest an unjust bill. Their intentions were not to harm anyone but only to publicise their struggle.

The two did not flee from the scene after the chaos and courted arrest shouting, 'Inquilab Zindabad'. Singh and Dutt were given life imprisonments.

Other revolutionaries including Rajguru were arrested from a bomb factory at Lahore. The police were then able to link the revolutionaries to the Saunders murder case. They charged Singh, Rajguru, Sukhdev and others in this case.

In prison, the revolutionaries started a hunger strike demanding better treatment and facilities. They wanted to be considered political prisoners.

Jatin Das died after more than 60 days of hunger strike. The strike gained huge publicity and the revolutionaries got a lot of support and sympathy from the public.

Even the Viceroy Lord Irwin returned from his vacation in Shimla to discuss the matter with the prison authorities.

The revolutionaries were met with political leaders including Jawaharlal Nehru. He had remarked,

"I was very much pained to see the distress of the heroes. They have staked their lives in this struggle. They want that political prisoners should be treated as political prisoners. I am quite hopeful that their sacrifice would be crowned with success."

Bhagat Singh finally ended his fast after 116 days.

The trial of the young men drew widespread attention in the country. On 7 October 1930, Singh, Rajguru and Sukhdev were sentenced to death while others were sentenced to imprisonment and deportation.

The death sentence was widely protested by various people. National leaders appealed to the government to reduce the sentence to life imprisonment. Even the Communist Party of Great Britain expressed disapproval of the sentence.

The trio was ordered to be hanged on 24 March 1931 but the sentence was carried out a day earlier at the Lahore Jail. After the hanging, their mortal remains were cremated in secret.

There was a huge backlash against the government for the execution of the heroes. The three young men were true martyrs who did not fear even death and really seemed to welcome it.

Their courage and ultimate sacrifice for the motherland's cause should never be forgotten.

March 23

rd

is observed as

'Martyrs' Day' or 'Shaheed Diwas' or 'Sarvodaya Day'

in India in honour of the eternal heroes.
Also on this day




---




1757: Robert Clive captured Chandannagar from the French.
1898: Birth of Assamese poet Nalinibala Devi.
1910: Birth of socialist leader Ram Manohar Lohia.
1940: The Lahore Resolution was passed by the Muslim League which called for a separate 
Muslim homeland. This day is observed as 'Pakistan Day' in Pakistan.
See previous 'This Day in History' here.
Related Links: