On 15 November 1875, tribal freedom fighter and religious leader Birsa Munda was born in Ulihatu in district Khunti, Jharkhand. The area was part of Bihar in British India. Birsa Munda was an important personality from the Indian freedom struggle. The Munda Ulgulan is a part of the tribal apprisals against the British rule. Hence, this is an important topic for the IAS exam.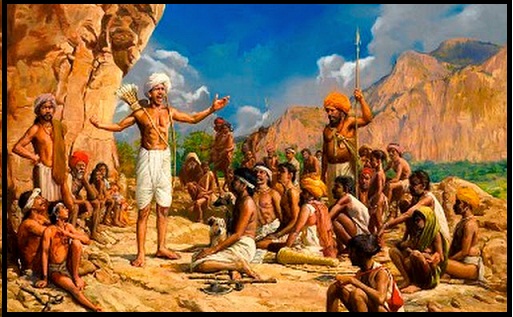 Get an edge over your competition in one of the toughest exams by visiting the UPSC Previous Year Question Papers page
Strengthen your preparation for the UPSC exam by checking the following links:
Birsa Munda Biography

Birsa Munda's parents were Sugana Munda, an agricultural labourer and Karmi Hatu. He belonged to the Munda tribe. He grew up in Chalkad.
He joined the German Mission School but had to convert to Christianity since it was mandatory to attend that school. He became Birsa David which later became Birsa Daud.
He studied for a few years and then left the school. The family moved to Chaibasa in 1886 and there Munda came to develop anti-government sentiments. In 1890 he and his family renounced their membership in the German mission.
During the 1890s he started creating awareness among his people about the British exploitative policies and practices.
He took on the twin problems of agrarian crisis and cultural belittlement by the British.
The Mundas traditionally had a system known as Khunkhatti which was a system of joint land-holding. The coming of the British replaced this system with an exploitative system involving Zamindars and other farmers and middlemen. This made the peasants suffer in poverty and indebtedness. They became forced farm labourers.
Birsa Munda proclaimed his rebellion in 1894 which was directed against the British and the dikus (outsiders). This is called the Munda Ulgulan.
He asked people to stop paying rent and taxes.
He also became a religious leader of his people. He exhorted the tribal people to return to their roots and shun Christianity. He asked people to renounce alcohol. People started referring to him as 'Dharti Abba'. He was also believed to be a prophet. His new religion was called Birsait. Many Mundas and Oraons became Birsaits.
He was arrested by the government and imprisoned for 2 years before being released in 1897.
Munda launched his armed struggle in 1899. Under his leadership, the people burned police stations, houses of the landlords, churches and British property.
His slogan was 'Abua raj seter jana, maharani raj tundu jana'. This meant 'Let the kingdom of the queen be ended and our kingdom be established.'
He was arrested in March 1900 in Jamkopai forest, Chakradharpur. He died in prison on 9 June 1900. The British said he died of cholera. It is suspected that he was poisoned. He was only 25 years old at the time of his death.
His rebellion forced the government to enact the Chhotanagpur Tenancy Act, 1908. This law put restrictions on tribal land being passed on to non-tribals.
Birsa Munda's birth anniversary is celebrated officially at his Samadhi at Kokar Ranchi, Jharkhand.
He is revered as a great freedom fighter by tribals and non-tribals alike. He is also a figure of empowerment for the tribal community in India.
Many folk songs have been created to commemorate his life and bravery. India Post released a stamp in his honour in 1988.
Also on This Day 
---
1982: Gandhian Acharya Vinoba Bhave passed away.
See previous 'This Day in History' here.
For more articles and UPSC preparation material follow the links given in the table below:
Related Links