22 November 1916
Birth of revolutionary freedom fighter Santi Ghose
What happened?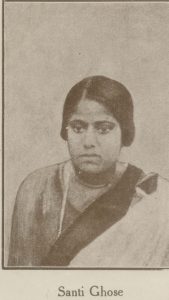 On 22 November 1916, Santi Ghose, one of the youngest revolutionaries of India was born in Calcutta. Read more on the life and contribution of Santi Ghose for the UPSC Exam.
Santi Ghose
Santi Ghose was born in Calcutta to nationalist Debendranath Ghose and his wife. Debendranath Ghose was also a professor of Philosophy at Victoria College of Comilla in Bengal.
Ghose was brought up in Comilla, now in Bangladesh. She studied at the Faizunnesa Balika Vidyalaya.
In 1931, she founded the Chhatri Sangha and became its secretary. The organisation's president was a schoolmate of Ghose's named Profullanandini Brahma. Brahma influenced Ghose a great deal.
Inspired by Brahma, Ghose joined the revolutionary Jugantar Party.
Ghose started training in firearms and swords. She was fiercely patriotic and believed that the British must be driven out of the country for the country's good.
On 14 December 1931, a 15-year-old Ghose walked into the Comilla District Magistrate's office along with her associate Suniti Chowdhury, who was 14 years old.
Claiming that they wanted to petition the DM Charles Stevens for a swimming competition for their classmates, they met him.
After meeting with him, both the young girls took out automatic pistols from underneath their shawls and shot Stevens dead.
The girls were arrested. On February 1932, they were sentenced to transportation for life. They were spared the hangman's noose considering their tender age.
Ghose said that she was disappointed on not getting the death sentence as she wanted to be martyred for the cause of freedom.
The DM Stevens was known for abusing his position of power.
Ghose spent 7 years in jail where she was abused and humiliated.
In 1939, she was released as per amnesty treaty between the government and Mahatma Gandhi.
After her release from prison, Ghose joined the Indian National Congress. She also participated in the communist movements.
She was a member of the West Bengal Legislative Council from 1952–62 and 1967–68, and also a member of the West Bengal Legislative Assembly in 1962 – 64.
She authored a book Arun Bahni.
Ghose died in 1989.
Also on this day




---


1892: Birth of Gandhian Madeleine Slade a.k.a Mirabehn.
1899: Birth of freedom fighter Laxman Naik.
1968: Lok Sabha passed the notification to change the name of Madras state to Tamil Nadu.
See previous 'This Day in History' here.
Also see: