Economy is an important subject for the UPSC civil services prelims exam. In fact, economics, along with history, geography and polity forms one of the four pillars of the IAS prelims exam. In the 2020 UPSC Prelims, there were 14 questions from this subject. UPSC Prelims Economy Trend Analysis will help you prepare for the exam even better.
As per the UPSC 2023 calendar, the IAS prelims and main exams are scheduled to take place on May 28, 2023 and September 15, 2023 respectively. 
This article gives the Economy Trend Analysis in Prelims General Studies Paper-I of the IAS Exam.
Candidates can strengthen their preparation for the UPSC Exams by taking the 
CSAT Mock Test
now!! 
To complement your preparation for the upcoming exam, check the following links:
Economics Trend Analysis in UPSC Prelims
Economy is an interesting topic and as future administrators, UPSC aspirants need to possess a reasonably good understanding of the basic tenets of economics. What makes a country run, how its finances are managed, the basic terms and definitions frequently in news, basic banking operations, budget, etc. are topics that have to be read about. This subject is intricately linked to current affairs. In 2020 exam too, most questions from economics were not factual but linked to current affairs.
But the good news is most topics are repeated by the UPSC. Every year, you can expect questions from topics like national income, inflation-deflation, fiscal and monetary policies, fiscal deficit, taxes, etc. Also, you don't need to dive in-depth into this subject. Understanding the basics is enough. A plus point is that you are not expected to remember figures like the GDP, NDP, etc. Trends are more important than absolute numbers. International organizations are also asked but these are generally easy questions.
The following graph will give you the number of questions asked in the economy from 2011 to 2017.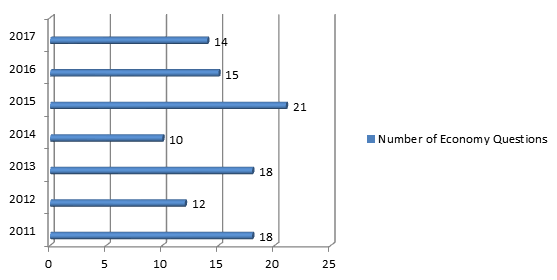 As you can see, the number of questions hovers around the 15 marks in the prelims GS paper I. This undermines the importance of this subject in the prelims exam.
Candidates can go through the important links provided below for comprehensive preparation of UPSC Economy –
Important topics for Economy
National income accounting, inflation, balance of payment, fiscal policy, monetary policy, RBI, PSL.
Finance commission – recommendations, themes.
International organisations – World Bank, IMF, WTO, UNCTAD, WEF and their reports. Bodies like G-15, G-7, G-33, etc.
Basic economic terms, demographic dividend, inclusive growth.
Government schemes and budgets.
Do you know your eligibility for the IAS Exam? Check the detailed UPSC Eligibility Criteria at the linked article now. 
Also Read: