Berkelium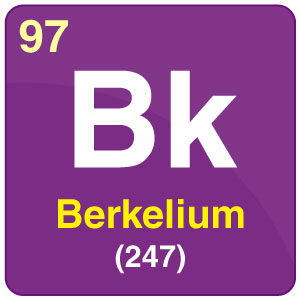 | | |
| --- | --- |
| Symbol | Bk |
| Atomic Number | 97 |
| Atomic Mass | 247 amu |
| Discovered by | Stanley Thompson, Albert Ghiorso, and Glenn Seaborg in 1949 |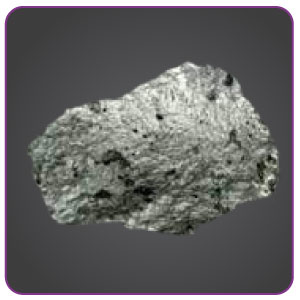 Chemical Properties of Berkelium
Group
Actinides
Melting point
986°C, 1807°F, 1259 K
Period
7
Boiling point
Unknown
Block
f
Density (g cm−3)
14.78
Atomic number
97
Relative atomic mass
[247]
State at 20°C
Solid
Key isotopes
247Bk, 249Bk
Electron configuration
[Rn] 5f97s2
CAS number
7440-40-6
ChemSpider ID
22409
ChemSpider is a free chemical structure database
What is Berkelium?
It is a radioactive chemical element with the atomic number 97.
They are traced in different parts of the planet where nuclear tests were conducted.
It is a member of the actinide and transuranium element series in the periodic table.
It was the fifth transuranium discovered.
Uses of Berkelium
Presently, the element is not used biologically or for technological purposes.
It was used for the atmospheric nuclear weapons tests between 1945 and 1980.
Its isotopes are used for basic scientific research.
Properties of Berkelium
The element's mass numbers range from 235 to 254 and about twenty isotopes.
The element showcases isomerism wherein six nuclear isomers of the element have been characterized.
Every isotope of the element is radioactive.
Certain Facts About Berkelium
The element was produced by Kenneth Street Jr. Albert Ghiorso and Glenn T.Seaborg at the University of California.
The primary investigations for berkelium were only on co-precipitation and ion exchange till the year 1952.