Roentgenium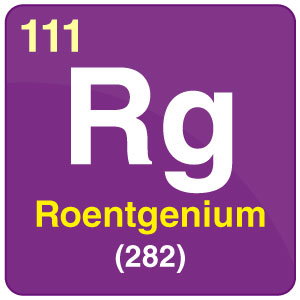 | | |
| --- | --- |
| Symbol | Rg |
| Atomic Number | 111 |
| Atomic Mass | 282 amu |
| Discovered by | Peter Armbruster and Gottfried Münzenberg in 1994 |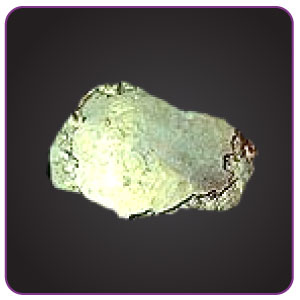 Chemical Properties of Roentgenium
Group
11
Melting point
Unknown
Period
7
Boiling point
Unknown
Block
d
Density (g cm−3)
Unknown
Atomic number
111
Relative atomic mass
[282]
State at 20°C
Solid
Key isotopes
280Rg
Electron configuration
[Rn] 5f146d107s1
CAS number
54386-24-2
ChemSpider ID
–
ChemSpider is a free chemical structure database
What is Roentgenium?
Roentgenium(Rg) is a radioactive element created artificially (extremely radioactive synthetic element) and not found in nature.
The element was discovered by Peter Armbruster and Gottfried Münzenberg in the year 1994.
It is a D-block transactinide element in the periodic table.
Uses of Roentgenium
The element can be used as a synthetic metal within average quantities.
It is mainly used for research purposes at present.
Properties of Roentgenium
The element has a metallic gold (yellow solid) appearance.
The element has around 7 isotopes whose half-lives are known, with mass numbers from 272 to 282.
One of the isotopes of this element (218Rg) has a half-life of 26 seconds.
The element undergoes decay under spontaneous fission process.
Certain Facts About Roentgenium
The element was named after Wilhelm Röntgen (founder of X-rays).
It was synthesized for the first time by Hofmann and Sigurd at the Institute for Heavy Ion Research in Germany in the year 1994.
The element can be formed artificially by bombarding the ions of bismuth with the ions of nickel in a linear accelerator.