Curium (Cm)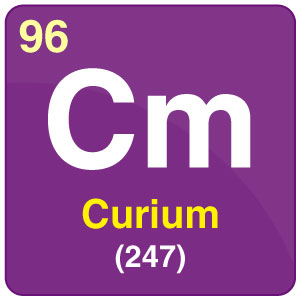 | | |
| --- | --- |
| Symbol | Cm |
| Atomic Number | 96 |
| Atomic Mass | (247) g.mol -1 |
| Discovered by | G.T. Seaborg in 1944 |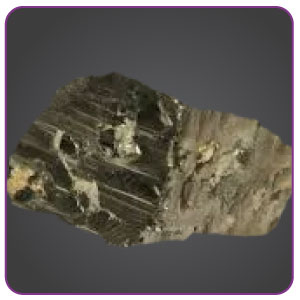 Chemical Properties of Curium
Group
Actinides
Melting point
1345°C, 2453°F, 1618 K
Period
7
Boiling point
Unknown
Block
f
Density (g cm−3)
13.51
Atomic number
96
Relative atomic mass
[247]
State at 20°C
Solid
Key isotopes
243Cm, 248Cm
Electron configuration
[Rn] 5f76d17s2
CAS number
7440-51-9
ChemSpider ID
22415
ChemSpider is a free chemical database
What is Curium ?
Curium is a hard metal having an atomic number of 96 and symbol Cm. This metal is artificially produced in the nuclear reactors. It is electro-positive, radioactive and also a chemically active substance, which is not obtained naturally. This metal possesses some magnetic properties. As the temperature increases, the resistivity of this metal also increases.
In the year 1944, Glenn Seaborg, Albert Ghiorso, and James discovered this metal and was named after Marie Curie and Pierre Curie.
Applications of Curium
The isotopes of curium such as curium- 244 and curium 242 are used in power generation industries such as thermo-electric and thermionic converters.
This metal is used in the X-ray spectrometer for the purpose of quantitative analysis
In medical applications, it is used as power source.
One gram of curium produces around 3 watts of thermal energy. For this reason, It is used in spacecraft applications.
It has its wide uses in the field of research industries as it is a radioactive element.
Effects of Curium
Curium is a hazardous metal, which causes some health disorders when inhaled.
It damages the liver and also causes breathing and gastrointestinal problems when ingested.
Rats, when injected with an isotope of curium, was observed to develop skeletal cancer.
The radiation, which is emitted by curium are likely to cause the destruction of the red blood cells.
Environmental effects of Curium
Improper disposal of curium leads to various environmental issues. Curium is found in nature in the form of its oxides.
The radiation generated from this metal has many natural impacts.
Curium is an insoluble chemical, which fixes to the soil particles.