The United Nations University (UNU) is an organ of the United Nations, mandated by the General Assembly to grant degrees. In this article, you can read all about the United Nations University (UNU) and its campuses along with its relevance to the IAS Exam. 
International organizations and groupings are an important part of the International Relations section of the General Studies paper-2 in the UPSC Syllabus. 
UNU UPSC Notes:- Download PDF Here
Candidates can enhance their UPSC exam preparation by attempting
UPSC Previous Years Question Papers
now!!
To complement your preparation for the upcoming exam, check the following links:
United Nations University (UNU)
The UNU was established by the UN General Assembly as an "international community of scholars, engaged in research, postgraduate training and dissemination of knowledge in furtherance of the purposes and principles of the Charter of the United Nations". 
The UNU offers a growing catalogue of postgraduate-level degree, certificate and advanced-training programmes.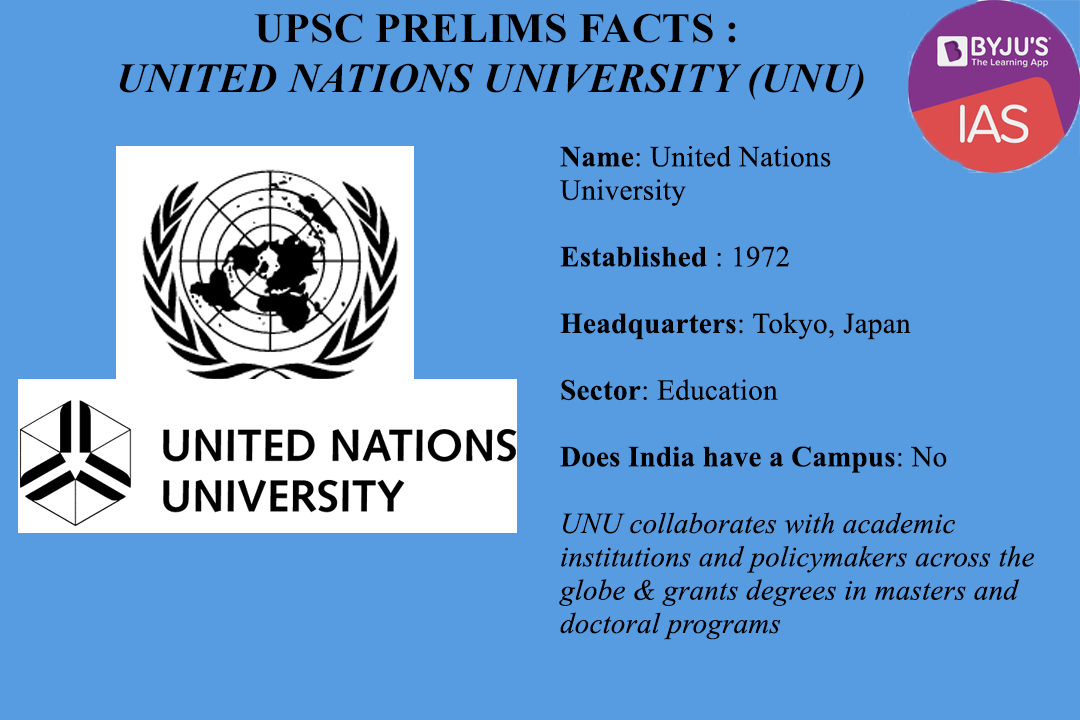 Other important information about the United Nations University includes:
The idea of UNU was proposed by former UN Secretary-General U Thant in 1969.

The

United Nations General Assembly (UNGA)

gave its consent for the establishment of the UNU, thus, it was established in 1972.

The United Nations University is a Research University; it can also be called as a think tank of the United Nations.

The primary areas of research conducted in the UNU will be on issues related to Human Development and Welfare.

It collaborates with academic institutions and policymakers across the globe.

The UNU grants degrees in masters and doctoral programs.
To get a list of other international organisations and their reports published, click on the linked article.
United Nations University – Campuses
The UNU has campuses spread across 5 different continents, in 13 different cities, in 12 countries. The locations of the campuses are listed below:
Tokyo (Headquarters) – Japan

Macau – Asia

Kuala Lumpur – Malaysia

Barcelona – Spain

Bonn – Germany

Dresden – Germany

Brugge – Belgium

Maastricht – Netherlands

Helsinki – Finland

Reykjavik – Iceland

Hamilton – Canada

Caracas – Venezuela

Accra – Ghana
United Nations University – Research 
The UNU will carry out research on the following topics.
Peace, Security & Human Rights 

Human Development

Socio-Economic Development

Good Governance

Global Health – Focusing on access to safe water, sanitation, nutritious food

Science and Technology – Innovation, sustainable future

Climate Change and Sustainable Development 
Get the list of International Organizations and their Headquarters on the given link.
Related Links