Before scheduling a definite timetable, one needs to be well-versed with the syllabus for NEET 2022. The 4 sections of NEET – Physics, Chemistry, Botany, and Zoology covered in both classes 11 & 12 are part of the syllabus. Students can expect a range of questions to appear from different sections.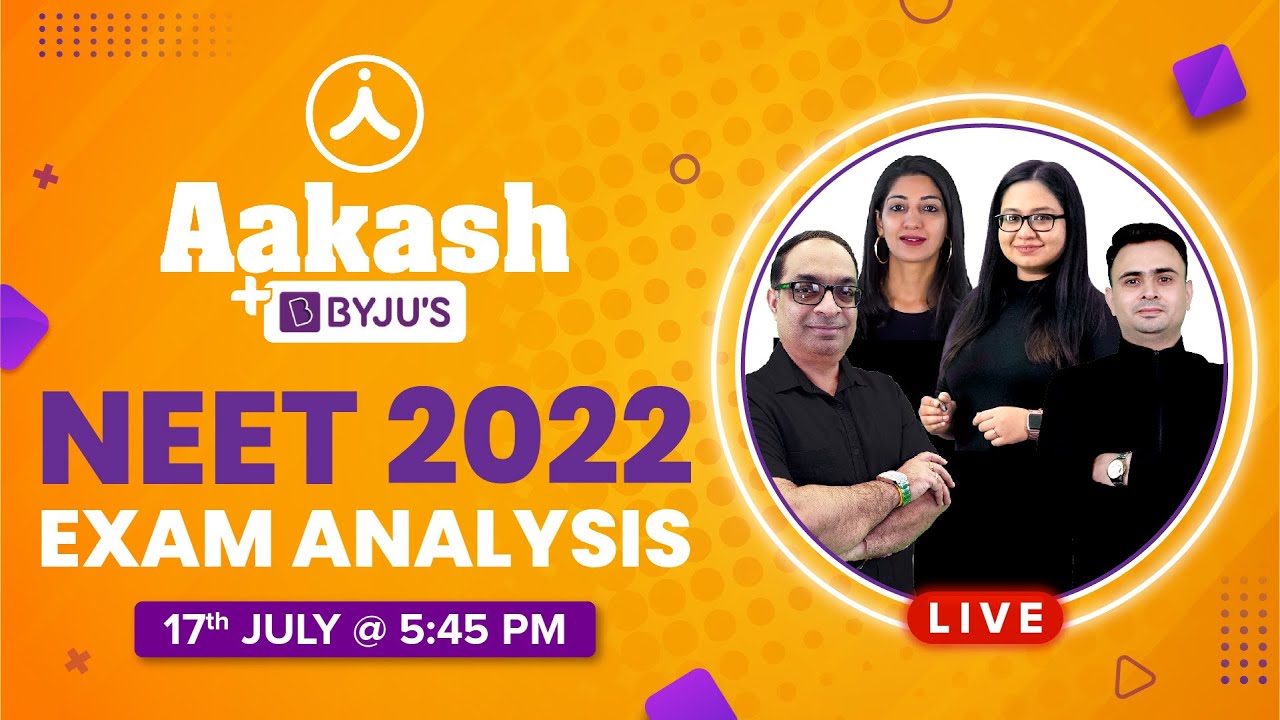 With proper strategizing, one can manage to cover the vast syllabi which will help you to score easily in the examination. The NCERT books for these sections will help you build a strong base and will help you clear your doubts to answer indirect and challenging questions.
Here is the syllabus for NEET 2022 from both the classes, 11 & 12 for all the sections – Physics, Chemistry, Botany and Zoology
Also see: NEET Quiz Videos
NEET 2022 Physics Syllabus – Time Table For NEET 2022 Preparation
| | |
| --- | --- |
| Class 11th Syllabus | Class 12th Syllabus |
| Physical world and measurement | Electro statistics |
| Kinematics | Current Electricity |
| Laws of Motion | Magnetic effects of Current and Magnetism |
| Work, Energy, and Power | Electromagnetic induction and alternating currents |
| Motion of systems of particles and rigid body | Electromagnetic waves |
| Gravitation | Optics |
| Properties of Bulk Matter | Dual Nature of Matter and Radiation |
| Thermodynamics | Atoms and Nuclei |
| Behavior of Perfect Gas and Kinetic theory | Electronic Devices |
| Oscillations and wave | |
NEET 2022 Chemistry Syllabus – Time Table For NEET 2022 Preparation
| | |
| --- | --- |
| Class 11th Syllabus | Class 12th Syllabus |
| Some basic concepts of Chemistry | Solid state |
| Structure of atom | Solutions |
| Classification of Elements and Periodicity in Properties | Electrochemistry |
| Chemical Bonding and Molecular structure | Chemical Kinetics |
| States of Matter: Gases and liquids | Surface Chemistry |
| Thermodynamics | General principles and Processes of Isolation of Elements |
| Equilibrium | P Block elements |
| Redox reactions | D and F block elements |
| Hydrogen | Coordination compounds |
| s-Block elements (Alkali and Alkaline earth metals) | Haloalkanes and Haloarenes |
| Some p-Block elements | Alcohols, Phenols and Ethers |
| Organic Chemistry – Some basic principles and techniques | Aldehydes, Ketones and Carboxylic Acids |
| Hydrocarbons | Organic compounds containing Nitrogen |
| Environmental chemistry | Biomolecules, Polymers, and Chemistry in everyday life |
NEET 2022 Biology Syllabus – Time Table For NEET 2022 Preparation
| | |
| --- | --- |
| Class 11th Syllabus | Class 12th Syllabus |
| Diversity in the Living World | Reproduction |
| Structural Organisation – Plants and Animals | Genetics and Evolution |
| Cell Structure and Function | Biology and Human welfare |
| Plant Physiology | Biotechnology and its applications |
| Human physiology | Ecology and environment |
Best Study Plan for NEET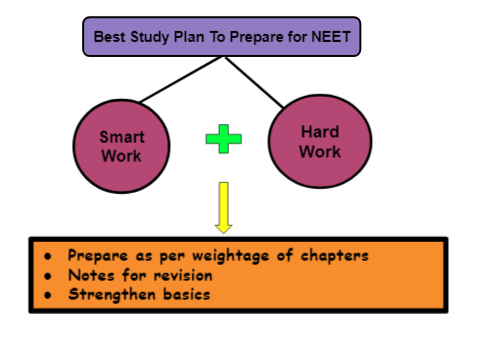 What to study?
Students will be covering NCERT based NEET Syllabus specified by NTA
Refer to relevant sources for NEET too
Mark/highlight important points or keywords
See more here: Best books for NEET preparation
When to study and which topic?
Create a timeline of the exam, important dates and events and revision time
Starting with the important topics, with the help of a detailed NEET syllabus, formulate a NEET calendar. Jot down the subtopics to be covered each day
Split whole content into chunks/topics
Utilize a planner/scheduler/app for the same
How many hours a day to study for NEET?
At the least, one has to dedicate anywhere close to 13-14 hours each day while preparing for NEET, before board exams
Once class 12 exams are given, and NEET is just around the corner, one must dedicate more than 15-16 hours each day
Time Table for NEET – Breakup of activities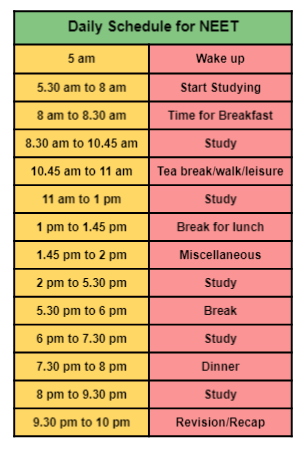 Important Points to remember while preparing NEET Timetable
Since medical aspirants need a proper time frame or a feasible timetable to crack NEET, care should be taken to carefully devise it as per one's convenience. While preparing a timetable, consider your strengths and weaknesses, and solve as many question papers as before the actual test.
Consider the following points while preparing a timetable:
Make a habit to start your day earlier
Studying in the morning is considered to be the best as one can focus more. Study for 2 hours minimum
After this, you can take a break
Again resume studying for 2 hours
Take a break to have your breakfast
Once done, study until your lunch for 3 hours
Take a break for an hour, finish your lunch
Study for the next 2-3 hours
Take a short break, indulge in your favourite activity, have some snacks
Study for 2 hours again.
You can call it a day
Have your dinner, and then a sound sleep
Make sure you get a sound sleep of 7-8 hours every single day. Study for 10-11 hours a day. During your study hours, make sure you do not indulge in activities that distract or consume more of your time. Your focus should only be to crack NEET.
What To Avoid While Preparing for NEET 2022?
Make sure you do not indulge in any of these activities:
Do not make it a habit to indulge in long study hours, take breaks in between
Don't make the mistake of referring to too many books/study materials at once – prefer quality to quantity
Backlogs must be avoided. Keep yourself updated with information
Do not delay. There is absolutely no scope for delay with NEET. Complete the work assigned to you on time, and clear your doubts. Be disciplined and sincere with your plan
Do not engage in extreme social media/TV/gaming, etc. which can only worsen your situation. Get rid of all unnecessary distractions
Do not get moved by low scores in a test or having underperformed in a mock test you took up. Remember, these are just tools to help us up to our game.
Stay confident, and work smart to achieve your goals.
For study plan for NEET 2022 dropper, study plan for NEET 2022 in 6 months PDF and more interesting articles on NEET visit BYJU'S.
Check more: