Molybdenum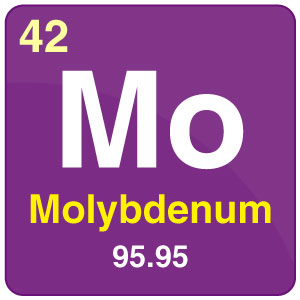 | | |
| --- | --- |
| Symbol | Mo |
| Atomic Number | 42 |
| Atomic Mass | 95.95 |
| Discovered by | Molybdenum was discovered by Carl Wilhelm Scheele |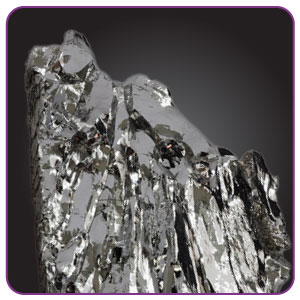 Chemical Properties of Molybdenum
Group
6
Melting point
2622°C, 4752°F, 2895 K
Period
5
Boiling point
4639°C, 8382°F, 4912 K
Block
d
Density (g cm−3)
10.2
Atomic number
42
Relative atomic mass
95.95
State at 20°C
Solid
Key isotopes
95Mo, 96Mo, 98Mo
Electron configuration
[Kr] 4d5 5s1
CAS number
7439-98-7
ChemSpider ID
22374
ChemSpider is a free chemical structure database
What is Molybdenum?
Molybdenum (Mo) is a chemical element in the periodic table with atomic number 42, discovered by Carl Wilhelm Scheele in 1778. Its name is derived from the Greek word Molybdos which means lead.
It is a silvery-white, hard transition metal and has one of the highest melting points of all pure elements.
It can be attacked slowly by acids.
Molybdenum is known to have 35 different isotopes varying in atomic mass from 83 to 117.
Uses of Molybdenum
It is one of the greatest alloying agents as it improves the strength of steel at high temperatures and is applied for use in engines.
It is even used as a fertilizer for some plants like cauliflower which is known to have Molybdenum deficiency.
It is used as a catalyst for the petroleum industry.