Ruthenium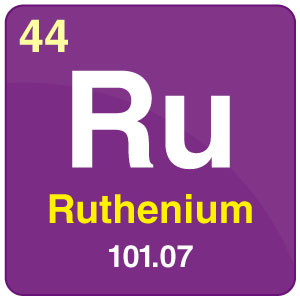 | | |
| --- | --- |
| Symbol | Ru |
| Atomic Number | 44 |
| Atomic Mass | 101.1 g.mol -1 |
| Discovered by | Karl Klaus in 1844 |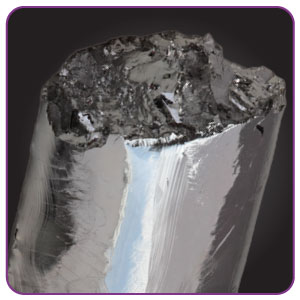 Chemical Properties of Ruthenium
Group
8
Melting point
2250 °C
Period
5
Boiling point
4150 °C
Block
d
Density (g cm−3)
12.1
Atomic number
44
Relative atomic mass
101.07
State at 20°C
Solid
Key isotopes
101Ru, 102Ru, 104Ru
Electron configuration
[Kr] 4d75s1
CAS number
7440-18-8
ChemSpider ID
22390
ChemSpider is a free chemical structure database
What is Ruthenium?
Ruthenium is a part of the periodic table with an atomic number of 44. It is commonly found in platinum ores.
It is a shiny, silvery metal that oxidises when exposed to air at 800°C.
It is one of the rare transition metals.
Uses of Ruthenium
It is used in the manufacturing of low-cost solar cells and in electronic devices.
It is used as exotic material.
It acts as a versatile catalyst in Fischer Tropsch synthesis and olefin metathesis.
Properties of Ruthenium
It is a member of the platinum group in the periodic table.
In the environment, it is found as a free metal or occasionally it is found as a chemical combination with platinum, osmium and iridium ores. Sometimes it is also associated with nickel deposits.
Certain facts about Ruthenium
It is generally found in North and South America and in the Ural Mountains.
It is generally found in ores with the other platinum group metals.