Silver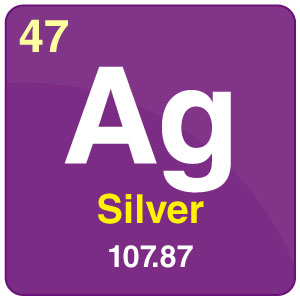 | | |
| --- | --- |
| Symbol | Ag |
| Atomic Number | 47 |
| Atomic Mass | 107.868 g.mol −1 |
| Discovered by | Believed to be discovered in 3000 BC |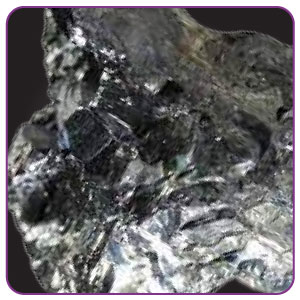 Chemical Properties of Silver
Group
11
Melting point
961.78°C, 1763.2°F, 1234.93 K
Period
5
Boiling point
2162°C, 3924°F, 2435 K
Block
d
Density (g cm−3)
10.5
Atomic number
47
Relative atomic mass
107.868
State at 20°C
Solid
Key isotopes
107Ag, 109Ag
Electron configuration
[Kr] 4d105s1
CAS number
7440-22-4
ChemSpider ID
22394
ChemSpider is a free chemical structure database
What is Silver?
Silver is the most conducting metal with atomic number 47 and represented with the symbol 'Ag' in the periodic table.
Silver is abundant in mineral-rich soils. It is available in the mixed form, generally in crystal form.
Plants absorb silver and measured levels in the soil come around 0.03 – 0.5 ppm.
Physical properties of Silver
Silver ( Ag ) is a white, soft, lustrous, very ductile and malleable metal.
It is a very good conductor of electricity and heat.
It has the highest electrical conductivity of all metals, but the high cost of it has restricted us from using it in all electrical devices.
Applications and Effects of Silver
The principal use of this metal is precious, including jewellery and decorative items.
The other applications include:

Currency – still in some countries silver coins are used as currency.
Jewellery and silverware
It is used in the manufacturing of solar panels
Air conditioning – It is used in the manufacturing of typical air conditioners
Water purification – It is used in water purifiers to prevent the growth of algae and bacteria in filters
Photography and electronic devices
Used as an antibiotic coating on medical devices
Thermal or infrared coatings use silver as it reflects some wavelengths better than aluminum.