Get Chapter Wise MCQ Questions for Class 10 Chemistry with Answers PDF Free Download prepared here according to the latest CBSE syllabus and NCERT curriculum. Students can practice CBSE Class 10 Chemistry MCQs Multiple Choice Questions with Answers to score good marks in the examination. Practicing these CBSE NCERT Objective MCQ Questions of Class 10 Chemistry with Answers Pdf will guide students to do a quick revision for all the concepts present in each chapter and prepare for final exams.
There are several study kits available, but students must assess their needs and select those that best suit them. For this aim, BYJU'S has provided both online and offline solutions, all of which are completely based on the CBSE board's most recent syllabus. Students can get chapter-by-chapter MCQs with answers on this website by following the links provided below.
Chemistry MCQs Class 10
Get MCQ Questions for Class 10 Chemistry for chapters like Chemical Reactions and Equations, Acids, Bases and Salts & more. Solve free MCQ for CBSE Board class 10 syllabus, get chemical reaction and equation class 10 questions here.
Chapter-Wise MCQs for Class 10 Chemistry
You can gain confidence to take the exam by reviewing these MCQs Multiple Choice Questions from 10th chemistry. We hope you find the information provided to be beneficial. The NCERT MCQ Questions for Class 12 Chemistry PDF Free Download would almost certainly yield positive results.
Read Also:
⇒ Class 10 Chemistry Worksheets
⇒ Class 10 Chemistry Important Questions
⇒ Chemistry Concept Questions and Answers
Recommended Videos
50 Most Important CHEMISTRY Competency-Focused Practice Questions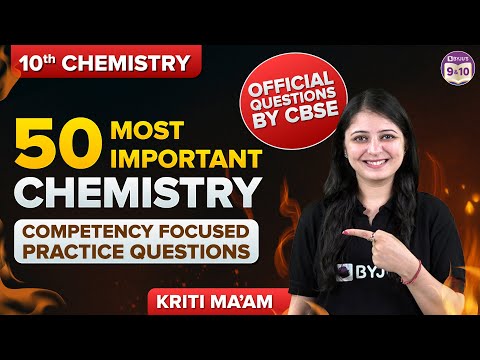 Types of Chemical Reactions and Equations MCQs