This Class 9 Chemistry Index page contains all the topics that fall under each chapter of the class 9 chemistry syllabus as per the NCERT textbook. Students may follow the links on the subtopics to access free study material on the associated concepts (prepared by chemistry subject experts for CBSE students). Furthermore, an overview of all the chapters and topics in the CBSE class 9 chemistry textbooks can also prove useful while crafting a preparation strategy for the CBSE board examination and other competitive examinations. 
Chapter 1 – Matter in Our Surroundings
Chapter 2 – Is Matter Around Us Pure? 
Chapter 3 – Atoms and Molecules           
Chapter 4 – Structure of the Atom          
Recommended Video
Starting Grade 9 Chemistry Journey – Rationalised Syllabus + Roadmap to score 95%+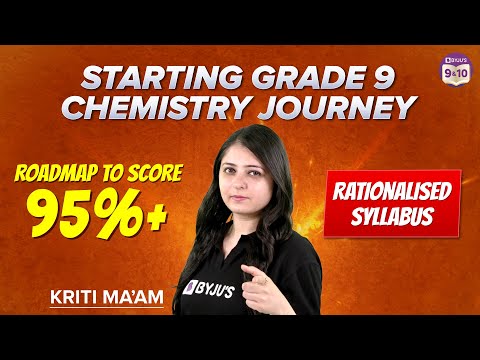 The full list of chapters and subtopics of the Class 9 NCERT textbook has been provided above. This page can help provide context and structure for learning the fundamental principles covered under the Class 9 CBSE chemistry syllabus, thereby empowering the students to develop from simple to relatively complex concepts in a systematic manner. The list of chapters and subtopics given above has been prepared in accordance with the current CBSE syllabus for class 9 chemistry. The content provided in the respective sub-topics has been designed by our expert chemistry professors for the benefit of all students. Click the links listed under each chapter to read more about all Class 9 topics in depth.
Chemistry is the science that tries to understand the properties of substances and the changes that substances undergo. Class 9 Chemistry concepts deal with the understanding of basic constituents of matter, atoms and molecules. Students must study these principles in detail in order to improve their expertise in the subject and to establish a strong foundation.
Stay tuned to BYJU'S to master a range of fascinating topics in Physics, Chemistry, Biology and Mathematics with the aid of entertaining and engaging video lessons.