Niobium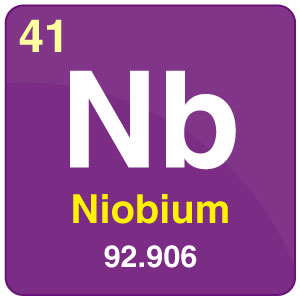 | | |
| --- | --- |
| Symbol | Nb |
| Atomic Number | 41 |
| Atomic Mass | 92.906 g.mol -1 |
| Discovered by | Charles Hatchett in 1801 |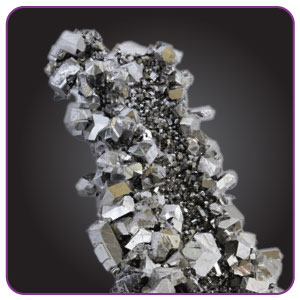 Chemical Properties of Niobium
Group
5
Melting point
2410 °C
Period
5
Boiling point
5100 °C
Block
d
Density (g cm−3)
8.57
Atomic number
41
Relative atomic mass
92.906
State at 20°C
Solid
Key isotopes
93Nb
Electron configuration
[Kr] 4d4 5s1
CAS number
7440-03-1
ChemSpider ID
22378
ChemSpider is a free chemical structure database
What is Niobium?
Niobium is a chemical element with atomic number 41 and is represented with the symbol Nb in the Periodic Table.
It is a soft, ductile transition metal which is resistant to corrosion due to the presence of an oxide layer on its surface.
It is one of the most common elements found in the Earth's Crust. It is often found in the pyrochlore mineral.
Uses of Niobium
It is used in stainless steel alloys for cutting tools, nuclear reactors, jets, missiles, and welding rods.
It is used in the manufacturing of MRI scanners and NMR equipment.
Its alloys are used in making surgical implants.
It is used for the production of stainless steel and high-temperature resistant alloys.
Properties of Niobium
At cryogenic temperatures, Niobium becomes a superconductor.
Niobium and its compounds are toxic to some extent.
When exposed to air at room temperature, metal takes on a bluish tinge for extended periods.
Niobium comprises one stable isotope in the Earth's crust.
Certain Facts About Niobium
In the united states, the element was called columbium (symbol Cb) for about 100 years, while it was called niobium in Europe.
There are around 18 known isotopes of niobium.
Frequently Asked Questions – FAQs
Q1
What is the period number of niobium?
The period number of niobium is 5.
Q2
What is the electron configuration of niobium?
The electron configuration of niobium is [Kr] 4d4 5s1.
Q3
What is the atomic mass of the niobium element?
The atomic mass of the niobium element is 92.906 g/mol.
Q4
What is the atomic number of niobium?
The atomic number of niobium is 41.