Palladium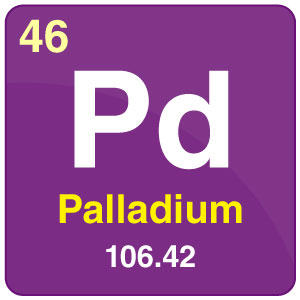 | | |
| --- | --- |
| Symbol | Pd |
| Atomic Number | 46 |
| Atomic Mass | 106.42g.mol -1 |
| Discovered by | William Hyde Wollaston |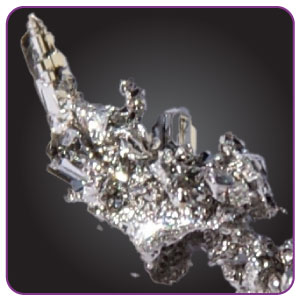 Chemical Properties of Palladium
Group
10
Melting point
1554.8°C, 2830.6°F, 1828 K
Period
5
Boiling point
2963°C, 5365°F, 3236 K
Block
d
Density (g cm−3)
12.0
Atomic number
46
Relative atomic mass
106.42  
State at 20°C
Solid
Key isotopes
106Pd
Electron configuration
[Kr] 4d10
CAS number
7440-05-3
ChemSpider ID
22380
ChemSpider is a free chemical structure database
What is Palladium?
Palladium(Pd), the chemical element with an atomic number of 46, is a rare element and has a lustrous silver appearance.
Discovered by William Hyde Wollaston in the year 1803.
The metal was named after asteroid Pallas of the Greek goddess Athena.
Uses of Palladium
The metal serves as a catalyst in many chemical processes like hydrogenation, petroleum cracking, and dehydrogenation.
Palladium is a Lindlar catalyst and sometimes referred to as Lindlar Palladium.
Used in electrodes and also being a major component for multi-layer ceramic capacitors.
Being an absorbent of hydrogen, used for storage of the same.
Used for jewelry making since time immemorial.
Used by photographers in make fine art with black and white prints using palladium salts.
Properties of Palladium
The metal is highly resistant to corrosion in the air and some acids at room temperatures.
It will dissolve in aqua regia and can be attacked by hot acids.
It can form several salts and also form different compounds.
A special feature of Palladium is that it absorbs hydrogen to a great extent (nearly 900 times of its own volume).
Certain Facts About Palladium
The metal has an incredible capacity to absorb hydrogen 900 times than any other metal.
Despite the metal being biologically inactive, it triggers allergies among certain people.
Palladium is a fairly nontoxic metal.